Police said the recent finding will help them prove the charge of murder in the case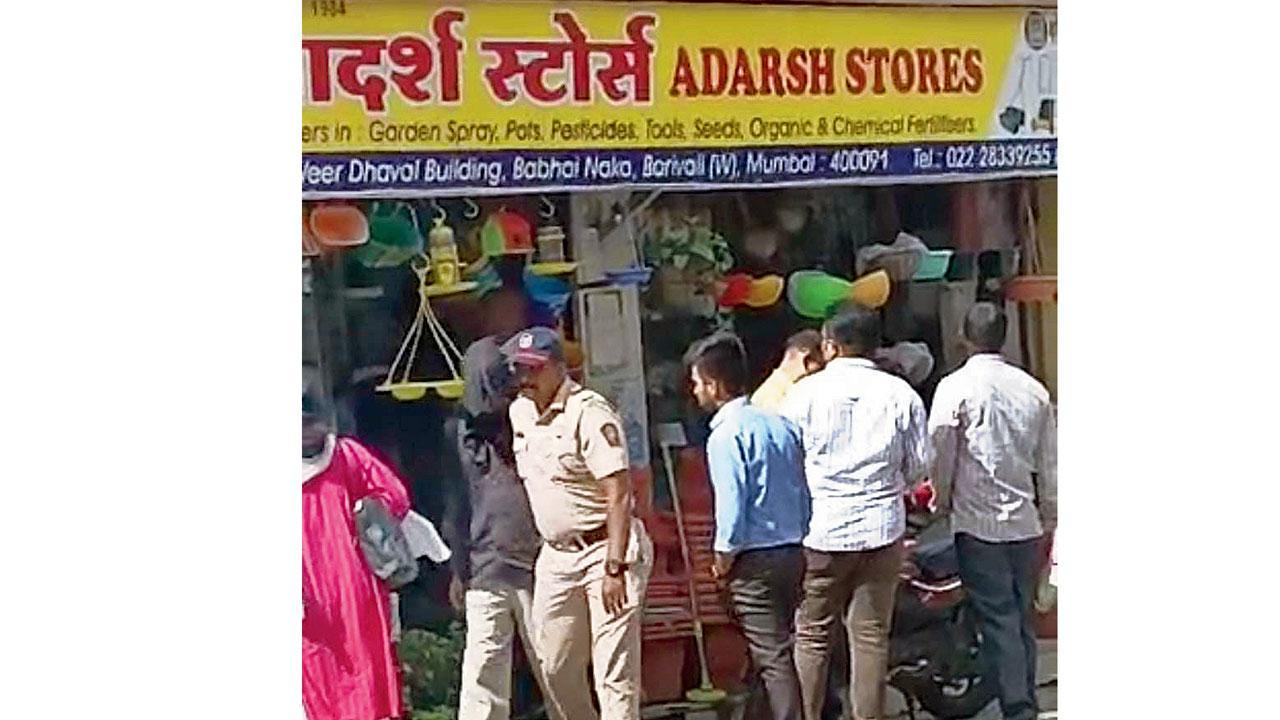 The accused with cops at Adarsh Stores located at Babhai Naka in Borivli West, on Tuesday morning. The police confirmed that he had purchased the pesticide from this shop. Pic/Hanif Patel
Investigations in the Mira Road murder case have taken a new turn. Till date, the accused had told the cops that she consumed pesticide and was found dead in the house, and that he disposed of the body fearing arrest. However, the cops nailed his lie on finding the nursery  from where he bought the pesticide. On June 7, the police arrested the accused after his neighbours informed them about a foul smell emanating from his flat. A police team found 35 body parts and hair from his residence in Mira Road on June 7. The remains have been sent to the forensic department to confirm traces of poison.
Cops nail his lie
ADVERTISEMENT
Police said that during interrogation, the accused had told them that due to frequent fights between the duo, she consumed pesticide and died by suicide. After a week of investigation, the cops have found a nursery from where he had bought the pesticide. "This indicates that it is a pre-planned murder. The accused had poisoned his wife and then chopped her body into 35 pieces to dispose it of. He had even boiled some of the pieces in a pressure cooker and threw them in a nullah near the railway tracks," said DCP Jayant Bajbale who is supervising the investigation. Police said that the accused had bought the pesticide from Adarsh Stores at Babhai naka in Borivli West, which is opposite the rationing shop where he used to work.
'Big breakthrough'
The police said the recent finding will help them prove the charge of murder in the case and it will also help them make a watertight case against him. "This is a big breakthrough for us in this case. The forensic report would have helped us to only find if there is a presence of poison in the victim's remains. But it could not prove if the victim had consumed the poison on her own or was fed by the accused. In either case, we would have booked him for murder, but there was still a gap in the investigation that would have benefitted the accused. Now, this fresh evidence implicates the accused and he cannot escape from the murder charge," said an officer from Nayanagar police station.
"Exciting news! Mid-day is now on WhatsApp Channels

Subscribe today by clicking the link and stay updated with the latest news!"
Click here!