Crime Branch says the accused did heavy metal blood test a few days after the rest of the family members to mislead doctors, cops into believing someone else was behind the crime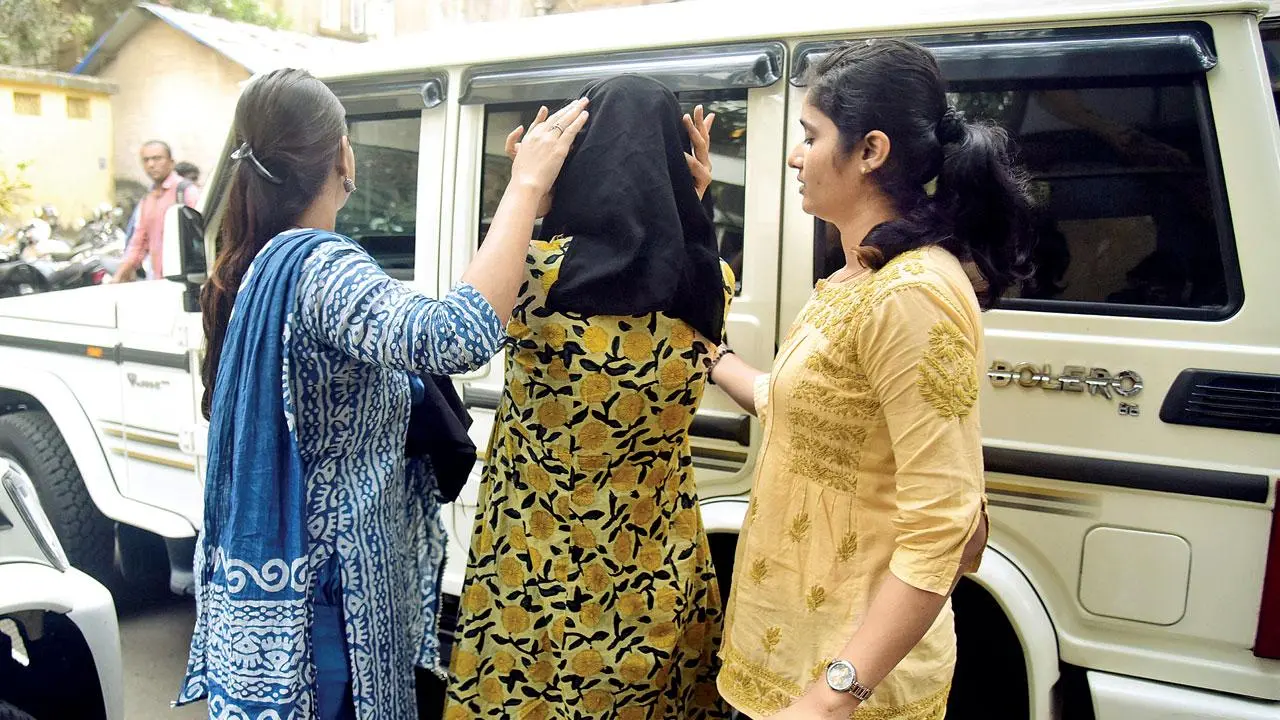 Accused Kajal Shah at Killa court on Thursday. Pic/Shadab Khan
Kajal Shah, accused of killing her husband Kamalkant Shah by slow poisoning him with Arsenic and Thallium, allegedly consumed the poisonous chemicals for a few days to avoid raising suspicion. Unit 9 of Mumbai police's Crime Branch made the statement before the Killa Court on Thursday while seeking extension of the custody of the accused.
According to the police, Shah's report had come on September 13 showing high levels of Arsenic and Thallium. Following this, the doctors had asked all of his family members to undergo heavy metal blood tests. The Santacruz-based businessman's kids and sisters went through the test and their reports were normal. Kajal, however, got tested on September 23, four days after Shah died and the doctors had confirmed it was a case of poisoning.
"This establishes that she tried to create a conspiracy to mislead law enforcement agencies into thinking that she was not the one who poisoned her husband, but someone else tried poisoning her as well," the police claimed.
According to the crime branch, Kajal's heavy metal blood report showed 20 units of metal in her body while the normal range is between 0.4 and 0.6. The police claimed that this establishes that the conspiracy was planned in various hotels where Kajal and her paramour Hitesh Jain, a co-accused in the case, stayed together before she returned to her husband just a few months before his death. "We are checking the details of the hotels where they stayed and are trying to collect CCTV footage of their meetings," Public Prosecutor M S Chaudhary told the court.
Also read: Mumbai Crime: 'Accused duo had plans to kill Jain's wife too'
Cops have also claimed that they need both the accused in custody to examine various data found from phones and social media platforms of the two accused. "Only 25 per cent of the data has been examined so far. We need further custody of the accused to ascertain several suspicious chats," Chaudhary said.
Cops also informed the court that they have invoked Section 201 of the IPC as the accused have destroyed pieces of evidence, making the case dependent on circumstantial evidence thus far. They also said that Jain had dumped his phone and SIM card somewhere along the Mumbai-Nashik Highway which needs to be recovered to collect strong evidence.
Defence lawyer advocate Mrunmai Kulkarni, for Kajal, claimed the police were cooking up a story as they did not have any evidence. "They themselves have confirmed that the case is based on circumstantial evidence. Then, what was the need for registering a case of murder when they could have enquired about the accidental death report first?" she said. She also produced reports from Criticare hospital where the deceased was first admitted in August where nothing suspicious was noted.
She claimed that her client was wrongly framed and also told the court that there could be another theory which could have the involvement of other family members, but did not say anything more. Cops, during the hearing, also revealed that they have recovered powdered Arsenic from Jain's residence at the time of panchnama. Advocate Chandan Singh Shekhawat, who appeared for Jain, did not make any submission on Thursday. The court, after hearing the matter, extended the custody of both accused to till December 12.
23
Day in September when Kajal Shah underwent a heavy metal blood test Have you converted your home furniture to suit the hybrid working culture?