Deepak Baldava, a businessman from Thailand visited Mumbai along with his colleagues for business meetings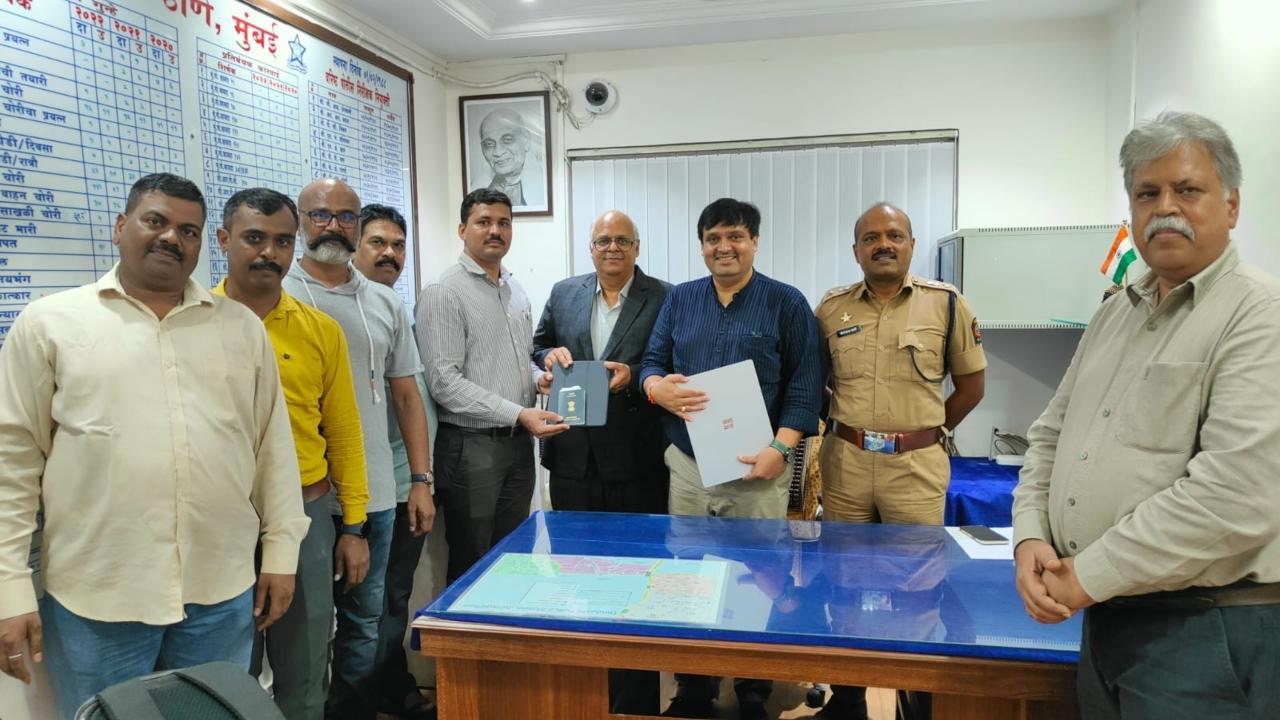 Thailand citizen Deepak Baldava clicks photo with cops as they return his passport, visa and laptop at Dindoshi police station. Pic/Dindoshi police
A Thailand-based businessman who came to Mumbai for a business trip forgot his bag inside the autorickshaw at Goregaon a few hours before boarding a flight. The Dindoshi police helped the businessman to find his bag within four hours and returned his passport and laptop before he boarded the flight on Sunday evening.
Deepak Baldava, a businessman from Thailand visited Mumbai along with his colleagues for business meetings.
Baldava stayed in a Goregaon-based hotel for the last few days. After his business meeting, he took an autorickshaw from the hotel to visit Oberoi mall in the morning and forgot to collect his bag while getting down.
Also Read: Mumbai: Woman duped of Rs 1.57 lakh by fraudster
Speaking with mid-day, API Chandrakant Gharge of Dindoshi police station said, "On Sunday at around 10 am, Deepak Baldava rushed to Dindoshi police station and complained that he forgot his bag inside an autorickshaw. Baldava also told us that he has the flight to board in the evening and has to reach at airport anyhow but without a passport, it was impossible for him to travel back."
"I immediately informed DCP Somnath Gharge about the case. We formed a team of constable Shyam Ranshivre, Navnath Borate, Shivram Bangar and police Naik Rahul Patil and Dapure. Our team checked more than 15-20 cameras of the highway connected and identify the autorickshaw. We traced the auto-rickshaw and driver from the Juhu area at around 1.30 pm," said API Chandrakant Gharge.
"We recovered Deepak Baldava's passport, visa, electronic gadgets, office ID, debit and credit cards and cash from the autorickshaw driver. We warned the auto driver and released him," API Gharge further added.