In criminal revision petition filed in Kalyan court, slain gangster's brother seeks fair probe by competent authority, says Thane cops 'shielding killers'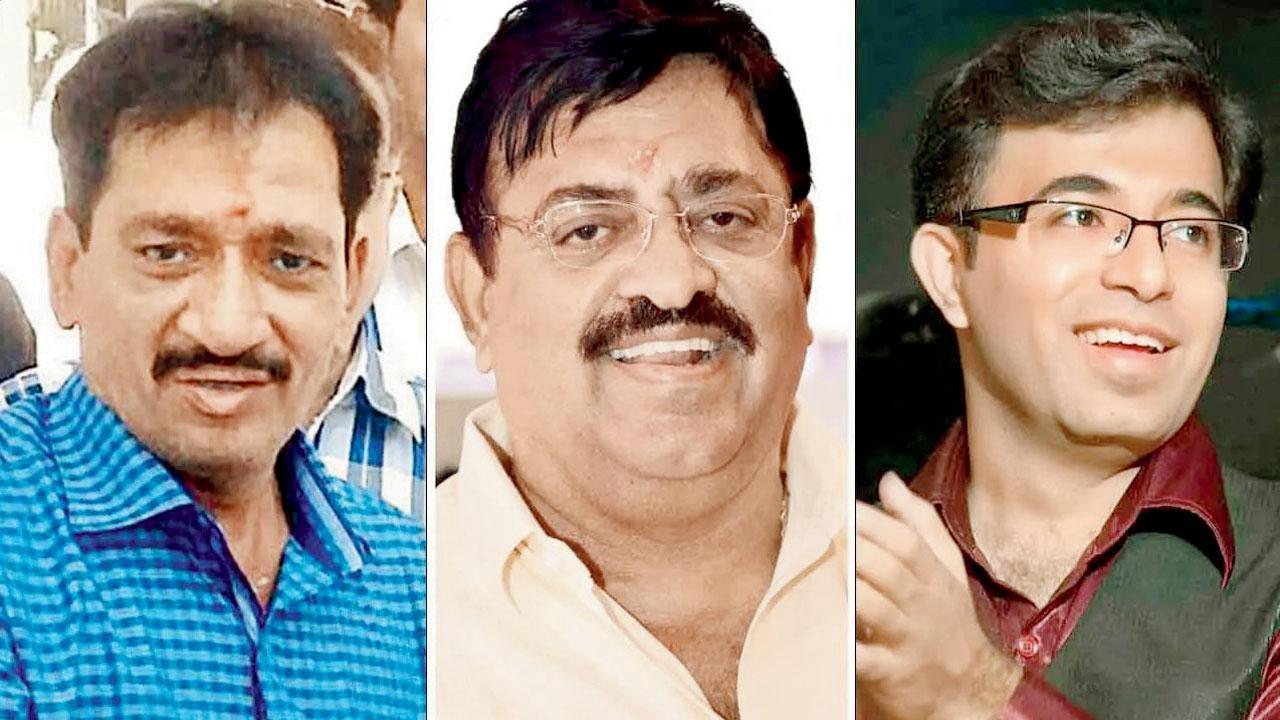 (From left) Naresh Chaddi; former Congress corporator Godhumal Kishnani his son Praveen
The brother of slain gangster Naresh Aasandas Pahalajani alias Naresh Chaddi has filed a criminal revision petition, demanding that the murder case be transferred to a competent authority, for a fair investigation by a Special Investigation Team (SIT). He alleged that the Thane cops are shielding the powerful accused.
Chaddi was found dead in his rented Kalyan flat on February 3, 2016. The Directorate of Forensic Science and Laboratory, in a report in December 2019, said Chaddi died of "asphyxia" with "contusions and abrasions over body (unnatural)". The Khadakpada police filed an FIR on February 28, 2020, following mid-day's front-page report on the case.
ADVERTISEMENT
'A fair probe, anyone?'
Talking to mid-day, Chaddi's brother Raju Pahalajani asked, "Is there anyone who can tighten the noose around the Thane police to conduct a fair probe into my brother's murder?" He said, "Initially, they tried to wrap up the matter by filing an accidental death report. Then, despite crucial forensic findings, the Khadakpada police took more than two months to charge former corporator Godhumal Kishnani, his son Praveen and my brother's domestic help Ravi Valecha with murder."
"Then, without conducting any investigation, the Thane police filed a C-summary report [citing 'accidental death' in October 2020]. The investigating officer (IO) was changed when we filed a protest petition. The new IO, too, was of no use. He filed an A-summary report in Kalyan court without any probe, which was accepted," Raju added. A C-summary report is filed when the case is 'neither true nor false'.
Also Read: Mumbai: IIT Bombay youth's suicide note blames fellow student, says Police
A powerful man
"Kishnani is a highly influential person in Ulhasnagar and he has been bribing everyone to seek favour. That is why the first IO, Kalyan division's Assistant Commissioner of Police (ACP) Anil Powar, started probing the case without receiving any order from his superiors," he said. ACP J D More of Dombivli division was the second IO who submitted the A-summary report, which is filed when an offence is made out but the evidence is untraceable or the accused are not found. "How can the accused not be traceable and how can he not find any evidence?" wondered Raju.
'We gave proof'
"We have submitted an audio clip of a conversation between Kishnani and local reporter Ashok Sonawane, where the former is gloating about getting Chaddi 'killed like a dog'. Did ACP More retrieve call data records of the accused or conduct voice sample analysis? No, because he was also protecting my brother's killers," he added.
"While the first IO observed that the case is neither true nor false, the second IO found no evidence or accused. This is Thane police for you. They can do anything to safeguard killers for money... I will drag everyone to court," said Raju, adding, "I am not going to spare the killers of my brother and will fight till my last breath."
Advocate Ganesh Gholap, his lawyer, said the criminal revision petition was filed on October 10 in Kalyan sessions court, which "sought records-and-proceedings in this case. It means all the case files and the investigation report will be submitted before the court for analysis. The next date of hearing is April 1."
1 April
Day Kalyan court will hear criminal revision petition