Police trash the contents of the internal message of Kurla's Premier Exotica–1B society, say no missing plaint registered with them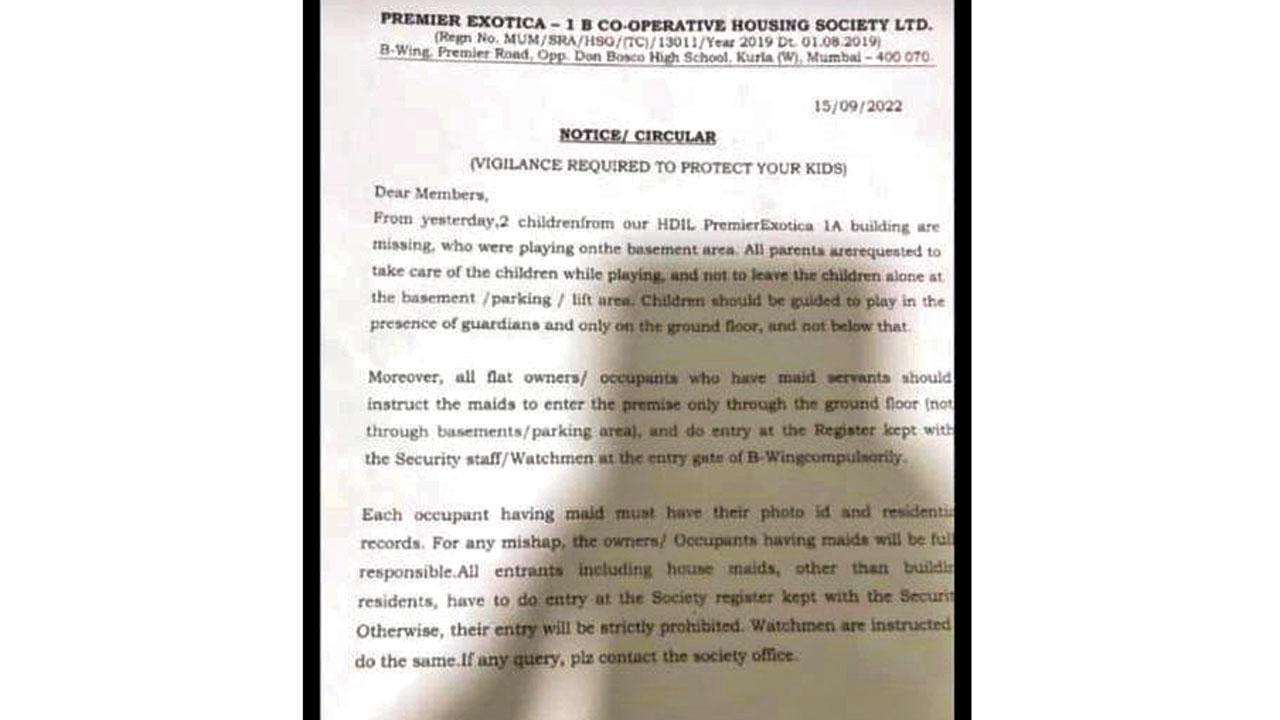 The internal circular of the society
An internal circular of a Kurla housing society about two "missing" children triggered panic in the area on Friday, but the local police said there is no truth in the content of the circular. Stressing that there has been no missing complaint, the cops said they have summoned the society manager to collect more information about the claims made in the circular.
Officers from the Vinoba Bhave Nagar police station said the Premier Exotica – 1B Cooperative Housing Society Limited, a high-rise at Kurla West, issued a message for its members on Thursday saying, 
"From yesterday, 2 children from our HDIL PremierExotica LA building were missing, who were playing in the basement area. All parents are requested to take care of the children while playing, and not to leave the children alone in the basement/parking/lift area. Children should be guided to play in the presence of guardians and only on the ground floor, and not below that [sic]." 
Also read: Mumbai: State hands over Rs 10 lakh to deceased Govinda's family
The police trashed the claims in the circular. "We are aware of this letter being circulated on social media, but there is no truth in that. No missing case is registered with us. We have called the manager of the building to share details and record his statement," said Vinobha Bhave Nagar police station senior PI Rajiv Chavan.
The police have also found an audio recording with similar content being shared on social media. "People should not believe in rumours. If there is any such incident, please report it to us," added Chavan.