Arch banners with local politician's name for Navratri installed by digging up road in Borivali; corporator says not aware, her Sainik husband puts blame on local mandal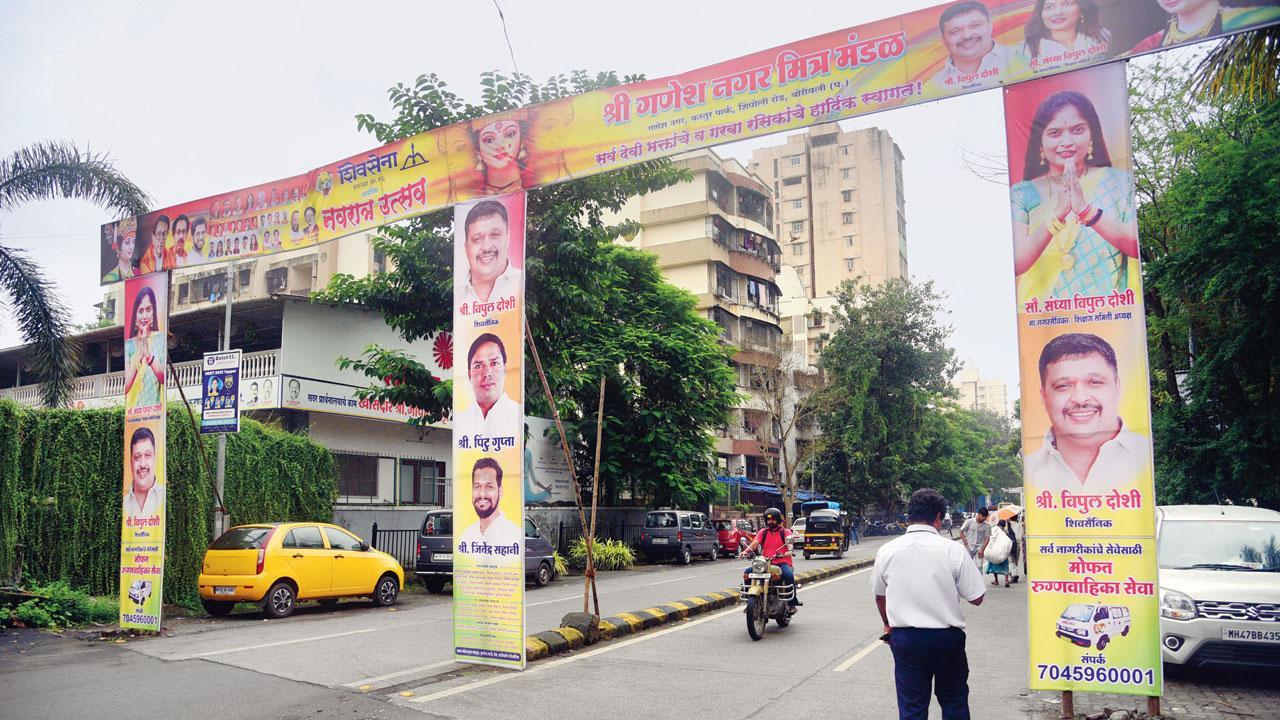 A Navratri greetings banner flaunting the names of former corporator Sandhya Doshi and her Sainik husband Vipul Doshi installed by digging up Shimpoli Road in Borivali West. Pics/Pradeep Dhivar
While citizens are reeling from the pothole menace, roads are being dug up to install poles to set up hoardings and arches in the name of local politicians, for Navratri celebrations. In one such instance, an arch mentioning former Shiv Sena corporator and education committee chairman Sandhya Doshi and her husband Vipul Doshi, also a Shiv Sainik, has been erected on Shimpoli Road in Borivali West.
A resident from the area, on the condition of anonymity, told mid-day, "It is the job of the Brihanmumbai Municipal Corporation and the corporator to provide good civic amenities and ensure roads and footpaths in the area are maintained. But this doesn't seem to be happening as the banner of the former corporator has been installed by digging a road." When contacted, Doshi said she was not not aware of any such incident. "We have not installed any banners or hoardings," she added.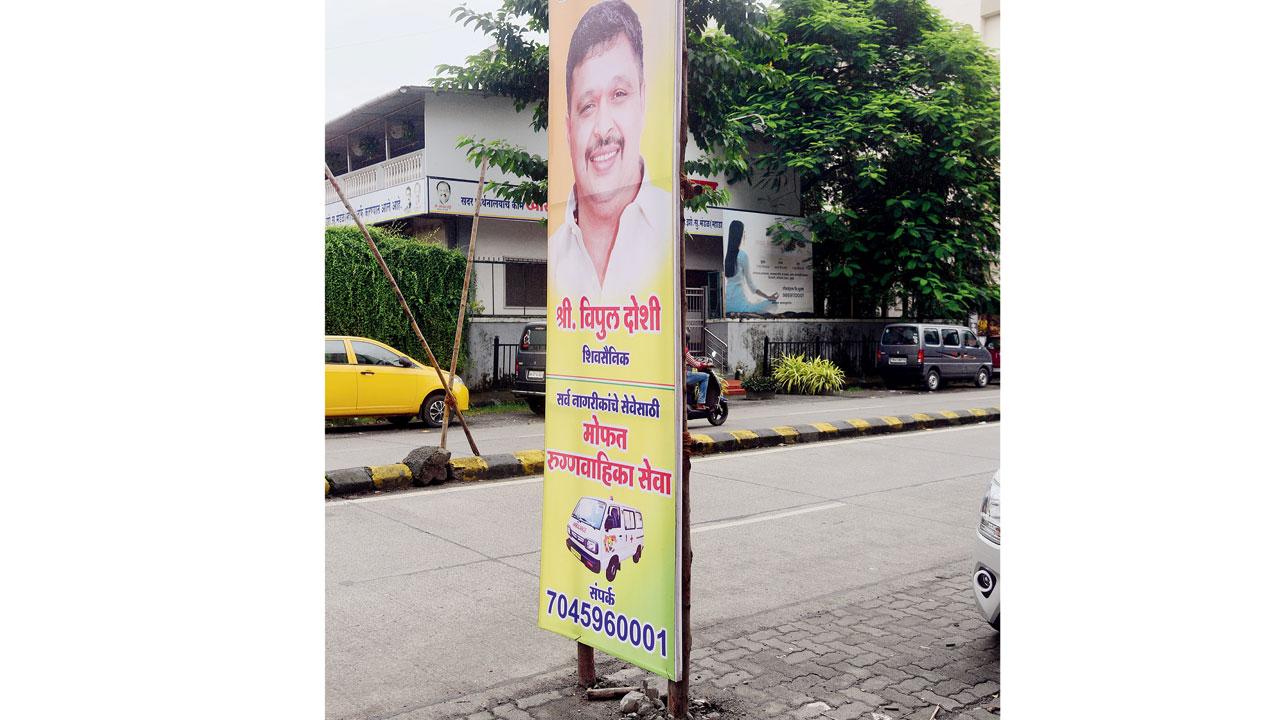 Meanwhile, her husband Vipul Doshi claimed that a local Navratri mandal installed these hoardings. "In many cases, local mandals put up banners and hoardings to prove their loyalty and proximity towards public representatives or politicians from the vicinity. In this case too, the hoarding has been put by a local Navratri mandal. We are not aware about hoardings being put up in violation of rules," he said. He further added that he would ask all party workers and mandals in the vicinity to adhere to rules while installing banners and advertising materials.
Also Read: When is Shardiya Navratri 2022? Date, significance, history and all you need to know
As per BMC rules, if any individual or mandal is found violating the rules such as digging road, a fine of R2,000 will be levied for each pothole. Recently, BMC's E ward issued a notice to Lalbaugcha Raja Sarvajanik Ganeshotsav Mandal asking it to pay a fine of R3.66 lakh for digging holes on roads and footpaths.
Apart from adding to the potholes on the road, this also leads to the defect liability period becoming invalid. As per rules, in case of asphalt roads, contractors have to repair and maintain the road for five years. However, if the road is dug up, this becomes invalid. 
A BMC official from the roads department said, "If anyone digs the road, the defect liability period lapses, irrespective of the pending duration. In such cases, the responsibility of maintaining the road falls on BMC." When contacted, Assistant Municipal Commissioner Nivrutti Gondhali said he would ask the licence department to look into the plaint. 
Rs 2,000
Fine levied on anybody for digging up roads When is Shardiya Navratri 2022?