Weeks after Gokhale bridge shut down for traffic, drain cover collapse near Andheri subway leads to severe jam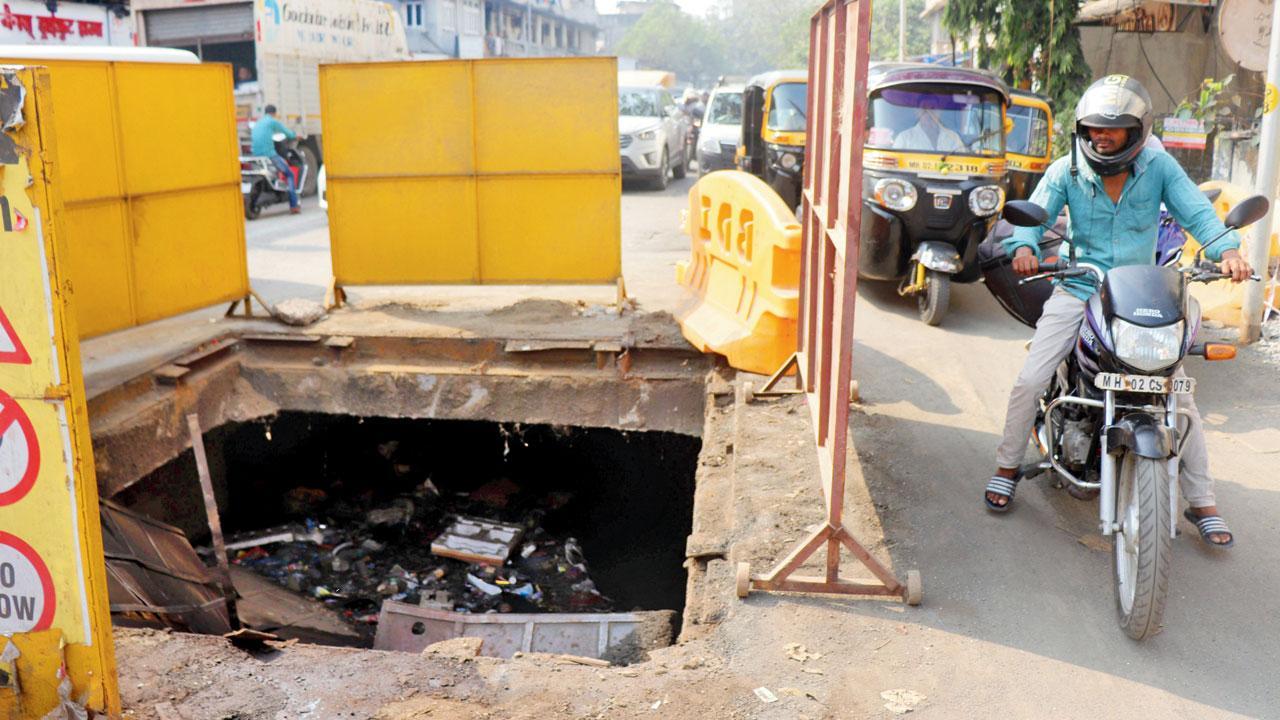 The cover of a massive drainage on Old Nagardas Road at Panipat Chowk collapsed on Saturday morning, causing heavy jams on both sides of the subway. Pic/Anurag Ahire
Motorists in Andheri had to contend with heavy jams on Saturday as the Andheri subway was closed for traffic, after the cover of a storm water drain on a connecting road near the stretch collapsed. The development comes barely weeks after the Gokhale bridge, a key connector between Andheri East and West, was closed to motorists.
At present, Andheri subway is the only link between the east and west sides of Andheri. The cover of a massive drainage on Old Nagardas Road at Panipat Chowk collapsed as it couldn't take the load of a heavy vehicle plying on it. "The incident occurred around 6 am. A dumper was travelling on the stretch, when the cover suddenly collapsed under its weight. One of the tyres also got stuck in the opening. The traffic police helped pull out the vehicle," said a local resident. 
The subway was shut till 10 am for west to east traffic. While one side of the stretch was opened to motorists after that, jams continued on both ends. As there wasn't any alternative route till Jogeshwari, many vehicles were forced to take the Captain Gore flyover at Vile Parle.
Also Read: Mumbai: South Korean live-streamer records statement before judge in court
Many of them expressed their anger on Twitter. Speaking with mid-day, Dhaval Shah, founder of Lokhandwala Oshiwara Citizens Association, said that the motorists' disappointment is valid, considering Gokhale bridge is no longer in use. "Because of this, Andheri subway has become the only primary east-west connector. As the cover that collapsed was large, there was a possibility of the entire road caving in. If that happened, the road would have to be shut down for weeks. Movement of heavy vehicles needs to be restricted on this road with height barriers, so that similar incidents don't occur again. Also, the metal cover needs to be replaced with one that has better load-withstanding capacity," he said.
Karan Jotwani, a motorist, said, "Due to closure of the subway, I had to take a detour via Captain Gore flyover and it took me an additional one hour to reach work. I had to miss two morning appointments causing a huge financial loss." Vibhas Achrekar, in-charge of storm water drainage said that they have already started work to replace the cover. "It was a huge cover [12 x 12 ft], so we couldn't replace it immediately. We will try to fix it by Sunday night and make sure that it will take the load of heavy vehicles." Do you like to travel on budget?