Sakinaka local alleges applicant claims he bought disputed land from deceased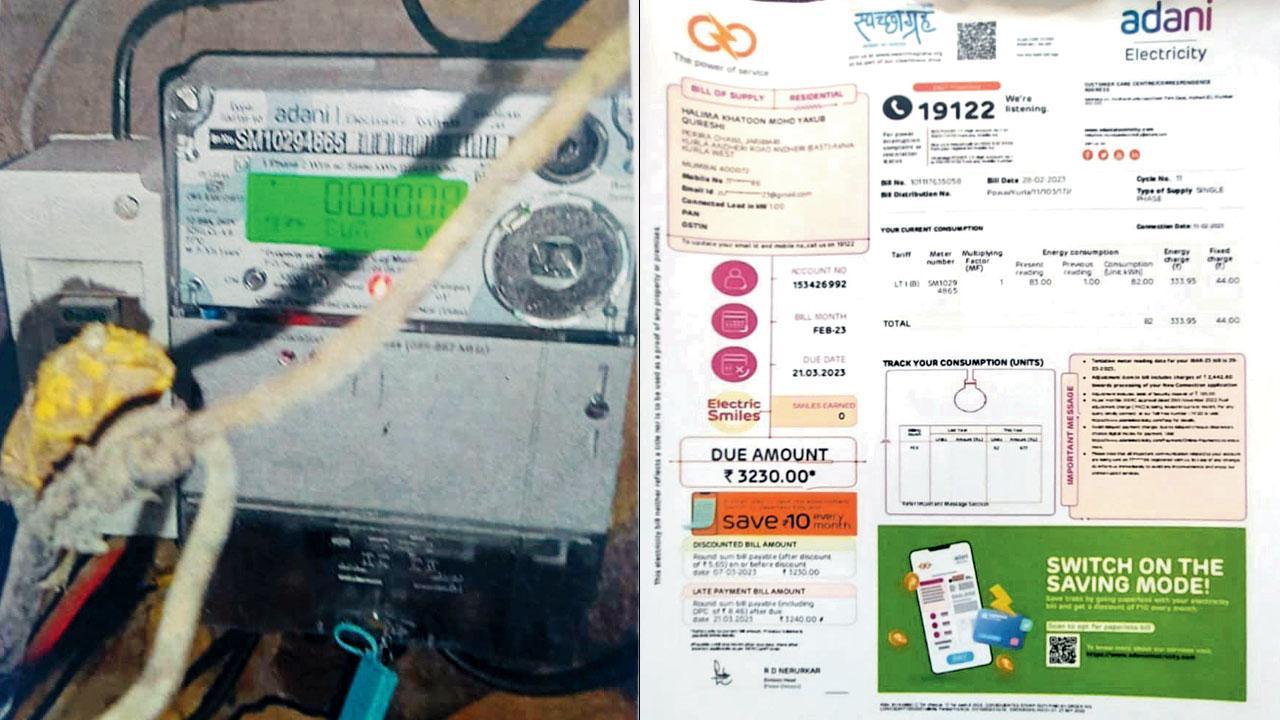 The new meter that was set up on the disputed plot (right) The power bill in Halima Khatoon Qureshi's name
Muzaffar Ahmed, a 51-year-old who lives at Jari Mari in Sakinaka, alleged that a new electricity meter has been installed in the name of a deceased neighbour with whom he was engaged in a legal battle over a plot of land. The case is being heard in the sessions court at Fort. "The meter is in Halima Khatoon Qureshi's name," alleged Ahmed, adding, "She passed away on December 19 last year. An appeal was made for the new meter connection on February 14 and the meter was installed the very next day. How is that possible?"
The meter was set up by Adani Electricity on February 15. A spokesperson from Adani Electricity told mid-day, "A meter can be issued within seven days of an application. So it can happen within 24 hours too." According to Ahmed, Qureshi was party to a court case over the plot where the new meter now stands for over one-and-a-half to two years. He alleged that one Akhtar Husain, who claims to have bought the plot from Qureshi, is the person who applied for the meter.
ADVERTISEMENT
"I have now filed a case against him (Husain) as well because he sought a meter under Qureshi's name, which is wrong. He also claims to have brought the property, which is actually mine," alleged Ahmed. He added that he had no choice but to go to court as the BMC and local former corporators failed to provide sufficient help. The first electricity bill, which came to Rs 3,230, was paid by Husain as he is the one who is using the connection, alleged Ahmed.
Also Read: Mumbai Crime: Youth opens bank a/cs for fraudsters to stash loot, held
Speaking about this particular case, the Adani Electricity spokesperson believes that this seems to be a matter of dispute between the two parties because "we don't have documents and proof that the person has been deceased".
The spokesperson added, "We have an online process where the person has to submit self-attested documents on our portal to obtain a connection. The documents for a new connection include ID proof and ownership/occupancy proof such as ration card, voter ID, sales deed, share certificate, etc. In this particular case, all of the required self-attested documents were provided, so we had no reason to decline the meter connection."
They said that unless they get proof and proper documentation of the deceased, they will continue to provide electricity as they did not receive any intimation. Furthermore, solutions to such cases are provided by the court.