In Worli, Sir Pochkhanwala Road from Thadani Road Junction to Shahid Tukaram Omble Chowk will be closed for Vehicular Traffic, the Mumbai Traffic Police said in a traffic notification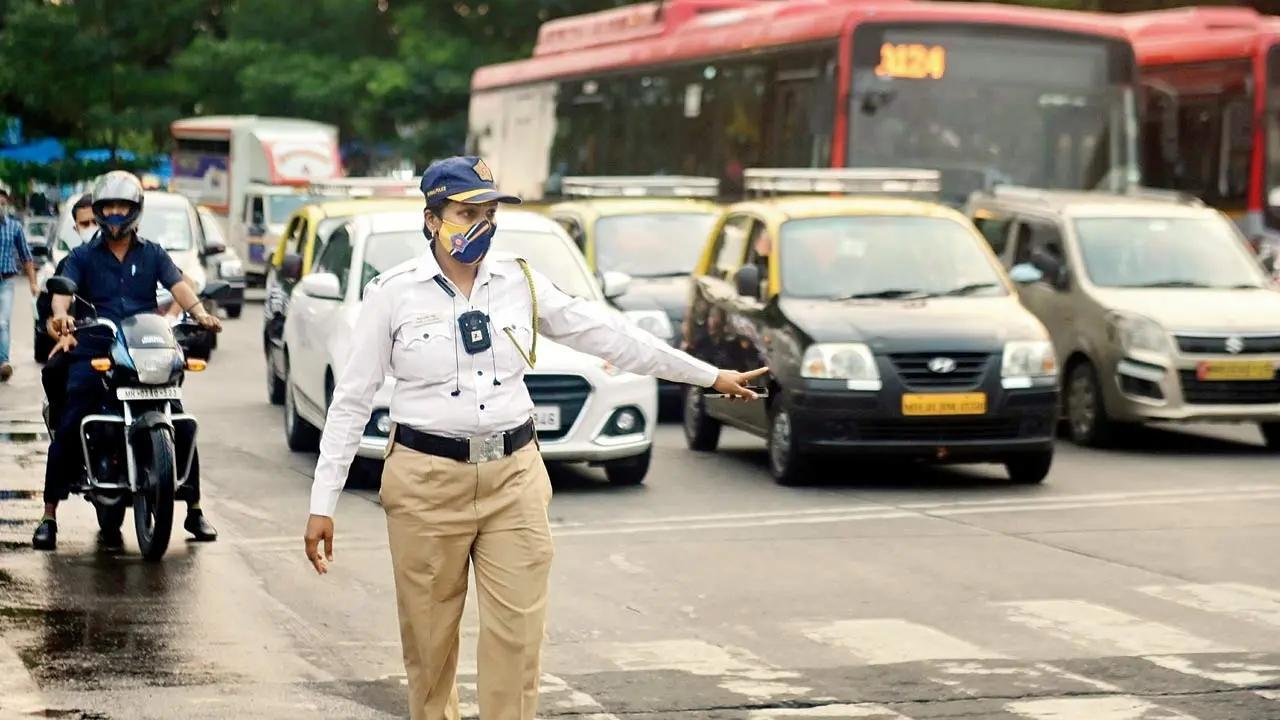 Representational Pic
The Mumbai Traffic Police on Friday issued traffic diversions in the Worli ahead of the civil and road repair works in the area. 
According to a traffic notification, the Mumbai Traffic Police said, whereas Executive Engineer (Roads) City, is going to undertake excavation work in order to carryout augmentation of storm water drain (SWD) and then cement concretization on Sir Pochkhanwala Road, Worli between Shahid Tukaram Omble Chowk to Thadani Road Junction situated in the jurisdiction of Worli Traffic division. 
ADVERTISEMENT
The Mumbai Traffic Police, in the notification, further said, the traffic management is to be made by issuing anorder for road closure and diversion of vehicular traffic on temporary basis.
The traffic notification was issued by Raj Tilak Roushan, DCP, Traffic, Mumbai Police.
It said, In order to prevent obstruction, and inconvenience to the public, it is hereby ordered as under-
Below mentioned traffic arrangements will remain enforced from 00-01 hrs. dated 25/03/2023 to 24.00 hrs.
Road Closed and alternate road for vehicular traffic-
Road Closed 
Sir Pochkhanwala Road from Thadani Road Junction to Shahid Tukaram Omble Chowk shall be closed for Vehicular Traffic.
Alternate Road
Vehicular traffic coming from Thadani Road to Sir Pochkhanwala Road shall proceed through Bindu Madhav Junction- Khan Abdul Gafar KhanRoad- J.K Kapoor Chowk- Right turn- Naresh Patil Junction- SirPochkhanwala Road. 
 
Alternate Road
Vehicular traffic coming fromSir Pochkhanwala road to Thadani Roadshall proceed through Naresh Patil junction, J.K. Kapoor Chowk- Khan Abdul Gafar Khan Road- Bindu Madhav Junction- Thadani Road. 
Also Read: Mumbai Police issues preventive orders till April 8, check list of exemptions
Meanwhile, in a recent notification, the Mumbai Traffic Police on Sunday had issued an advisory for motorists for the ongoing construction work of the coastal road project.
In the advisory, Mumbai Traffic Police said, the construction of Mumbai Coastal Road is in progress along NS road (Marine Drive). The work is in its last phase of completion on Marine Drive and it has been planned by the coastal road construction agency that they need to carry out drainage outfall work on the southbound carriageway of N.S. road between the Taraporewala aquarium upto the Islam Gymkhana in south Mumbai. 
The advisory further said that the duration for the completion of the work will be approximately 5 months. Will the newly created special police commissioner post help Mumbai with better policing?