The city recorded the second wave's lowest TPR at 0.53 per cent on August 19, and after that the graph started gradually going up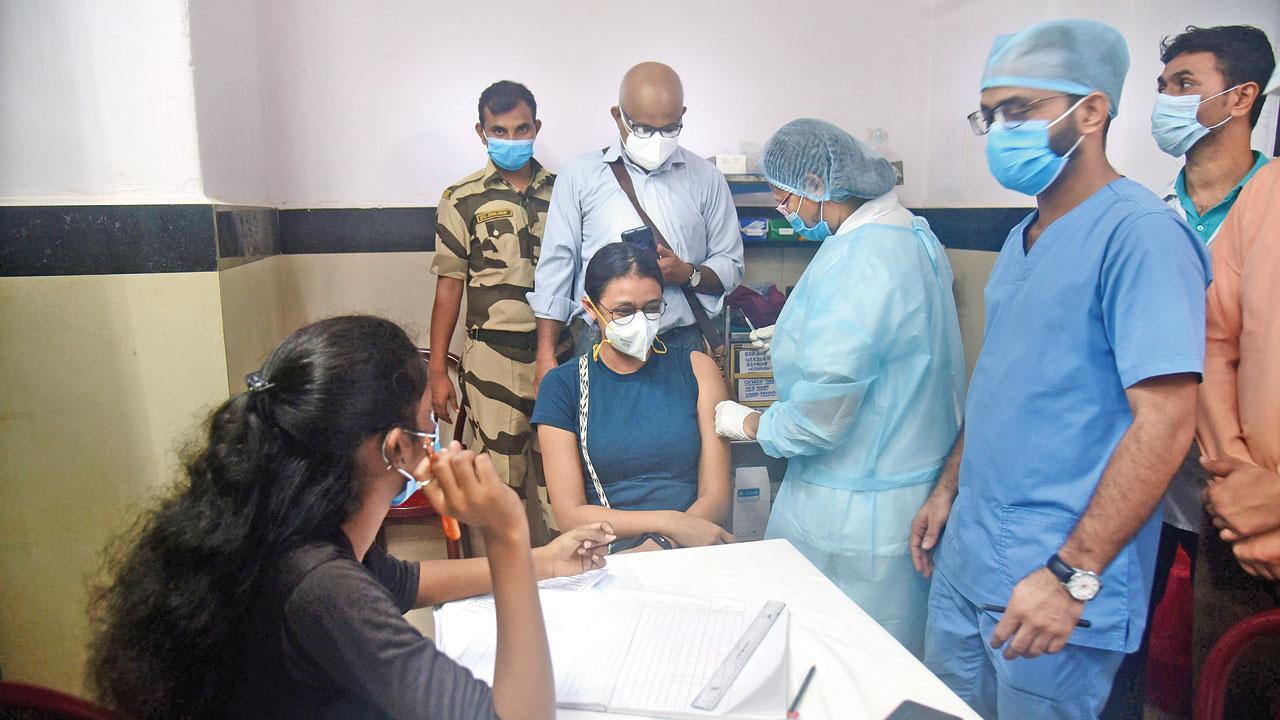 A woman receives a Covid vaccine jab at Jagjivan Ram hospital in Mumbai Central on Monday. Pic/Atul Kamble
After witnessing a significant drop in the test positivity rate (TPR) on Sunday at 0.78 per cent, Mumbai saw the figure jump to 1 per cent on Monday. The daily Covid-19 cases, however, declined to 334 and fatalities remained constant at two, according to the BMC's latest report. Both the patients who succumbed to the respiratory disease were senior citizens and had comorbidities.
The city recorded the second wave's lowest TPR at 0.53 per cent on August 19, and after that the graph started gradually going up. On Sunday, the BMC had confirmed 388 fresh infections. The doubling rate has continued to deteriorate and was recorded at 1,577 days on Monday.  The Covid-19 recovery rate in the city remained constant at 97 per cent, and 310 more patients recovered and were discharged. 
The state's tally of Covid-19 cases dropped significantly and fell below 3,000. According to the state health department's report, 3,741 cases were recorded on Monday, way less than Sunday's figure of 4,831. The number of fresh casualties also went down, to 52 from 126 the day before.
Also read: New prediction lowers daily Covid-19 cases during peak

The case fatality rate in the state remained constant at 2.12 per cent. A total of 4,696 patients recovered and went back home on Monday, leaving 51,834 active cases in the state. 
At 650, daily cases in the Mumbai Metropolitan Region (MMR), including the ones from Mumbai, also reduced. After Mumbai, Panvel reported the highest number of fresh infections at 61, followed by Thane Municipal Corporation at 46, Raigad at 39 and Thane at 40. Kalyan-Dombivli reported 35 cases and Vasai-Virar 27. 
The MMR, excluding Mumbai, registered 12 Covid-19 fatalities on Monday. Kalyan-Dombivli reported seven deaths, highest in the MMR region. Navi Mumbai reported two deaths, and Ulhasnagar, Thane and Mira-Bhayandar one each.
64,60,680
Tal No. of cases in Maharashtra
650
Total no. of cases reported in MMR in the last 24 hours
2
No. of deaths in city on Monday (Both patients were senior citizens and had comorbidities)
310
Patients recovered and discharged in city on Monday
68,15,808
(Total no. of people administered the first vaccine dose)
24,89,854
(No. of people who have taken second vaccine dose so far)
87,072
(No. of people who took their first vaccine dose on Monday)
74,766
(No. of people who took their second vaccine dose on Monday)