Though the proportion of youngsters getting Covid has been gradually going up since March, it now stands at 10.8 per cent, way higher than the average 6.5 per cent in the first wave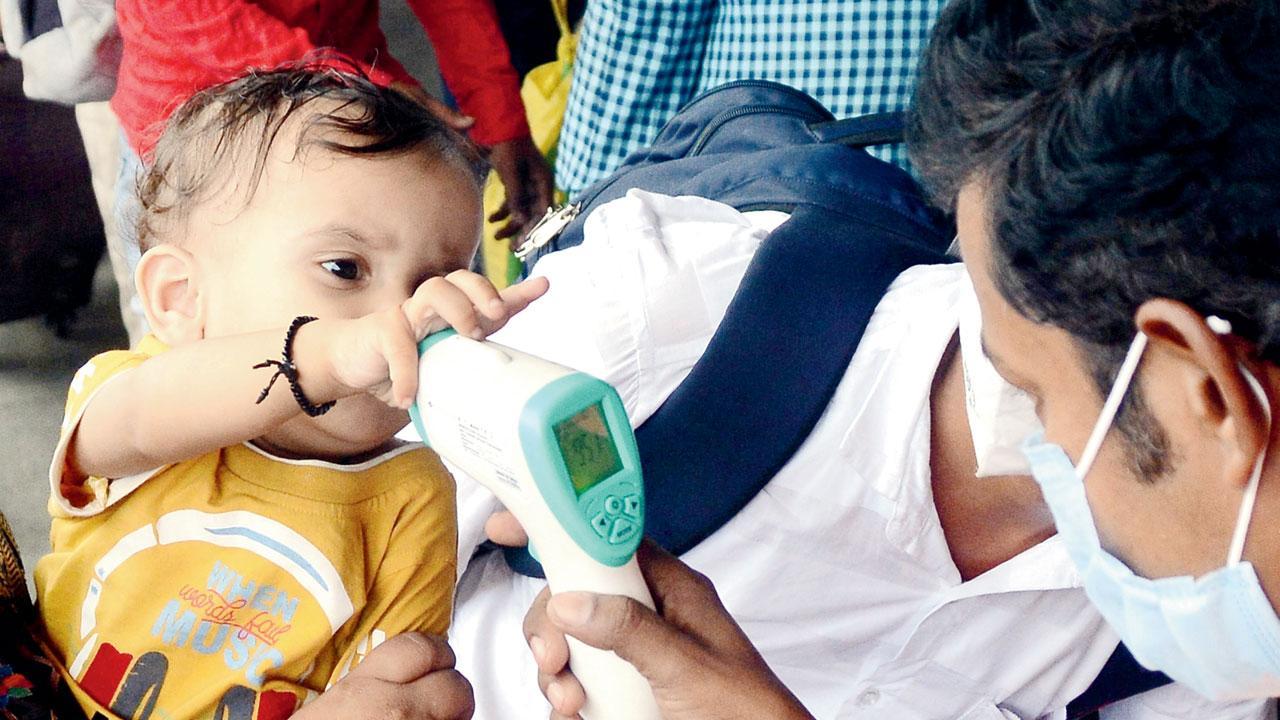 A young passenger at LTT. About 65 children below nine years of age have tested positive in the past week. Pic/Sayyed Sameer Abedi
The city has begun to report a spurt in Covid cases among children. This comes at a time when experts have warned of a possible third wave and its worrying impact on children. Between August 21 and 28, Mumbai saw 274 children below 19 years contracting the disease, which is 10.78 per cent of all cases, and 65 of them are less than nine years old, say official numbers. Over the past few days, 15 inmates of an orphanage at Byculla and 18 at the Mankhurd children's home have tested Covid positive.
Officials said the trend is not an isolated one and that the share of Covid among children has ballooned from March, surpassing 13 per cent in June.  The average infections in children compared to all cases since the beginning of the pandemic stand at 6.5 per cent. The situation can be attributed to mass vaccination of 18-plus citizens and the partial reopening in the past few months, said officials, adding that there are no vaccines available for children yet.

Vaccines for kids are still being tested
In the week preceding August 28, Mumbai recorded 2,541 cases and one-tenth of which were children. In the first 20 days of this month, 508 children caught the virus and the figure was 9.2 per cent of the total 8,041 cases in the city. Though people above 50 years of age were hit hard in the first wave, the second wave affected more from the working class who are between 20 and 50 years old. Children have so far been spared from the onslaught of the pandemic. 
Also read: New prediction lowers daily Covid-19 cases during peak

As per the Census, about 29 per cent of the city's population is below 19 years old and children comprised 5.6 per cent of all cases between March 2020 and February 2021. Starting May, as the infection among adults started declining, the proportion of cases among children started rising. Of the total 16,628 cases, 2,210 patients were younger than 19 years. In July, cases went down slightly, maybe due to civic corporations raising awareness and drives at slums, said officials. 
Though the infection among children has increased, most patients are asymptomatic or mildly symptomatic. The virus has claimed the lives of 13 children since March which is less than 1 per cent of overall deaths.

A civic worker takes the temperature of a girl at Kurla. Pic/Sayyed Sameer Abedi
"The third sero-survey conducted in June revealed that over 51 per cent of children have Covid antibodies, which indicates that a significant proportion of children were exposed to the virus during the second wave. Another reason is children are going outside after the reopening and not able to follow Covid-appropriate behaviour," said Suresh Kakani, additional commissioner of BMC. The official added that parents need to be careful. "Wearing masks and washing hands frequently will help in the long run, he said."
274
No. of children affected between Aug 21 and Aug 28