Fifty-eight families approached Bandra-based school over financial woes since start of pandemic; six yet to pay dues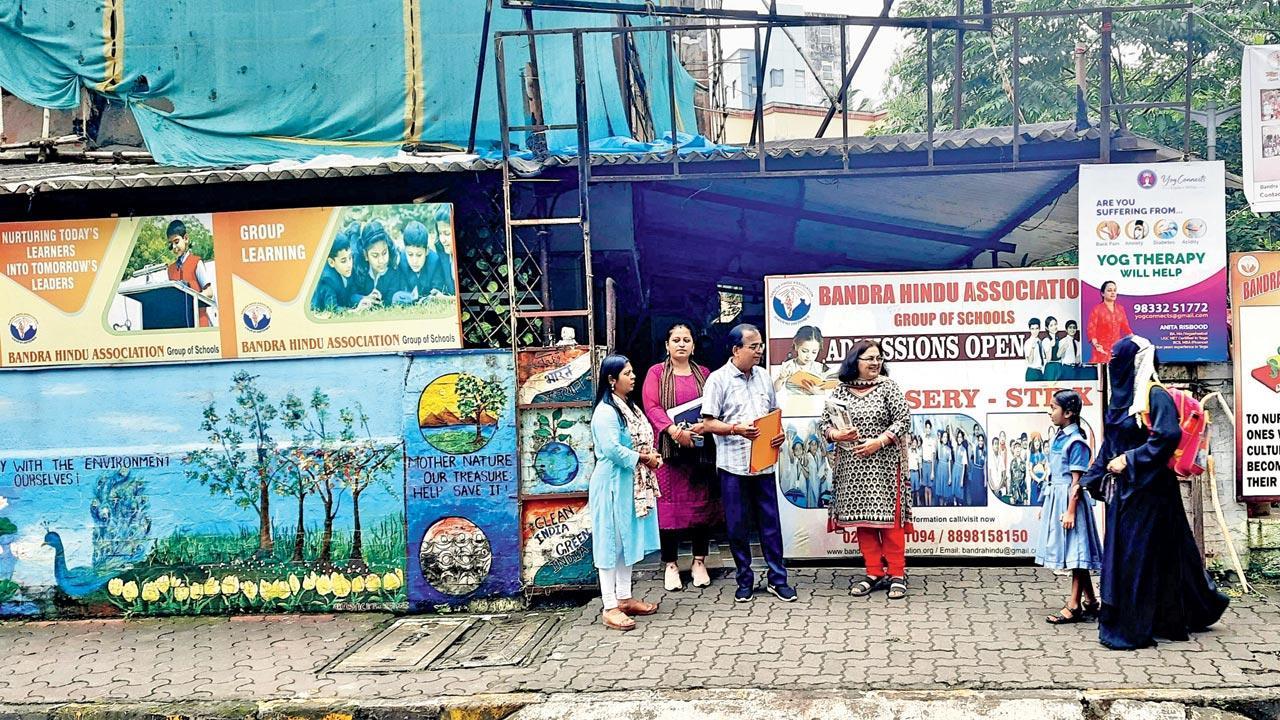 The Bandra Hindu Association High School at Bandra West. Pic/Shailesh Bhatia
In the wake of the pandemic, potentially thousands of economically challenged parents are unable to pay school fees, resulting in education institutes withholding their children's mark sheets and leaving certificates, which are mandatory for admission to colleges.
Though exact data can only be collected by a centralized agency, mid-day visited Bandra Hindu Association High School in Bandra West to gain an understanding of the situation. About 80 per cent of the school's nearly two hundred students are from minority communities.
Also read: Maharashtra: Despite CM Eknath Shinde snub, schools find merit in 'no-homework'
Ajeet Manyal, chairman of the Bandra Hindu Association, said, "Since the start of the pandemic, we had fifty-eight students whose families had approached us as they could not afford to pay fees. Even though we were owed R60 lakh in fees at one point in time, we asked the parents to pay what they could, within reason, and close the chapter, as their child's education and future were at stake and colleges in Mumbai would shut their admission counters soon."
He added that good Samaritans had been approached by the school who volunteered to sponsor twenty-six students, which brought relief to the school and the families concerned.
Kalpana Adhya, chief administrator of the school, said that currently, six students' unclaimed mark sheets are lying with the school due to non-payment of fees and that they had been constantly requesting the parents via post and telephone to meet the school's office-bearers and explain their situation so that an amicable solution could be found.
Office assistant Deepika Gala, who handles the school's accounts, said that the six students' parents owe the school less than Rs 2,00,000 collectively.
"Many parents have been told to pay just Rs 2,000 per month, which includes fees and the cost of all extracurricular activities for the overall development of the child such as visits to tribal areas, museum tours, four annual medical camps for students and their families, menstrual hygiene workshops for girls and their mothers and water-park visits to Lonavala. In this scenario, we also feel helpless, when we barely have money to pay our teaching and non-teaching staff of 21, who are a valuable asset for our institutions, if the standard has to be maintained," Adhya said. The school has 12 teachers.
Hasteshwar Dhotre, a rickshaw driver, who lost his livelihood during the pandemic, and nearly R7 lakh in an alleged scam is one of the parents who has not collected his daughter's SSC documents from the school.
"My family has been forced to shift from Khar to Virar. I can barely afford to pay the fees of one of my five children. I actually feel ashamed to visit the school with my problems," said Dhotre, who owes the school nearly Rs 30,000.
Navnath Vanave, education inspector of West Zone, said that there was no centralised data has been collected on the subject but added the issue is taken up with the respective schools as and when individual complaints are received.
"Some schools give a full waiver while others settle accounts by offering discounts or an EMI option," he said.