Desperate to escape fast-moving blaze, families had no time to take anything from their homes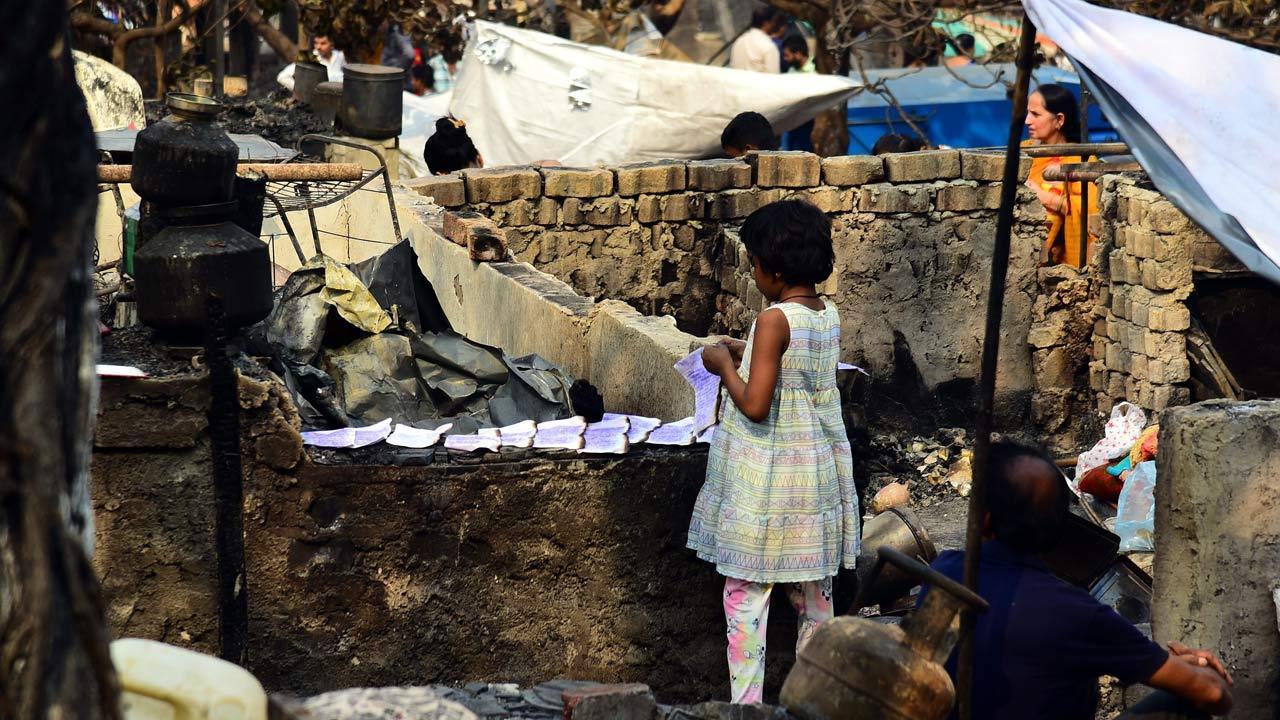 A little girl watches her books salvaged by firefighters dry amidst the ruins of her home in Appa pada on Tuesday
At a time when students across the state are preparing for the SSC exam, those residing in Malad East's Appa pada, which witnessed a fire on Monday, are coping with the fact that their hall tickets, textbooks and notebooks have been destroyed. They were clueless about how to enter exam halls at their respective centres on Wednesday.
 
The fire in Anand Nagar, a slum situated on a slope of forest land, gutted more than 3,000 houses made up of plastic sheets and temporary sheds in an area of 10,000 sq m. On Tuesday afternoon, the area was crowded as hundreds of bystanders and visitors, including women and children from neighbouring areas, had gathered. More than 50 big trees were scorched but standing tall on the land. There were at least four fire brigade vehicles put on standby mode while authorities, including the police, were making rounds. Many local NGOs were seen distributing clothes, medicines and water along with snacks and meals.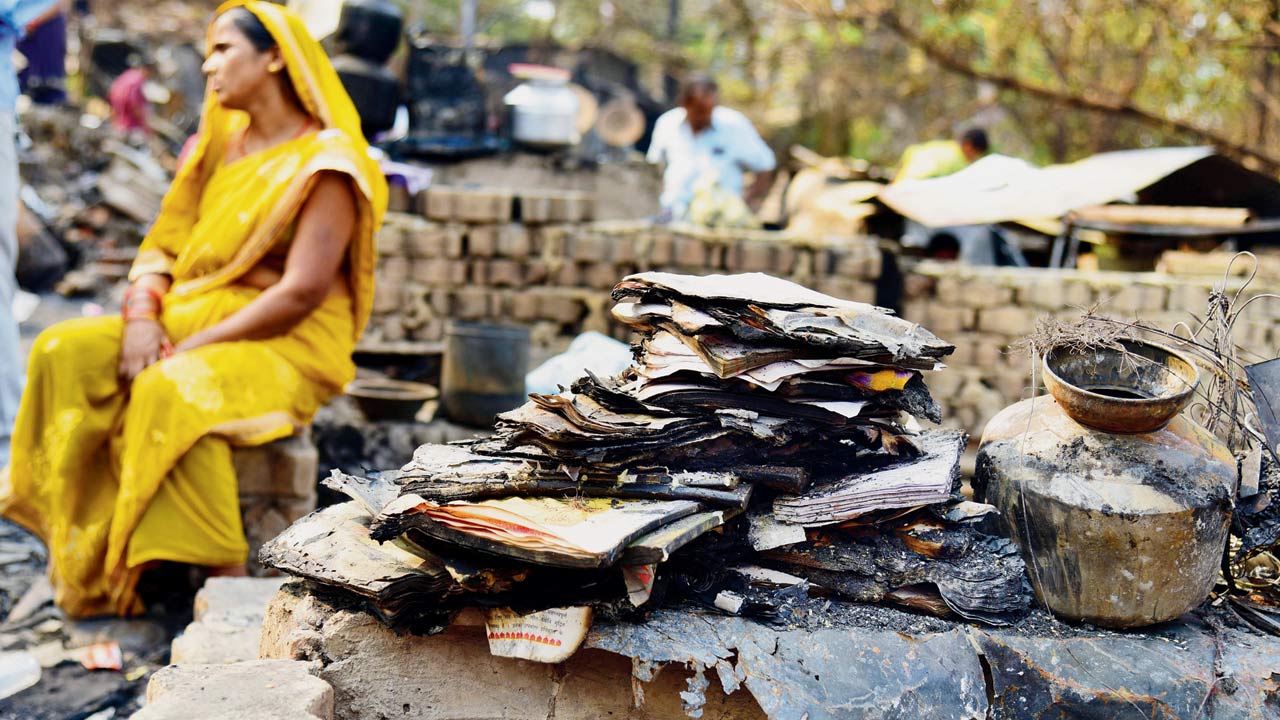 A local sits amidst the gutted remains. Pics/Nimesh Dave
ADVERTISEMENT
The BMC had made temporary housing and food arrangements for slum dwellers. But most of the residents opted to sit on the piece of land where their house stood until a day ago. Hordes of teenagers stood about looking dazed. One of them, Sunny Shrivastav, a Hindi-medium civic school student, has a Maths 2 paper on Wednesday but his books were charred in the blaze.
Also Read: Mumbai: Blaze guts 200 shops at Jogeshwari furniture market
"All the books along with our belongings were claimed by the fire. We are helpless. We faced the action from the forest department earlier, but that time we could take our possessions with us. The fire didn't give us a chance," said Sunny's father Manu. The SSC examinee told mid-day that his school teacher assured students of help with regard to hall tickets. "There are many students like him who are appearing for the SSC. I don't know what they will do without textbooks or a place to study," said Kumkum, Sunny's elder sister.

SSC examinee Aniket Ingale stands amid the charred remains of Anand Nagar slum in Malad East's Appa pada on Tuesday. Pics/Nimesh Dave
Lata Ingale, a resident, said that she was out working on Monday evening while her daughter Aarti and son Aniket, Class 8 and 10 students respectively, were at home. "On noticing the fire, they fled in different directions. Aniket ran with his friends to a nearby ground while Aarti head into the forest. I was searching for them for at least three agonising hours." Aniket said that the school administration told him along with others to appear for the exam. "But we don't have any idea about how we will enter without hall tickets. We don't even have books and there is neither electricity nor a place to study," said the teenager.
Savita Patil, a resident, said, "I was inside my house around 5 pm when I heard children screaming, 'fire, fire'. I thought they had burnt some waste paper and came out to scold them but I saw a huge blaze, which was followed by a series of cylinder blasts. I quickly ran inside and removed our cylinder from the house. I ran inside again to collect our valuables from the cupboard but then I heard another blast just a few metres away. I was so scared that we ran for our lives." She claimed that locals heard more than 100 such blasts and the last one occurred around 6.10 pm.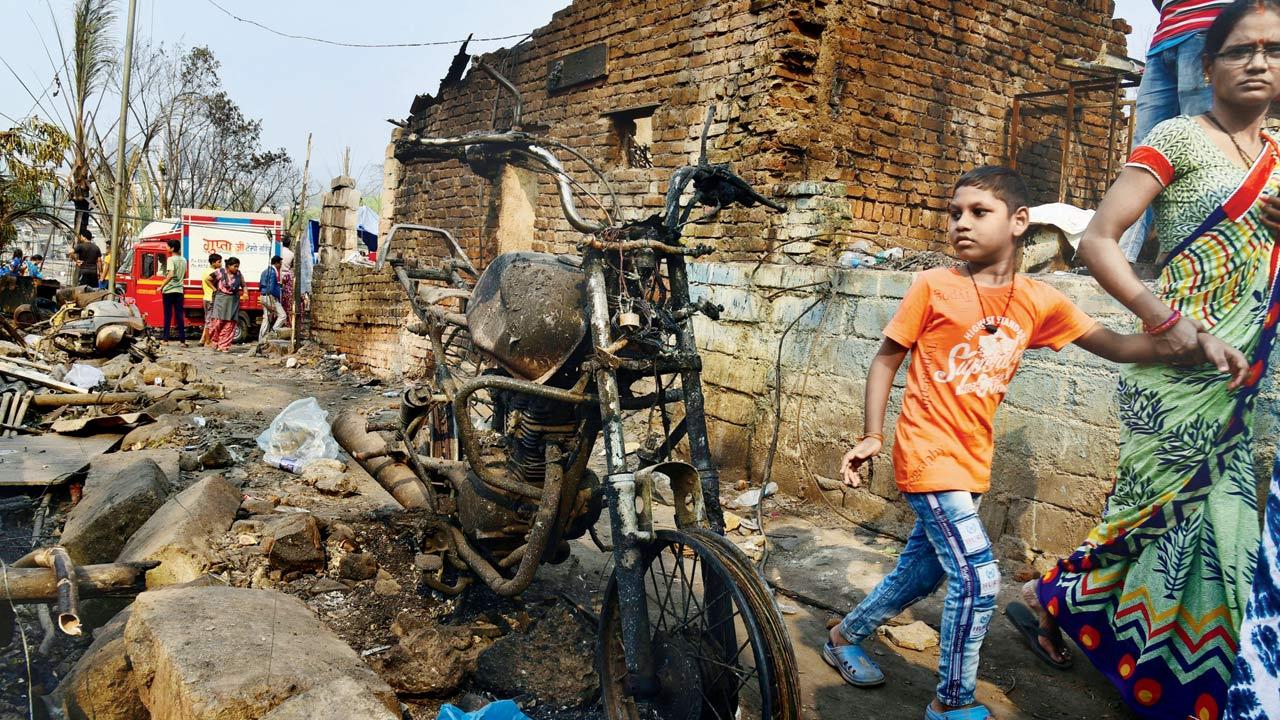 The BMC has made temporary housing and food arrangements for the now homeless slum dwellers
Rajashree Durgavali, another resident, said that her family has been staying in Anand Nagar for 30 years. "At the time of the fire, my 70-year-old mother-in-law and husband were at home. I was out working. I suddenly started running home after hearing the news of the fire. My neighbours helped my mother-in-law but we couldn't retrieve our belongings," she said. She added that there were instances when the forest department bulldozed all settlements but at that time locals could at least take away their possessions.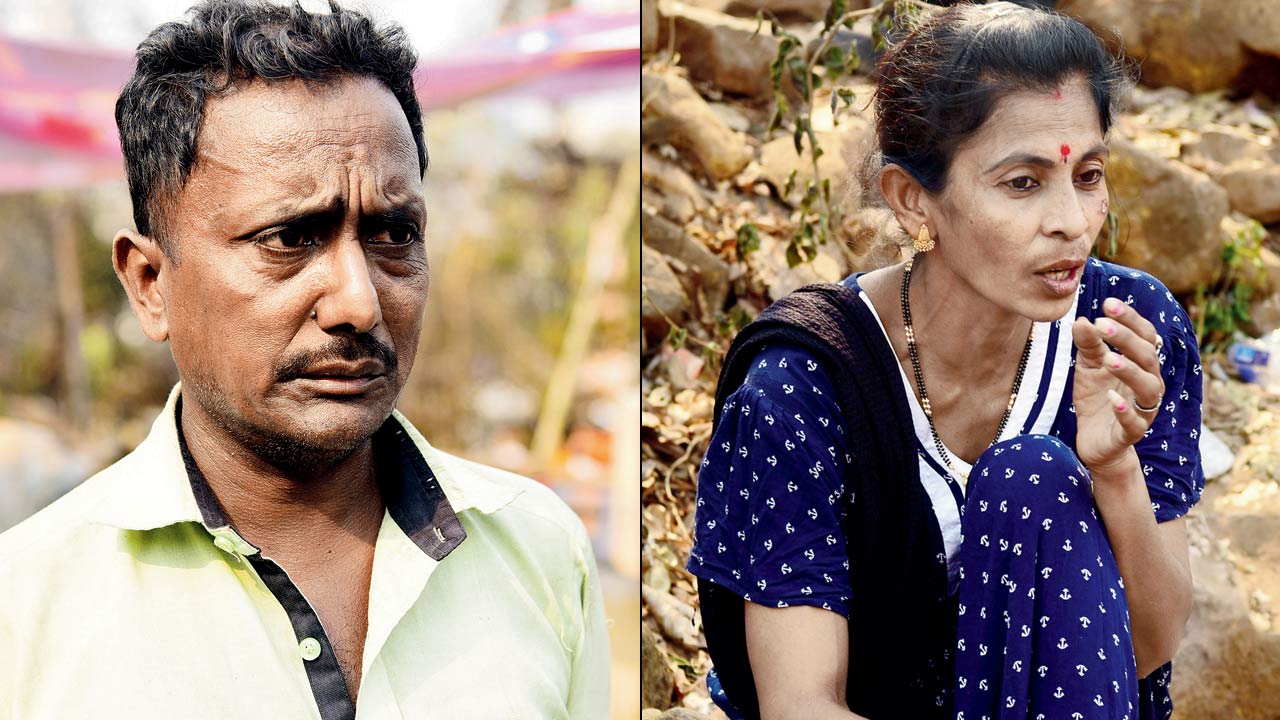 Manu Shrivastav and Savita Patil
One of the bystanders told mid-day that he stays at least a kilometre away from the area. "But the cylinder explosions were so loud that all residents of the neighbourhood ran from their houses and stood in the vicinity for hours," he said. 
3,000
No of houses gutted in fire
6.10 pm
Time last cylinder blast was heard on Monday