Cops register NC against man as he married two women, but the women remain free as they married only one man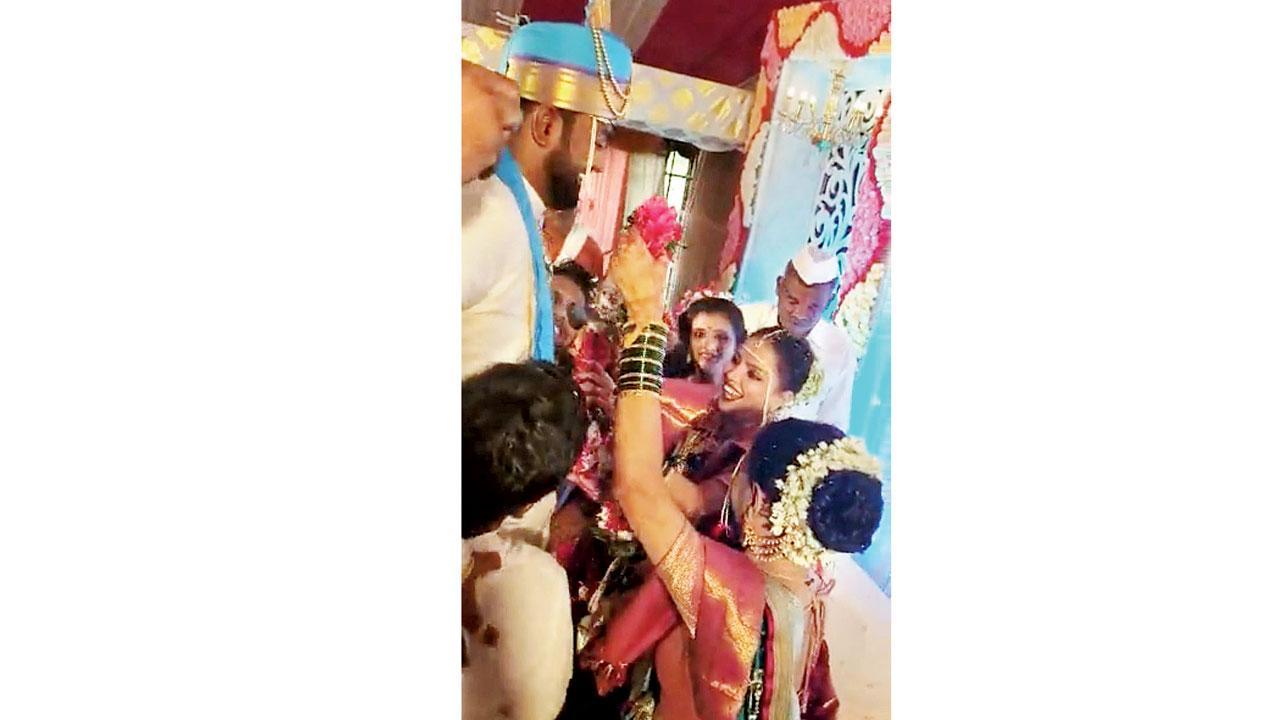 A video of the wedding has gone viral
The Solapur police have registered a non-cognisable offence against a Mumbai-based taxi driver for marrying two sisters from Charkop, Kandivli West. Confirming the development, Solapur Superintendent of Police Shirish Sardeshpande told mid-day that an NC has been registered against Atul Uttam Avtade, a resident of Andheri, under Section 494 (marrying again during lifetime of husband or wife) of Indian Penal Code.
The case was filed after a video of their wedding, which took place in a hotel in Akluj village of Solapur, went viral. This prompted a social worker to approach the police, seeking legal action against the husband as it was breaking the social fabric of society.
The wedding took place on December 2. "The hotel was booked by a third party," said Nana Galande, one of the partners of the hotel. SP Sardeshpande said, "The NC is registered at Akluj police station on the complaint of local social worker Rahul Bharat Phule. The accused is a taxi driver whereas the twin sisters work as engineers."
Also Read: Mumbai: No end to Andheri motorists' woes
A source told mid-day, "The twin sisters—Rinki and Pinki—live with their mother in Kandivli. There was a time when the mother fell sick and had to be admitted to a hospital in Andheri. At that time, Avtade helped them a lot. This eventually led to one of the sisters to fall in love with Avtade." "The other sister also started liking Avtade and the duo discussed the prospect of marrying Avtade with their mother. She agreed to both the sisters marrying him," added the source. 
Why the case?
Basavaraj Shivpuje, deputy SP of Akluj village, told mid-day, "We have registered an NC as it encourages bigamy. Since it's an NC, we have no legal rights to investigate the matter. We are planning to approach a magistrate court to seek legal permission to start a probe."
When asked why the twin sisters have not been booked, he said, "In this marriage, the husband violated Section 494 of IPC. The women married one man, but the man married two women and hence violated the rules." SP Sardeshpande said, "Avtade is a native of Akluj village. Hence the wedding took place at his village." Charkop cops also started probe.
What's Section 494?
As per the section, whoever, having a husband or wife living, marries again, shall be punished with imprisonment and shall also be liable to fine. Do you like to travel on budget?