Our report spurs MP to intervene, visit spot; but he admits space crunch means girder work can be carried out in a staggered manner, pushing completion date to December 2023
MP Manoj Kotak visits the spot of Vikhroli east-west bridge on November 30
The opening of Vikhroli east-west bridge has been delayed further to December 2023. The BMC had earlier set May 2023 as the deadline for completion of the bridge work. Civic officials, during a spot visit by MP Manoj Kotak, announced the revised deadline. mid-day had on November 21 reported on the slow progress in the bridge construction work. Following the report, Kotak visited the spot on November 30 and asked BMC officials to expedite the work. » P02
MP Manoj Kotak said, "The Brihanmumbai Municipal Corporation official told me the work of the bridge will be completed by 
December 2023."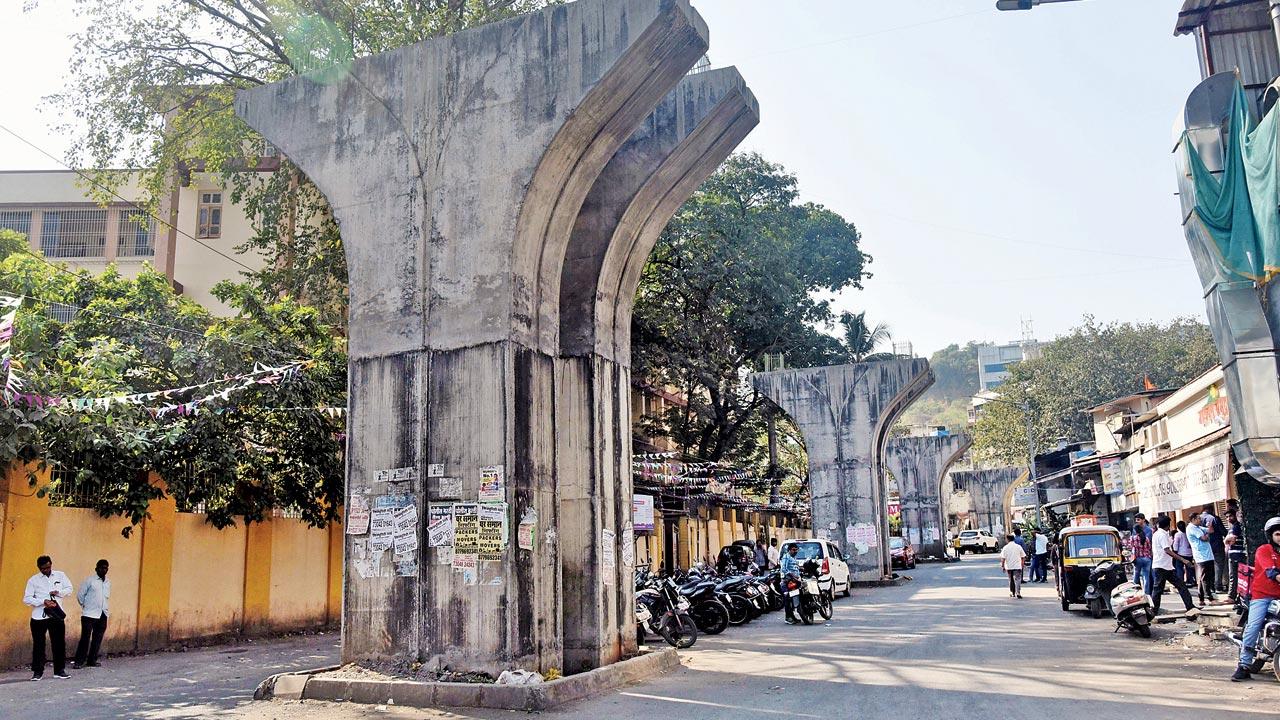 The pillars for the Vikhroli east-west bridge have been constructed. File pic
"As there is no place to store the girder on the west side of Vikhroli, BMC has decided to install the girder on the east side first. This work will be completed by March 2023. After that, they will store the west side girder in the east and then transport it to the west side later," the MP added.
A BMC official said that the Vikhroli bridge is 12 metres wide and 615 metres long. Of this, the 350-m part on the east side will connect to the Eastern Express Highway, 50 m will be over the railway tracks and the remaining 215 m will be on the west side. "The bridge has 19 pillars and we have finished constructing all of them. Now, the girder needs to be installed," the official said.
Also Read: Maharashtra: Government to audit 10 per cent institutes overseen by FRA
Shivaji Sutar, chief public relations officer of Central Railway, said, "Our girders are ready in the Bhopal factory and are going to be installed on the railway track. We just need a place to store them before installing them. The length of the girder is 50 metres. We will also ask the civic body to provide a place to store the girder. Once it is installed, the work within the railway boundary of a 50-m span will be completed in two months."
The BMC started work on the bridge in 2018. It was initially set to be completed by 2020, but there were several delays and then the pandemic hit. In a report before the BMC standing committee in February this year, the civic body had said that the work will be finished by May 2023. Officials claimed that land acquisition and changes in the design of the girder led to the delays.
Apart from this, the cost of the bridge has also shot up from Rs 45.77 crore to a whopping Rs 88.45 crore. 
Mario Jose Rodrigues, a Vikhroli resident, said, "The work keeps getting delayed and they keep mentioning new deadlines. Now they are saying that it will be completed by the end of 2023. Officials should ensure that the work is completed as soon as possible."
2018
Year when work on the bridge started
Rs 45.7cr
Initial estimate of the construction cost 
Rs 88.4cr
Current cost of the bridge construction Will Raj Thackeray`s MNS join hands with BJP ahead of BMC elections?