It'll be an extension of Line 4; transport expert says city instead needs link to Eastern Freeway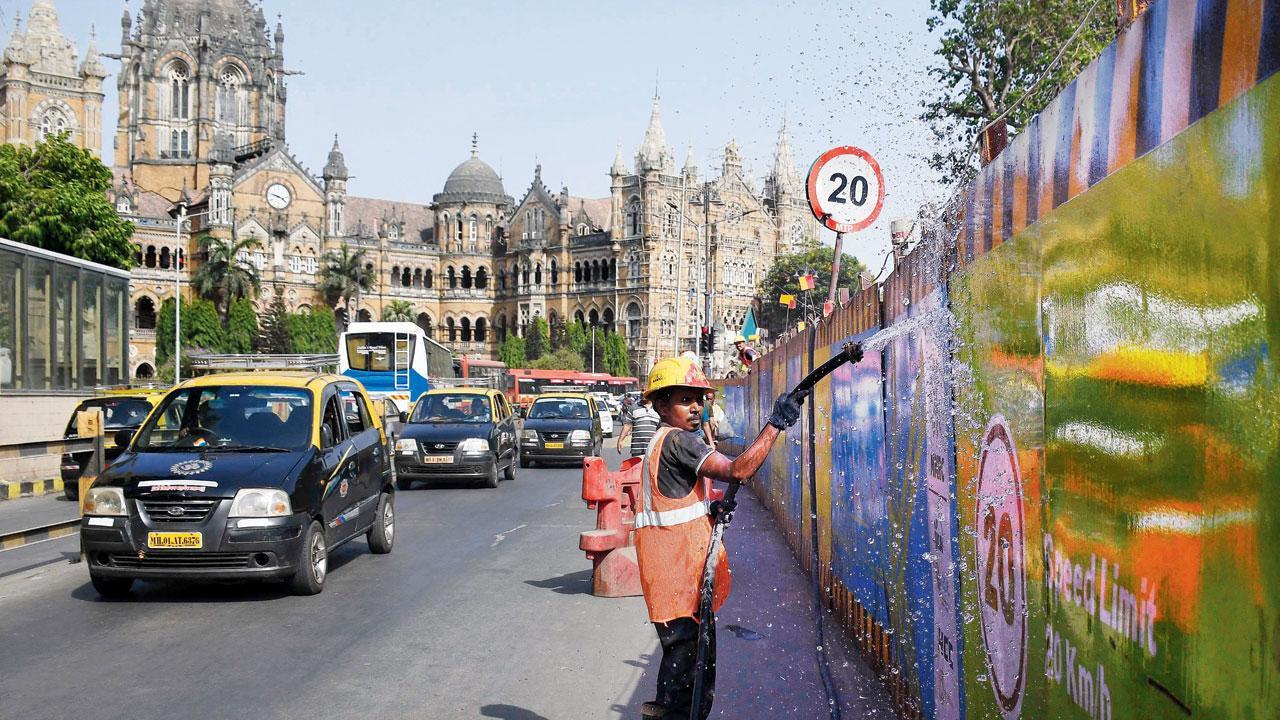 A worker cleans the Metro barricade near CSMT. File Pic/Ashish Raje
With Line 11 sanctioned in Thursday's budget, the 19th century Victorian Gothic railway marvel Chhatrapati Shivaji Maharaj Terminus will have Metro connectivity to both western and eastern suburbs. Among the new lines sanctioned on Thursday is Green Line 11 from Wadala to CSMT, which is an extension of Green Line 4 that is under construction between Bhakti Park in Wadala and Thane.
As per the budget announcement, Line 11, measuring 12.77 km in length, has been taken up at an estimated cost of R8,739 crore. It will be partially underground and have 10 stations. The Metro station at the CSMT will be on the east side. The state government has also approved an extension of Line 10--Gaimukh to Shivaji Chowk in Mira Road, having a length of 9.2 km with four stations, at an estimated cost of Rs 4,476 crore.
ADVERTISEMENT
Once the entire Green Line 4 corridor is complete, it will become around 57.11-km long, connecting Shivaji Chowk, Gaimukh, Kasarawadavali, Wadala and CSMT through 48 stations. Meanwhile, a new-age underground station at CSMT is nearly complete as a part of the Mumbai Metro Aqua Line 3 corridor, which would ferry commuters from Colaba to Seepz in the western suburbs. The new station is being linked with the existing pedestrian subway at CSMT.
Also Read: Mumbai: BEST unveils plan to procure 2,100 e-buses
"At CSMT, the existing subway is being linked to Aqua Line 3 station via an underground pathway for seamless connectivity so that commuters do not have to come on to the surface to change their mode of transit," an official said. The line will be on the west side of CSMT.
"This was planned earlier itself. The Metro Line 4 extension is a subsequent addition. Metro Line 3 alignment is quite proper. I am not sure about the need for Metro Line 4 extension from Wadala to CSMT, as we already have the Harbour railway line catering to that sector. We instead need an extension to connect Eastern Freeway with CSMT," said A V Shenoy, senior transport expert with Mumbai Mobility Forum, and Mumbai Vikas Samiti.
Rs 8,739 cr
Estimated project cost for Metro Line 11
10
No of Metro stations Line 11 will have Do you agree with the management`s decision of only letting devotees offer jal abhishek at Babulnath temple?