Not just dangerous for flamingos, but water analysis shows that effluents have made the Thane Creek sanctuary waters seven times more deadly for all marine life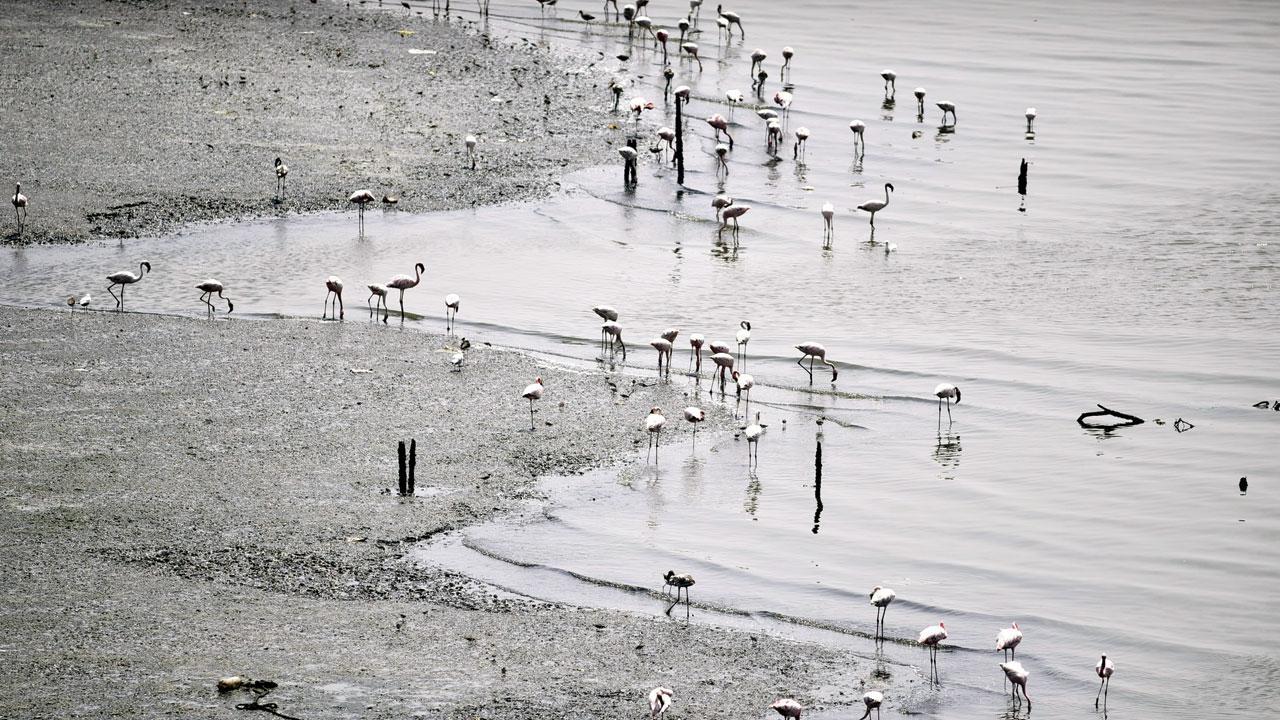 Flamingos near Airoli in Thane creek. File pic
The water in the Thane Creek Flamingo Sanctuary has shocking levels of pollutants, an activist has alleged days after claiming that industrial effluents from a damaged pipeline were flowing into the protected water body near the Vashi bridge. Stalin D of NGO Vanashakti said he had sent water samples from the creek for testing and the results confirmed his worst fears. Nearly 1.3 lakh flamingos visited the area this year.
The activist said the pipeline runs from the MIDC (Maharashtra Industrial Development Corporation) area. "Despite showing indisputable evidence of pollution in the form of videos and an analysis report, MIDC continues to deny that there is any leakage and this is completely unacceptable. The entire wildlife of the Thane Creek Flamingo Sanctuary is at risk because of this leaking pipeline," said Stalin.
The activist said, "The fact that leakages are happening is corroborated by many many fishermen but their voices were never heard. We will move the National Green Tribunal if the leakages are not fixed immediately. The discharge of effluents into the Thane Creek Flamingo Sanctuary must stop immediately from all entities concerned."
Also read: Thane Creek pollution continues, damaged pipeline dumps effluents

Citing the test report, Stalin said the levels of chemical oxygen demand (2,880 mg/lit), pH, biochemical oxygen demand or BOD (900 mg/lit), total dissolved solids (27366 mg/lit) and color (36 CU) are more than permissible limits.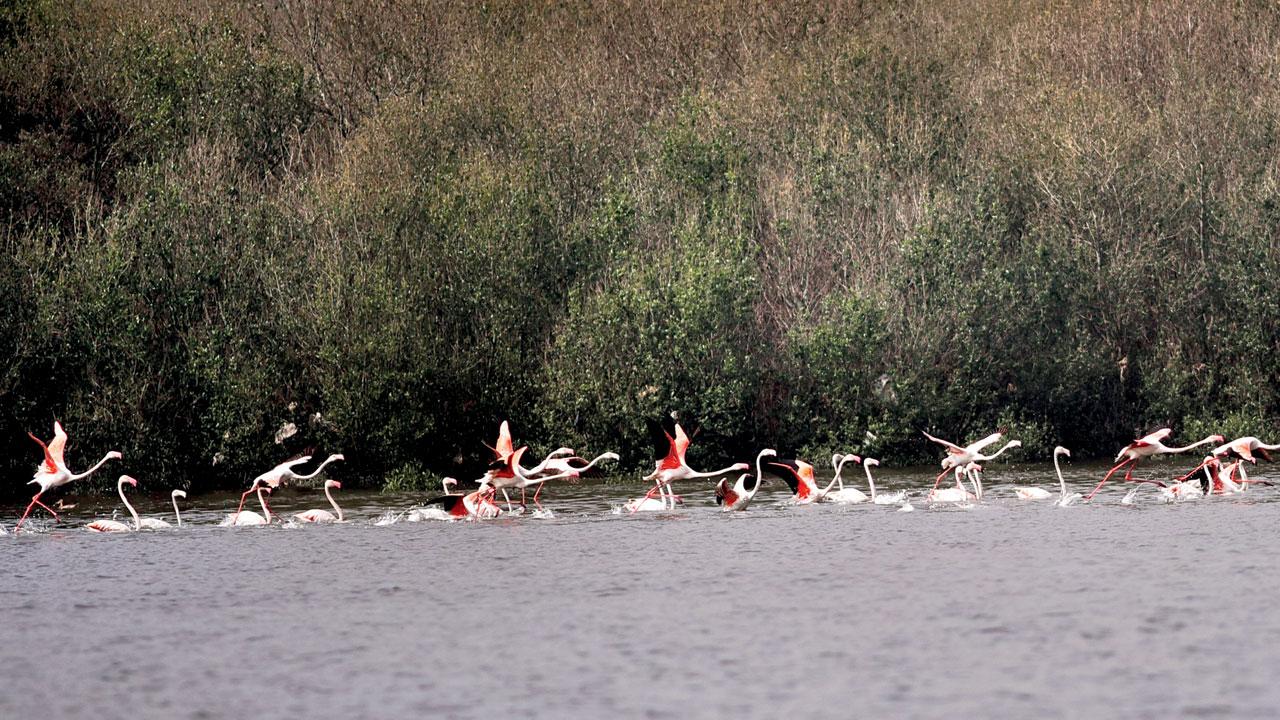 The Thane Creek Flamingo Sanctuary is a protected water body. File pic
"The test clearly proves that the water in the creek has become toxic and this will have a huge negative impact on the aquatic life inside the Thane creek. I have seen dead fishes in the creek and many fishermen have confirmed the repeated instances of fish dying," added Stalin.
What fishermen say
Nandkumar Pawar, fisherman and head of NGO Shree Ekvira Aai Pratishthan, Mumbai, said, "Fishing has decreased drastically because of the release of untreated toxic effluents into the Thane Creek Flamingo Sanctuary. Many times we also see that there are dead fishes float on the water of Thane creek and the main reason for the same is the pollution that is taking place inside the creek."
Pawar added, "On January 25, we had also collected water samples from the creek behind Kanjurmarg dumping ground and Bhandup Pumping Station and we found that the pollution level was seven times higher than permissible. BOD (biochemical oxygen demand) level is supposed to be 30 mg/L to be at a safe standard but in the samples it was found to be at 78 mg/L... Serious, scientific investigation is required on priority."
Environmentalist speak
NatConnect Foundation director B N Kumar said, "This is disastrous for the life that depends on the creek. The increasing inflight of flamingos shows that they are making the waters clean and biodegradable as the pink birds eat the algae and other pollutants. But this human intervention is a highly concerning development. It is  not enough for the government to work on getting the Ramsar Wetland tag for the sanctuary but they have to ensure that the waters are clean and the flora and fauna are protected. It's time for the government to walk the talk."
What the test found 
>> If the level of biochemical oxygen demand is 30 mg/lit, it's considered safe. In this case, i was 900 mg/lit
>> TDS or total dissolved solids ranges between 2000-5000mg/L for effluent discharge points but here it is over 24,000 which is very dangerous 
1.3L
Estimated no. of flamingoes that visited Thane creek this year