Taloja Hill's reforestation success story started with the depressing view from a new resident's window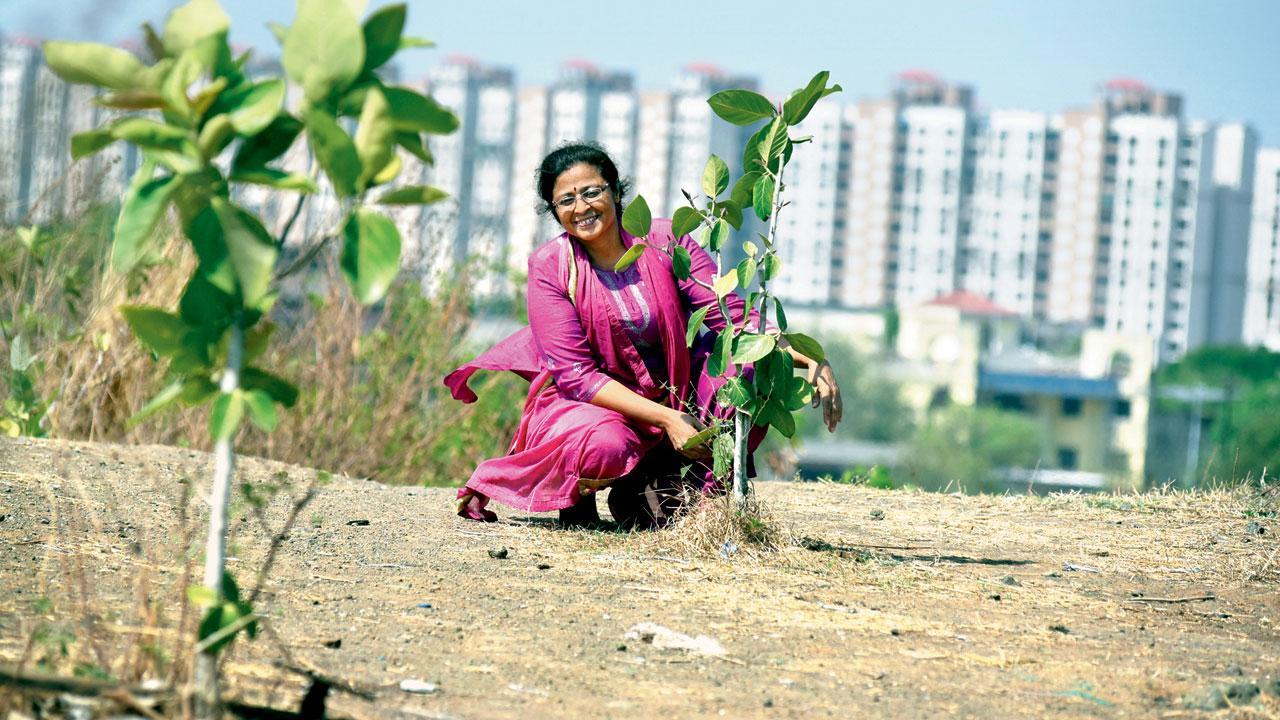 Jyoti Nadkarni poses with a young banyan tree
Along the stretch of hills in the Kharghar region of Navi Mumbai, one hill is special. It's called Taloja Hill due to its proximity to Taloja Central Jail, and is the site of a three-year reforestation initiative led by local residents, non-profit iNaturewatch Foundation and the Forest Department.
The success story's origins go back to 2016, when environmentalist and animal welfare officer Jyoti Nadkarni first moved into a residential building that faced the hill. "At the time, the land was barren. The few trees that existed were chopped by villagers for firewood once they reached a certain height. Illegal mining was also a concern. I soon realised that the only way to make a difference was to take responsibility," she recalls.
ADVERTISEMENT
Along with a few neighbours, Nadkarni approached the Forest Department for permission to preserve the patch of land. It took three months before the department gave them a nod and offered 100 saplings to get them started. Nadkarni and the volunteers took on reforesting the hill in earnest. A few months later, however, they met a hurdle when a rogue fire engulfed the hill. Nadkarni remembers the residents carrying up 20 litres of water to water the withered plants every day until the monsoon arrived. Slowly but surely, the hill came back into its own.
Also Read: Mumbai: Man parks at 'BMC parking lot', ends up being fined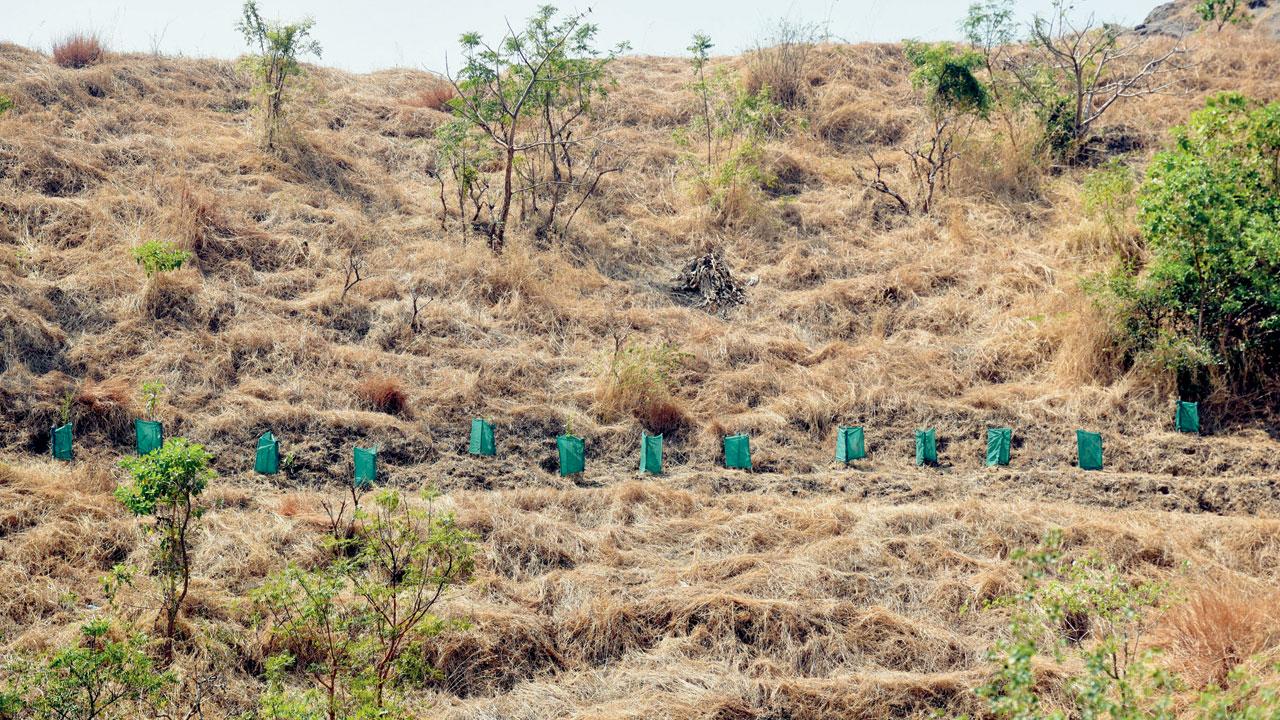 News of this citizen effort reached Dr V Subhalaxmi, entomologist and CEO of Navi Mumbai-based iNaturewatch Foundation, with whom Nadkarni had once done a long-distance biodiversity course. "When I got the opportunity to draft a CSR proposal, I knew I wanted to help the hill and the community engaged in preserving it," she says. With the support of DCB Bank and the Forest Department's Alibaug unit, iNaturewatch launched an official reforestation project at Taloja Hill in 2019.
In an effort to reintroduce indigenous species to the region, the NGO enlisted a team of botanists, zoologists, ornithologists and entomologists to survey the area. Soil sampling and water tests were conducted, and the topography of the region was studied to determine where the new vegetation would thrive. Reforestation was a challenge due to the rocky terrain and arid weather. The pandemic and subsequent lockdowns made it difficult to hire workers. iNaturewatch decided to once again turn to local volunteers to plant 8,000 saplings over three years.
This is the reason why Taloja Hill now has a lush cover of trees and grass, and is dotted with newly planted saplings protected by green enclosures. A small community nursery near the foot of the hill encourages locals to collect the seeds of native saplings and sow them during the monsoons. A series of coconut shells laid out along the ground demarcates a natural walking trail. One-foot-deep trenches have been dug into the slopes to prevent soil erosion, improve water percolation and trap important seeds. Water from a nearby reservoir is pumped up to a tank on the hill, from where caretakers nourish the plants. "Taloja Hill is special because it is a collection of five habitats: grassland, swamp, wetland, rocky terrain, and both dry and dense deciduous forest. It is a place where you can find all kinds of flora and fauna," says Nadkarni.
Careful biodiversity documentation has revealed that the plant species has risen from 38 to 172, insects from 39 to 89, birds from 39 to 89 and amphibians from 9 to 22. In an effort to educate people about the region's biodiversity, iNaturewatch has released a Pocket Field Guide which contains information about 49 species (20 flora and 29 fauna) that can be found on the hill (inaturewatch.org/downloads). 
The three-year project concluded in March 2023 with iNaturewatch conducting a four-week training programme to prepare 25 local volunteers, including Nadkarni, to become qualified naturalists. Starting this Sunday, there will be weekly volunteering events, and nature trails will be held during the monsoon months.
NatConnect Foundation director BN Kumar says this is an example worth emulating. "It should be seen as a pilot project by other NGOs and companies with CSR funds. Areas like Parsik Hill, which has been denigrated by quarrying, can be rejuvenated with similar efforts." Nadkarni emphasises the importance of preserving what little nature there is around us. "My dream is to see fireflies come back here!"