When asked what exactly went wrong, the railway officials said that it was pre-monsoon preparatory work at the site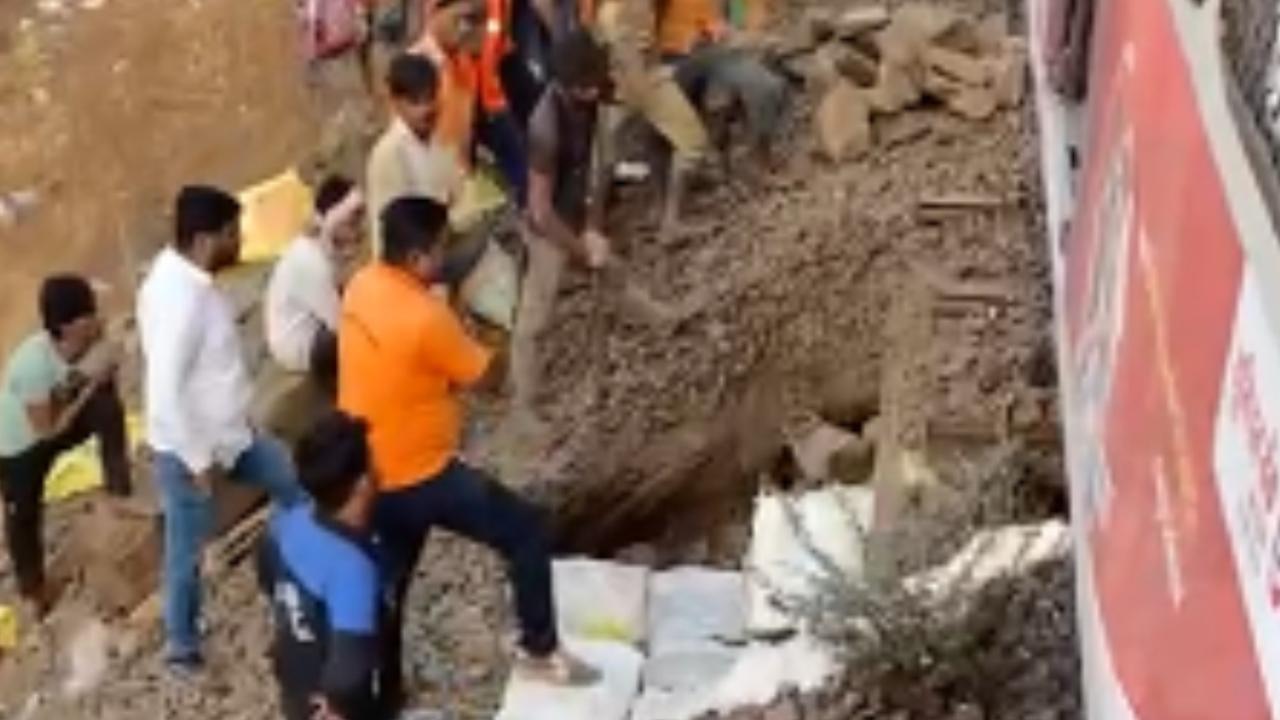 The spot where the track caved in. Pic/video screengrab/Rajendra Aklekar
Railway traffic on Central Railway's (CR) main line was affected after a cavity was formed under rail tracks near Umbermali station near Kasara on Thursday morning leading to a number of trains being affected. 
When asked what exactly went wrong, the railway officials said that it was pre-monsoon preparatory work at the site. "Work of micro-tunnelling to push a pipe structure under the rail tracks that was underway at the site, some 115 kms from CR's CSMT headquarters, when a cavity was noticed in the embankment at 6:30am," Shivaji Sutar, CR chief public relations officer said.
ADVERTISEMENT
"To avoid flooding in the area (Kasara-Ombermali), the existing small bridge of diameter 0.6 mtrs is being increased to 1.2 mtrs by conventional pipe pushing method. The work is being carried out for a total length of 25 metres across the tracks. This morning, a cavity was observed by staff under track due to which a CSMT-bound side track (Kasara to Kalyan direction) was made unsafe from 6.30 am to 7:21 am. The track was attended, and traffic normalized. The trains affected in the morning included two Kasara locals fully cancelled and two partially cancelled, 12138 Punjab Mail, 12106 Vidarbha Express, 18030 Shalimar Express, Panchavati Express etc. The work being carried is widening the small water way/bridge to make way for rainwater. This will help to drain out water easily," Sutar elaborated.
"CR is presently carrying out micro tunneling  work at Kalwa station. Expected to be completed by June /July. The funding has been provided by MRVC. Works to be carried out in near future: Sion station CSMT end, Vikhroli, Kanjurmarg stations.
CR, in the last few years has carried out micro-tunnelling work at Masjid, Sandhurst Road, Parel (Hindmata section), Kurla, Diva and Tilak Nagar and they have proved useful," he added.
Also Read: On Women's Day, these Central Railway commuters demand to be heard
He said, "For safety reasons, train operations on UP line (CSMT bound line) were stopped at the spot for around 45-50 minutes, which led to bunching of suburban and long-distance trains like Punjab Mail, Vidarbha Express."
"The cavity has been filled with bags and the track was declared safe, after which train movement began with speed restrictions at 7:20am," Sutar said.
Meanwhile, passenger activists from the Kalyan-Kasara belt said several suburban trains were delayed and cancelled due to the incident, and alleged CR took to Twitter to claim it was a "technical problem" instead of giving correct information.
"Due to technical problems in track on Up line between Kasara and Umbermali stations from 6.30 am, Up train services are held up. Staff working on repairing and Up services will start ASAP. Kindly bear with us for the inconvenience," CR had tweeted.
Kalyan-Kasara section is one of CR's trunk routes, with most of the north, east and north-east bound outstation trains passing via this section.
The suburban network is extensively used by thousands of passengers from areas like Titwala, Aasngaon, Kasara, Shahad etc. 
"Exciting news! Mid-day is now on WhatsApp Channels

Subscribe today by clicking the link and stay updated with the latest news!"
Click here!