Rlys finishes work of re-aligning tracks to speed up work on elevated station at Kurla, which will cater to harbour line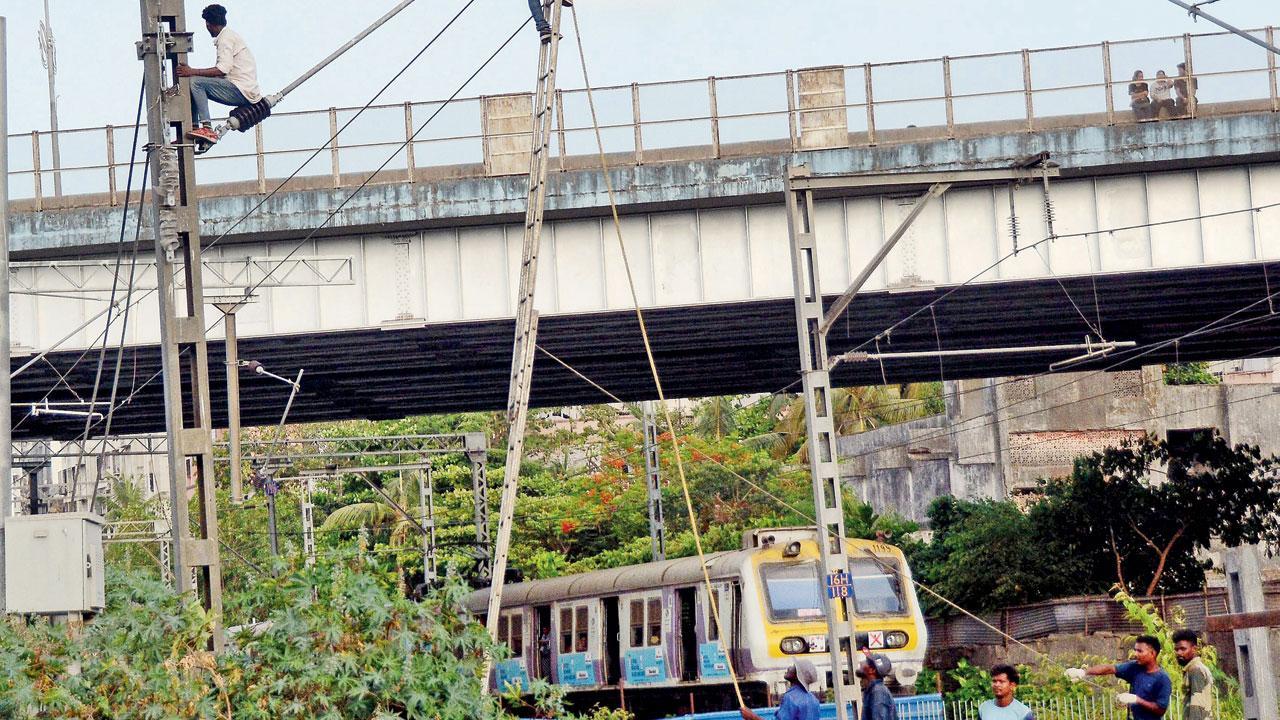 Workers handle overhead wiring for the shifting of the tracks. Pic/Sayyed Sameer Abedi
Nearly a century after it first began, the harbour line near Kurla is seeing a major change that was planned two years ago; its rail tracks have finally been realigned and shifted eastwards temporarily, for work on the new elevated station to proceed. The elevated station at Kurla will not only cater to regular traffic, but also have locals originating and terminating there.
It is a huge challenge to work, while keeping the city's lifeline moving non-stop. To get going with the elevated station project at Kurla, we needed to use space used by the existing century old tracks. To keep the trains running, we built a new set of tracks temporarily for a small stretch, where all existing harbour line traffic will be diverted, and as work on the elevated corridor completes, the tracks will again be realigned to take the new bridge, which will have the harbour line elevated station," a senior official said.
ADVERTISEMENT
"The elevated railway rises sometime after Chunabhatti station as the train moves towards Kurla and enters the new elevated station. It lands just before the Santacruz-Chembur Link Road crossover on the harbour line near Tilak Nagar station. To facilitate this construction, the new set of two tracks has been built over marshy land between Kurla and Tilak Nagar stations and the trains will be diverted here," he explained. On Thursday, work on the overhead wires was being completed and traffic will be diverted once the new tracks are ready.
Existing platform to be used
mid-day was first to report about the Rs 125 crore elevated harbour line station in October 2017. It is meant for locals which won't have to be halted for freight trains. When ready, the terminus will aid CR to also revive Kurla-originating trains to Navi Mumbai after two decades. The existing harbour lines platform at Kurla station will be used for the 5th and 6th line coming up between Kurla and Parel. The project includes the construction of a 1,120-metre, 59-span bridge linked to a central skywalk which will be connected to all other foot overbridges.
Birth of harbour line
The harbour line was India's first electric railway and resumed operations on February 3, 1925 between Bombay VT (now, Mumbai CSMT) and Kurla. The Kurla to Chembur tracks were the garbage line built in 1906 by the Bombay Municipality to transport garbage to the outskirts of the city. It was on December 4, 1924 that it opened for passenger traffic with a four-coach train and later merged with the Mumbai CSMT-Kurla corridor. The Kurla-Chembur line was extended to Mankhurd for steam locals in 1927, electrified post-independence in 1952 and doubled for Kurla-Chembur stretch in March 1959. Forty years later in the 1990s, the line was extended beyond the creek from Mankhurd to Vashi in 1992 and by 1998 to Panvel. Do you practice ecotourism?