The report said that the Indian government tried to prevent the human rights situation in the country from being discussed abroad by imposing international travel bans on human rights defenders and detention without trial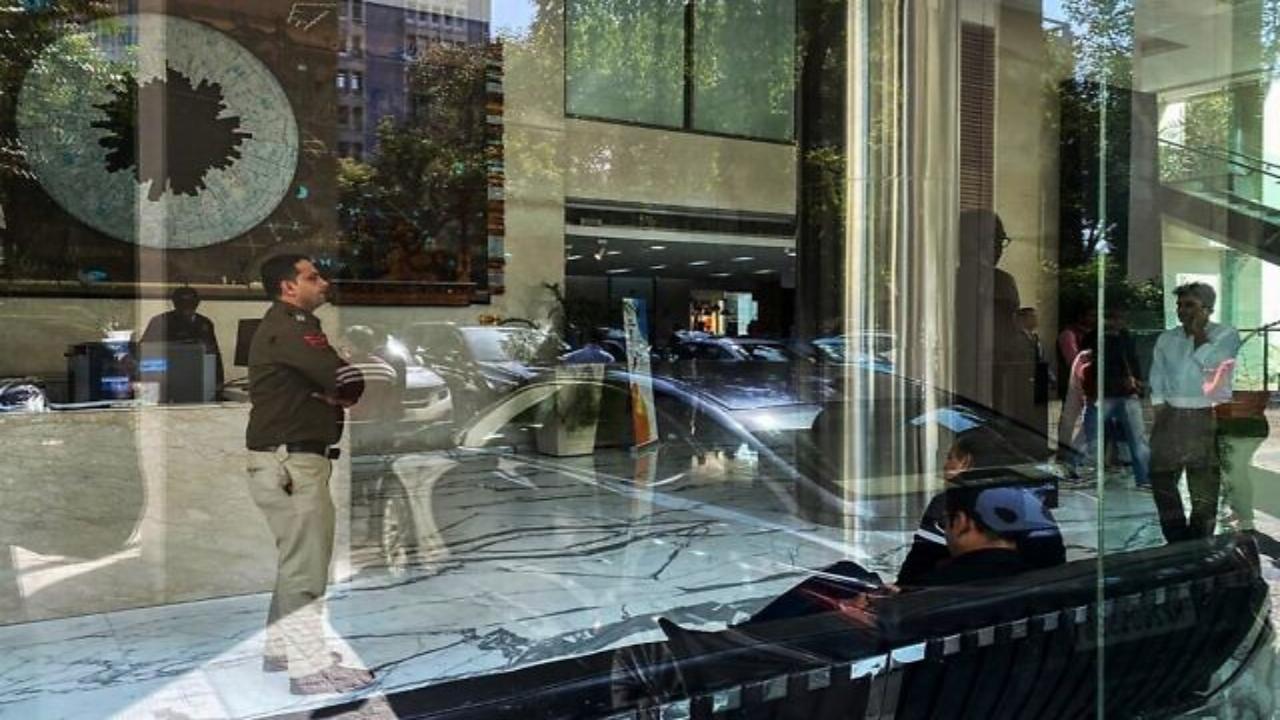 A police officer stands near the reception desk of the office building where Indian tax authorities raided BBC's office in New Delhi on February 14, 2023. (Uzair RIZVI / AFP)
Amnesty International in its annual report "The State of the World's Human Rights" has accused India of using money laundering laws and other pretexts to harass media organisations and Non-Governmental Organisations in the country.
The report said that the Indian government tried to prevent the human rights situation in the country from being discussed abroad by imposing international travel bans on human rights defenders and detention without trial.
ADVERTISEMENT
"The State of the World's Human Rights" report has found that double standards on human rights abuses taking place around the world fuelled impunity and instability, including deplorable lack of meaningful action on the plummeting human rights record in Afghanistan, inadequate responses to a spiralling economic crisis in Sri Lanka and the refusal to confront the crackdown on dissent and persecution of minorities in multiple South Asian countries.
"The Universal Declaration of Human Rights was created 75 years ago, recognizing the inalienable rights and fundamental freedoms of all people. Global economic dynamics and shifting power structures are unleashing chaos in which it is easy to lose sight of human rights. As South Asia sits on the brink of a volatile and unpredictable future, it is important now, more than ever, to keep rights squarely in the centre of all negotiations and conversations," said Deprose Muchena, Senior Director at Amnesty International.
The report said that attacks on press freedom persisted in multiple countries. In Afghanistan, journalists faced arbitrary arrest and detention as well as torture and other ill-treatment for reporting that was critical of the Taliban. In Bangladesh, where journalists experienced physical assaults, judicial harassment and other reprisals for their reporting, a draft data protection law threatened to further curtail freedom of expression. Media workers in Pakistan also came under increased pressure as journalists and others were arrested on spurious charges.
As the Universal Declaration of Human Rights turns 75, Amnesty International insisted that a rules-based international system must be founded on human rights and applied to everyone, everywhere.
Also read: Kharge slams Centre after Rahul asked to vacate bungalow
"South Asian countries seem to apply human rights law on a selective basis in a staggering show of blatant hypocrisy and double standards. They only criticize human rights violations when it aligns with their global and regional politics but are mute spectators to similar abuses at their own doorstep just because their interests are at stake. It is unconscionable and undermines the entire fabric of universal human rights," said Yamini Mishra, Regional Director for South Asia at Amnesty International.
Amnesty International called for the UN's key decision-making body, the Security Council, to be reformed to give a voice to countries and situations which have been traditionally ignored, especially in the global south. Do you indulge in mindful activities for an improved mental health?