Eknath Shinde, whose Shiv Sena shares power with the BJP in Maharashtra, in a tweet also informed that he and Deputy CM Devendra Fadnavis met Union Home Minister Amit Shah in Delhi on Sunday night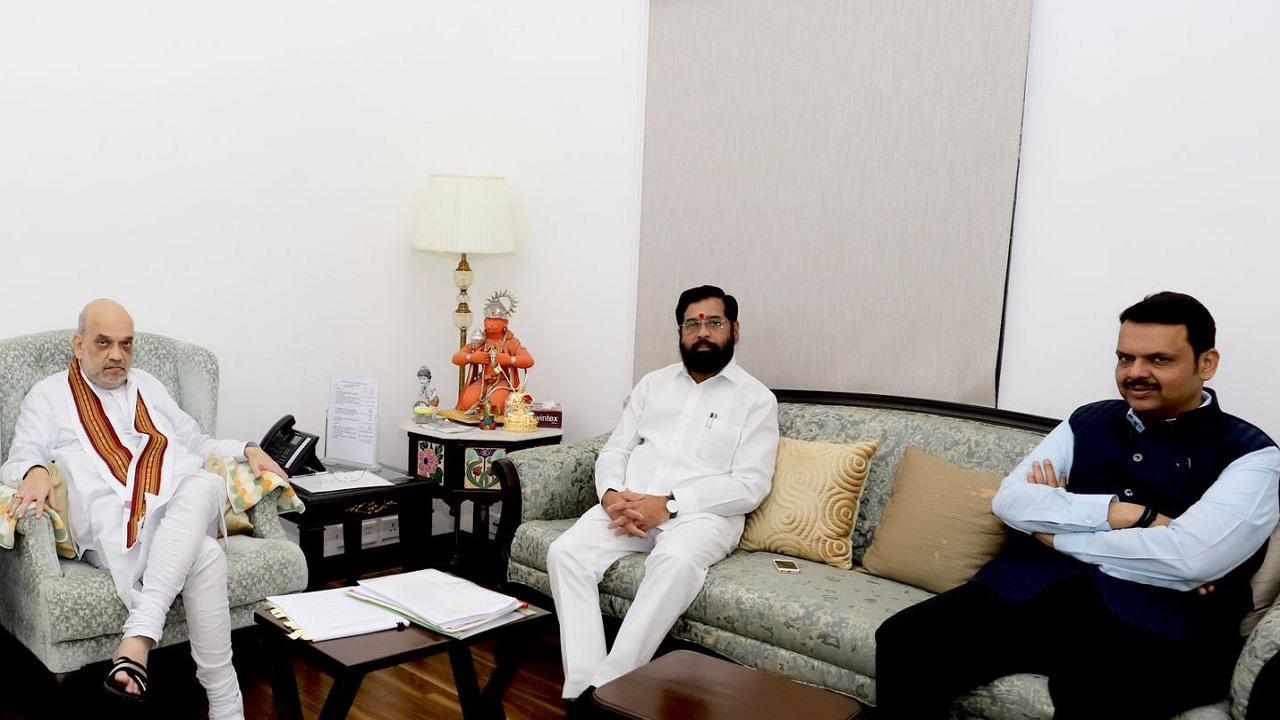 Pic/Twitter@mieknathshinde
Maharashtra Chief Minister Eknath Shinde on Monday said the Shiv Sena and the Bharatiya Janata Party (BJP) will contest all future elections together, including civic polls.
Eknath Shinde, whose Shiv Sena shares power with the BJP in Maharashtra, in a tweet also informed that he and Deputy CM Devendra Fadnavis met Union Home Minister Amit Shah in Delhi on Sunday night.
ADVERTISEMENT
"I and Dy CM Devendra Fadnavis met Union Home Minister Amit Shah in Delhi yesterday, it was a positive meeting. During the meeting, it was decided that all future elections (including the Lok Sabha, Assembly and civic bodies) will be contested jointly by the Shiv Sena and BJP. We will contest and win the elections with majority," Eknath Shinde tweeted along with a photograph of his meeting with Amit Shah.
काल, रविवारी रात्री मी आणि उपमुख्यमंत्री @Dev_Fadnavis यांनी दिल्लीत केंद्रीय गृह आणि सहकार मंत्री @AmitShah यांची भेट घेतली.

कृषि, सहकार विभागाशी संबंधित विविध बाबींवर आम्ही चर्चा केली. राज्यात शेतकरी, महिला सक्षमीकरण अशा विविध क्षेत्रात गतीने कामे सुरू असून अनेक रखडलेले… pic.twitter.com/MdLoqiPoy2

— Eknath Shinde - एकनाथ शिंदे (@mieknathshinde) June 5, 2023
Shinde and Fadnavis went to Delhi on Sunday evening and held a meeting with Shah.
The CM said issues related to agriculture and cooperation were discussed during the meeting with Shah.
Several pending projects in the state have been streamlined now and they are on way to completion, he said.
"We have always received guidance from Prime Minister Narendra Modi for various projects. We met Shah to discuss issues related to the cooperation sector," Shinde said in the tweet.
Last year, Shinde along with 39 other MLAs revolted against the Shiv Sena (then undivided) leadership.
The revolt led to a split in the Shiv Sena and collapse of the Uddhav Thackeray-led Maha Vikas Aghadi government.
Shinde later joined hands with the BJP and became the CM. 
Last week, Nationalist Congress Party president Sharad Pawar met Maharashtra Chief Minister Eknath Shinde to invite him for the 75th Foundation Day of the Maratha Mandir, a charitable institution.
Pawar, who met Shinde at the CM's official residence 'Varsha', is the president of the Mumbai-based Maratha Mandir.
The veteran politician later tweeted that he also had a discussion with Shinde about organising a meeting to address the issues faced by actors, artistes and people associated with the Marathi film industry and theatre.
(With inputs from PTI)