They've all stood within sneezing distance from yours truly. Some have even looked in my direction, and one or two have point blank refused to give me an autograph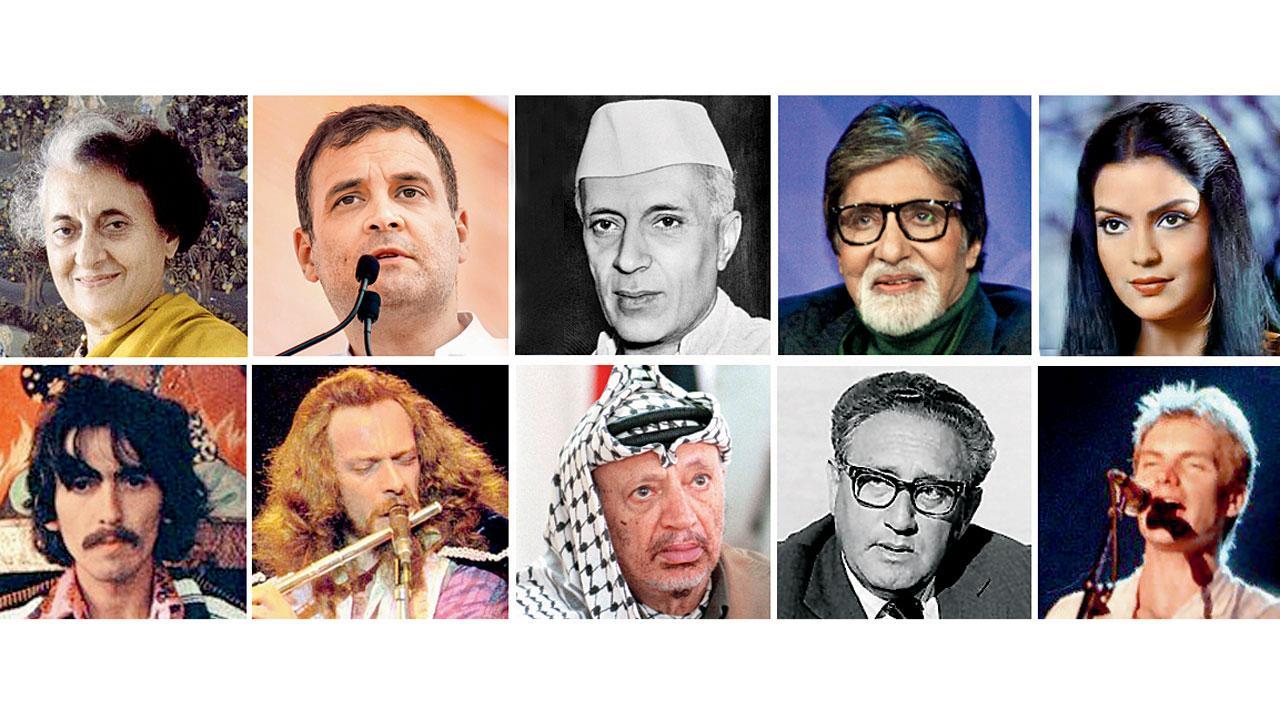 (Clockwise from left) Indira Gandhi, Rahul Gandhi, Jawaharlal Nehru, Amitabh Bachchan, Zeenat Aman, Sting, Henry Kissinger, Yasser Arafat, Ian Anderson and George Harrison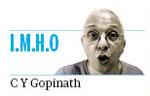 Children, you'll have to play in the other room now," said my friend's mother. "Aunty Indu is coming over for tea at 4."
We were three of us, friends from school, and this was weekend playtime at the home of (let's call him) Ash. All we knew about Aunty Indu was that she was a family friend who worked in the government, as did Ash's mother. We dutifully retreated to Ash's room.
At 4 o'clock sharp, the doorbell rang and we heard sounds of Aunty Indu and her family trooping in. Some 10 minutes or so later, we were summoned to say hello to Aunty Indu.
Seated around the living room were Aunty Indu's two sons—Rajiv and Sanjay, daughter-in-law Sonia, and 3-year-old grandson, dressed in a general's uniform with medals. 
And then there was Aunty Indu. It would not be an exaggeration to say that we were speechless.
You'd know Aunty Indu as Mrs Indira Gandhi. Ash's mother was her personal secretary. For the rest of the afternoon, we played with the fat little general as he strutted around the house. His name was Rahul.
There are two kinds of people—the ones who are famous and the others who, like butlers, stand in their reflected light and get some second-hand fame. I'm definitely in the latter group. I may die faceless and unknown but you'd be surprised by the number of celebrities whose air I've breathed.
Aunty Indu's father, who everyone called Chacha Nehru, was the first truly famous person I've seen. He was waving to crowds from the back of an open jeep at the 1961 inauguration of the Indian Industries Fair at what is today's Pragati Maidan. I could say he caught my eye and winked but that would be a lie.
The Big B, on the other hand, definitely did not wink. As JS magazine's cub reporter, I had been sent to Bombay to hang out with an unknown newcomer called Amitabh Bachchan whose movie Anand has brought him into the national limelight.
Mr Bachchan told me that for three days I could follow him wherever he went and snoop around at various studios. More than the stars, I was riveted by the ooparwallahs, the day-wage laborers who sat on the rafters high above the studio operating massive klieg lights.
The three-part series I wrote on the poor people behind the scenes in Bollywood clearly did not score any points with Mr Bachchan, but I did not find this out till three years later, at another studio. That day, I was among a few hundred people lining a darkened gangway as he and Zeenat Aman strolled back to their green rooms after a shot. He passed me, a face in the crowd, but stopped a few paces down and turned around slowly to stare directly at me.
He walked back to me, straining to remember why I looked familiar. Then he wagged his finger and said, "I remember now. You're that boy. Hmmm. You know, I really didn't like what you wrote."
In the years that followed, a string of celebrities and global elites had the pleasure of my acquaintance, some even getting as close as two feet from me. I was memorably trapped in an old Calcutta lift with George Harrison, who snapped that he would never give me his autograph. I stood six feet away from Ian Anderson of Jethro Tull at his Rang Bhavan concert. His eyes passed over me several times.
Another time, I saw my old friend Yasser Arafat an arm's length from me on the steps of Bangkok's Shangri-la Hotel. I would have greeted him except his limousine arrived just then. Stepping back to let him pass, I bumped into my other old friend, Henry Kissinger. Excusing myself, I picked myself up off the steps and smiled warmly at him as he lumbered past me.
You could say that was my small contribution towards a lasting solution to the Palestine problem.
In 1980, Niranjan Jhaveri, founder of the Jazz Yatra concerts, called me with an odd request. A musician called Gordon Matthew Thomas Sumner was doing a world tour with his three-man band called The Police, and was keen to get a poster made for the band in Bombay's local art style when they came to play at Rang Bhavan. Would I be interested?
I picked Bollywood-style wall art, and created a poster with The Police as a three-headed god above giant, Sholay-like granite letters spelling The Police, in Hindi.
I walked down to the Taj Hotel to meet Mr Sumner when the poster was ready, but bumped into him outside the Cottage Industries shop. 
"You're the poster fellow?" He asked.
"I am," I said, "and here's your poster."
"Oh very cool," he said, handing me R3,000. We shook hands and parted.
You might know Mr Sumner by his stage name. They call him Sting.
Here, viewed from there. C Y Gopinath, in Bangkok, throws unique light and shadows on Mumbai, the city that raised him. You can reach him at cygopi@gmail.com
Send your feedback to mailbag@mid-day.com
The views expressed in this column are the individual's and don't represent those of the paper.