They were to call a records books team to verify and ratify their feat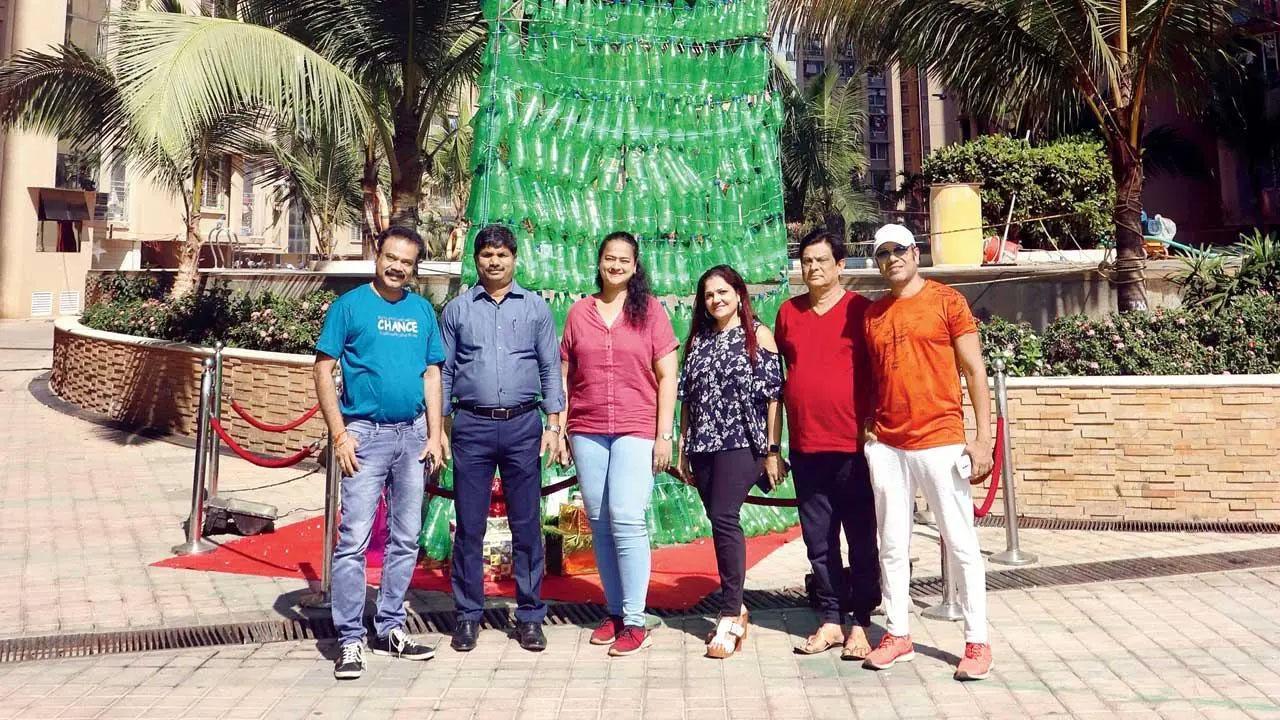 Residents of Marina Enclave with their Christmas tree. Pic/Anurag Ahire
A suburban residential enclave created a Christmas tree out of green, plastic, aerated drink bottles. The over 45-foot tree seemed to graze the sky as it stood tall, speaking eloquently of passion, and awareness about plastic waste and recycling. Residents came together and collected aerated drinks bottles and handed it over to the team which was making the tree.  Residents were keen to go for a record for the tallest Christmas tree made of plastic bottles. They were to call a records books team to verify and ratify their feat.
We go beyond records though and show that unity and working together has upsides and cooperation scores over conflict, not just on the national or international stage but in smaller units like housing societies.
ADVERTISEMENT
Also Read: Mumbai: Malad locals look to make his-tree
Today, mammoth societies have become battlegrounds and the unthinkable has also happened with societies employing security during Annual General Meets (AGMs) as these have become so bitter and confrontational.
During the past Covid crisis, too, we have seen pitched battles in housing societies over rules and regulations, members and managing committees in face-offs and bickering, arguments and fights escalated hugely.
In non-Covid times too we have numerous reports on fights for parking space in buildings, back 'n' forth over common areas, contentious claims about pets and feeding stray animals, besides other issues.
When there are so many people living in one space, it is natural that differences crop up. Yet, it is to everybody's advantage to find common ground. The committee and society members need to work together to take work ahead, to ensure smooth functioning in a spirit of cordiality. Wars within mean disruptions and deadlocks, stalled work and enervating frustration in everyday life. Let this be the year of smoother days ahead for housing societies. Till the time Covid has settled down, we need to follow Covid-appropriate behaviours. Do you agree?