Over 45-ft Christmas tree of aerated drink bottles sends waste management message, aims for record books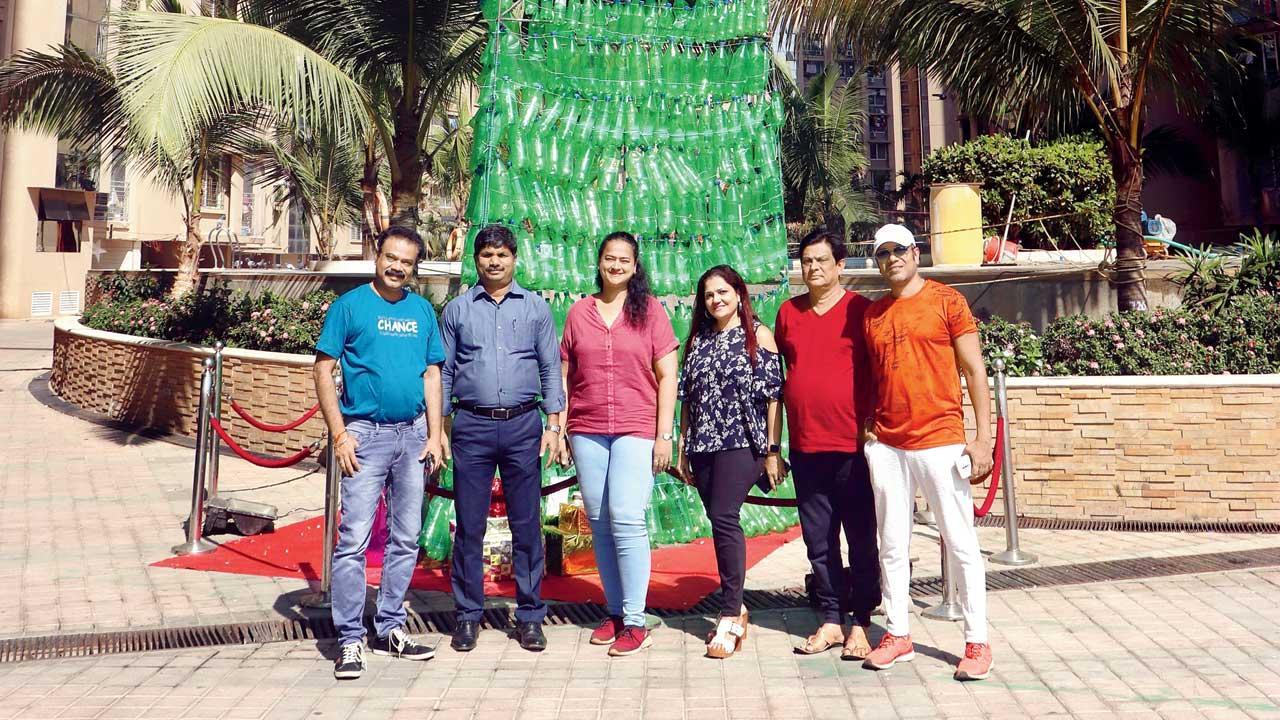 Residents of Marina Enclave with their Christmas tree. Pic/Anurag Ahire
Christmas cheer is here and it shows in the collective effort of the residents of Marina Enclave at Jankalyan Nagar in Malad West. The residential landmark is drawing attention because of a 46.7-foot-tall Christmas tree, made of empty, green, plastic, aerated drink bottles. This tree has been placed near the podium and swimming pool of the sprawling complex.
Joseph Kappla, resident, said of the tree effort, "We are aiming for a record. We learnt that a 32.5-foot-tall Christmas tree of plastic bottles in Chennai made it to the Asia Book of Records and some other record books." Ravindra Shanbhag, who pushed Marina residents to aim for a record, stated, "I told the others, why not break the earlier record with our creation?"
ADVERTISEMENT
Priya Bakshi Joseph, a resident, said, "We started urging residents to collect green aerated drink bottles roughly 1.5 months ago." Prince Kkaushik, another resident, said, "We got a spirited, enthusiastic response from people here." Devendra Mishra added, "It was a truly, united initiative with 2 litre, 1 litre, half litre and small bottles collected," while resident Khushboo Chowhan said, "We had our residents give bottles and so did our waste collection housekeeping staff, once they were told about the initiative."
Also read: In Photos: Christmas celebrations at Mount Mary church in Mumbai
Team effort
It was ever onward for the Enclave team as they got to making the tree from December 4 onwards. Resident Roshan Paul supervised the overall design as the tree took shape. All the residents laughed as they stated, "We had over 3,000 bottles. Now we had to string them together like 'torans' [garlands] and actually start the process of making the tree."
Prince Kkaushik smiled and said, "It was fun but too much of the sun. We all got a little sunburnt as we sat in the open and worked." Khushboo Chowhan added, "it was tough removing labels from 3,000-plus bottles." The garlands of bottles were made and then it was a race against time to get the tree up for Christmas.
With all hands on deck, the tree came together and the residents added, "We needed a crane to actually pick up the work which was on the ground and make it stand upright." "The tree went up in lights on December 24, evening, just in time," laughed the group. "When we were working, there were always groups of people to see us, and when the crane came in to pick up the 660 kg tree, it was like a movie shoot! There was so much interest, excitement and curiosity," they said.
The tree has become a selfie spot. It has halogen lights around it and even the star perched at the top has been made with transparent, white bottles. The tree has been tethered to buildings and real trees around the spot. "Every safety measure has been taken. We have also left space for any kind of emergency vehicle needed to access the towers," said the group.
The Marina tree team said the tree would be up till January 8 next year, "and we are in the process of calling the records book officials to verify this. They will be at the venue to see if the tree qualifies for a record." After January 8, the bottles will be given for recycling. While hopeful of making 'his-tree' (pun intended) we think the Marina  Enclave can be proud of giving life to the adage: 'United, we stand.' Let us tweak that a bit to say: United we stand tall. Very tall.
What a tree-t!
Height: 46 ft, 7 inches
Made from: 3,726 plastic bottles
Weight: 660 kg
Came up: on December 24
Up till: January 8
4
Day in December when team effort began Till the time Covid has settled down, we need to follow Covid-appropriate behaviours. Do you agree?