It belongs to the earlier genre of "royal" Ramyanas, popular with kings of South and Southeast Asia, unlike the later "bhakti" Ramayanas of India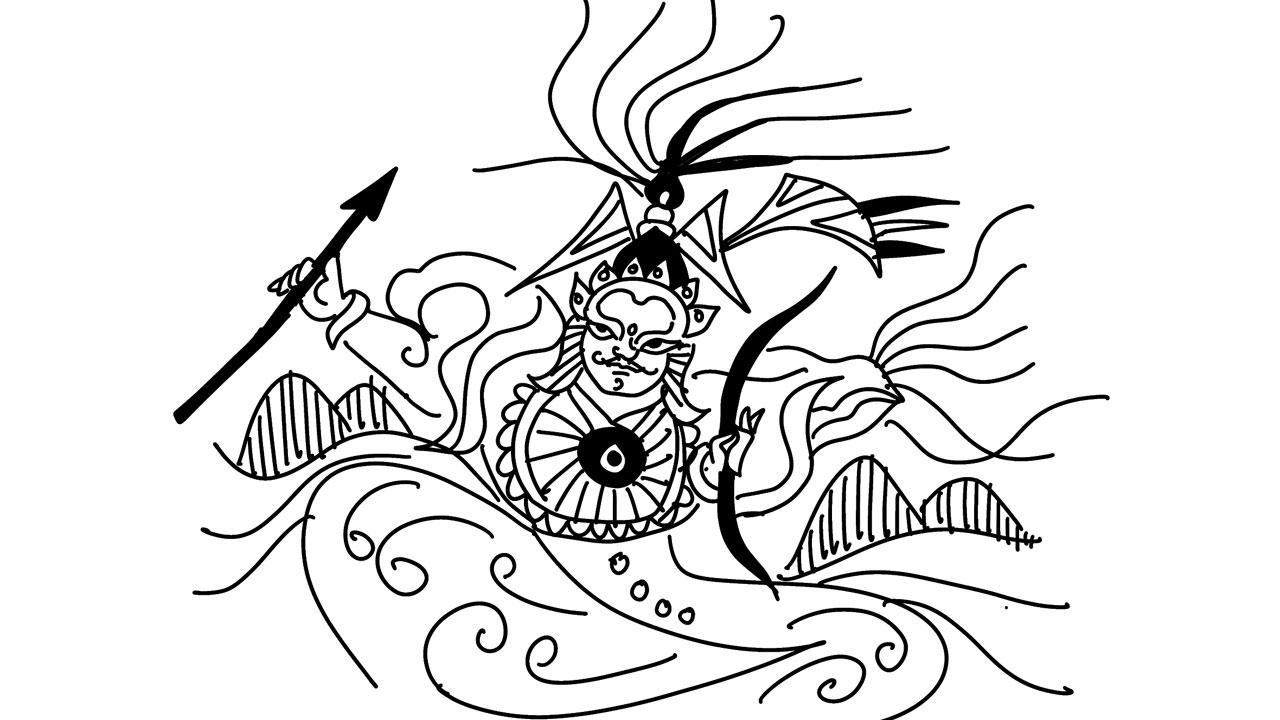 Illustration/Devdutt Pattanaik

In the early 20th century, six incomplete manuscripts containing excerpts of the Ramayana were found in the Mogao caves of Dunhuang, an archaeological site at the eastern end of the Silk Road in Xinjiang province of China. Written in an early Tibetan language, dated to approximately the 8th century, it does not allude to Buddhist Ramayana, and has many plots at variance with Valmiki Ramayana. It belongs to the earlier genre of "royal" Ramyanas, popular with kings of South and Southeast Asia, unlike the later "bhakti" Ramayanas of India.
Here Dasharatha worships Arhats (Buddhist sages?) and is given a flower by the gods, which his chief queen shares with the junior queen. The junior queen delivers a son, Ram, a few days before the senior queen delivers Lakshman. The king dies unable to decide who should be king. Ram, the elder son of the junior queen, is chosen but he abdicates for Lakshman, who in turn, places Ram's footwear on the throne, and chooses to be minister. We do not hear about Bharata and Shatrughna here, nor anything about the forest exile. 
ADVERTISEMENT
Sita here is the daughter of Ravana (as in Jain Ramayana). Advised by oracles, he puts her in a copper box, throws her into the sea. The baby makes her way to a water channel being dug by a farmer. She eventually marries Ram. Ram and Sita's separation happens not only because of Ravana's sister named Phurpala here, who is upset at being rejected by Ram, but also because Sita wrongly accuses Lakshman of vile thoughts so that he goes to Ram's rescue, while he is out hunting Ravana's demon-deer.  
To abduct Sita, Ravana first takes the form of a beautiful elephant enticing her to sit on him, and then he takes the form of a horse. When she refuses both times, he abducts her by picking up the earth under which she stands (as in Tamil Ramayana) for fear of bursting into flames if he touches her without her consent. 
While looking for Sita, Ram encounters a black river which is blood flowing from Sugirva's eyes, ears and nose after he has been beaten by his elder brother Bali. Sugriva ties a mirror to his tail, challenges Bali to a duel and gets Ram to kill his violent elder brother, promising to find Sita in exchange. During the search for Sita, Hanuman encounters Swayamprahha in a cave and the wingless Sampati on the sea-shore (as in Valmiki Ramayana). 
A unique feature of the Tibetan Ramayana is letter writing. Ram writes letters to Sugriva when he delays the attack on Lanka. He writes letters to Sita to tell her that he's coming, Sita replies with another letter. Later Hanuman manages the kingdom of Sugriva after Sugriv's death, and Ram writes letters and admonishes him for not keeping in touch. 
During the war, Ravana becomes invisible. Ram challenges him to show at least one part of his body in keeping Kshatriya dharma. Ravana then reveals only his right toe. Looking at the right toe Ram is able to figure out where his ten heads are located and shoots the arrow at the right head to kill him. The first of Ravana's ten heads is that of a horse/donkey (as in Pahari miniature paintings), which is where his life is located. 
In the Tibetan Ramayana, Ram doubts the chastity of Sita and sends her out of the palace. Hanuman argues his case of Sita's innocence successfully and Rama and Sita are united and they stay together happily.
Devdutt Pattanaik writes and lectures on the relevance of mythology in modern times. Reach him at devdutt.pattanaik@mid-day.com
"Exciting news! Mid-day is now on WhatsApp Channels

Subscribe today by clicking the link and stay updated with the latest news!"
Click here!