The US Geological Survey preliminarily reported a 3.8 earthquake centred east of Buffalo in the suburb of West Seneca at about 6:15 a.m. Seismologist Yaareb Altaweel said it was the region's strongest quake in at least 40 years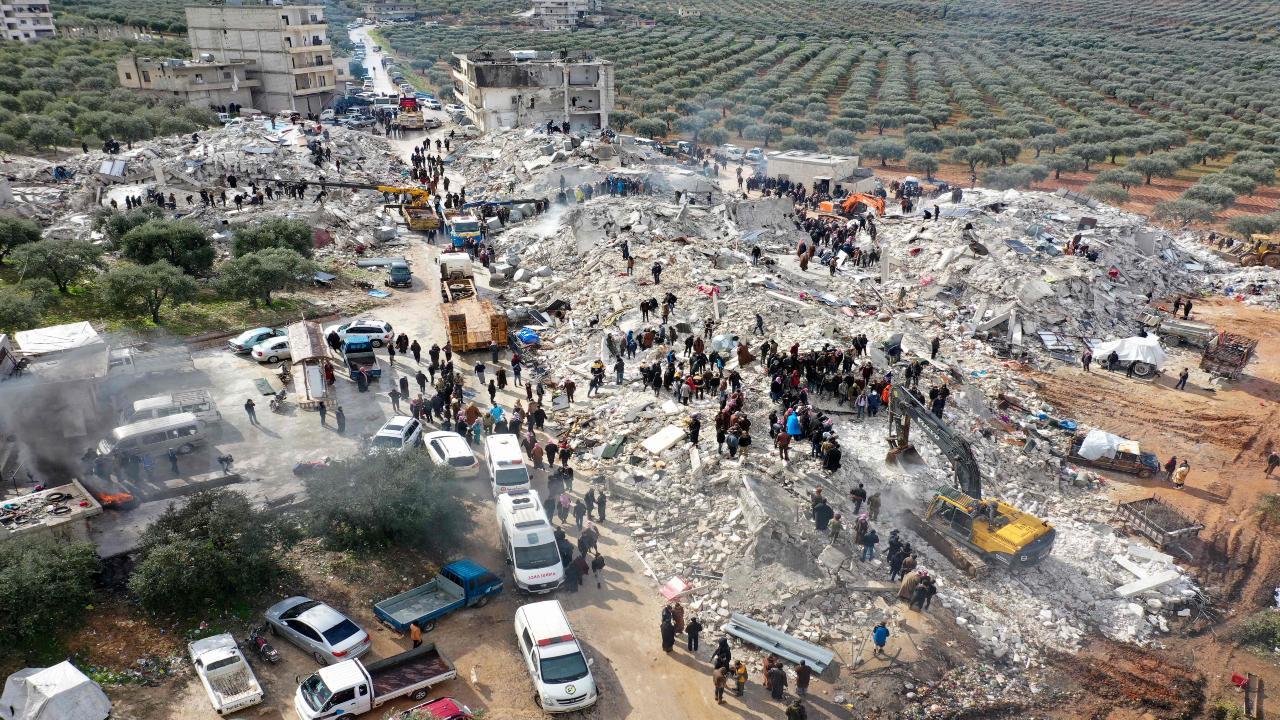 This aerial view shows residents, aided by heavy equipment, searching for victims and survivors amidst the rubble of collapsed buildings following an earthquake in the village of Besnia near the town of Harim, in Syria's rebel-held noryhwestern Idlib province on the border with Turkey, on February 6, 2022. Photo AFP
A small earthquake rumbled through western New York early Monday, alarming people in a region unaccustomed to such shaking but apparently causing no significant damage.
The US Geological Survey preliminarily reported a 3.8 earthquake centred east of Buffalo in the suburb of West Seneca at about 6:15 a.m. Seismologist Yaareb Altaweel said it was the region's strongest quake in at least 40 years.
Also read: As earthquake wreaks havoc across Turkey & Syria, a timeline of major deadly earthquakes in the past two decades
The shaking lasted a few seconds and sent residents first to their windows and then to social media in search of an explanation.
"It felt like a car hit my house in Buffalo. I jumped out of bed," Erie County Executive Mark Poloncarz tweeted.
County emergency services officials confirmed the earthquake was felt in at least a 30-mile radius, including in Niagara Falls, about 20 miles north of Buffalo, he said.
Earthquake Canada, which measured a 4.2 magnitude event, reported it was felt slightly in southern Ontario.
Small earthquakes are not unusual in upstate New York but are rarely felt as strongly. The earthquake comes on the heels of two record-breaking weather events in the region: A snowstorm that dropped as much as 7 feet of snow in November and a blizzard in December that is blamed for 47 deaths. 
Meanwhile, a powerful 7.8 magnitude earthquake hit southern Turkey and northern Syria early Monday, toppling hundreds of buildings and killing at least 641 people. Hundreds were still believed to be trapped under rubble, and the toll was expected to rise as rescue workers searched mounds of wreckage in cities and towns across the area.
On both sides of the border, residents jolted out of sleep by the pre-dawn quake rushed outside on a cold, rainy and snowy winter night, as buildings were flattened and strong aftershocks continued.
The quake, felt as far away as Cairo, struck a region that has been shaped by more than a decade of civil war in Syria. Millions of Syrian refugees live in Turkey. The swath of Syria affected by the quake is divided between government-held territory and the country's last opposition-held enclave, which is surrounded by Russian-backed government forces. The quake was centered about 90 kilometers (60 miles) from the Syrian border outside the city of Gaziantep, a major Turkish provincial capital.
At least 20 aftershocks followed, some hours later during daylight, the strongest measuring 6.6, Turkish authorities said.
In Damascus, buildings shook and many people went down to the streets in fear. The quake jolted residents in Lebanon from beds, shaking buildings for about 40 seconds. Many residents of Beirut left their homes and took to the streets or drove in their cars away from buildings, terrorized by memories of the 2020 port explosion that wrecked a large swath of the city.