The US State Department made the appeal following the suspension of Sudan's military from the talks with a rival paramilitary force, which were being hosted in Saudi Arabia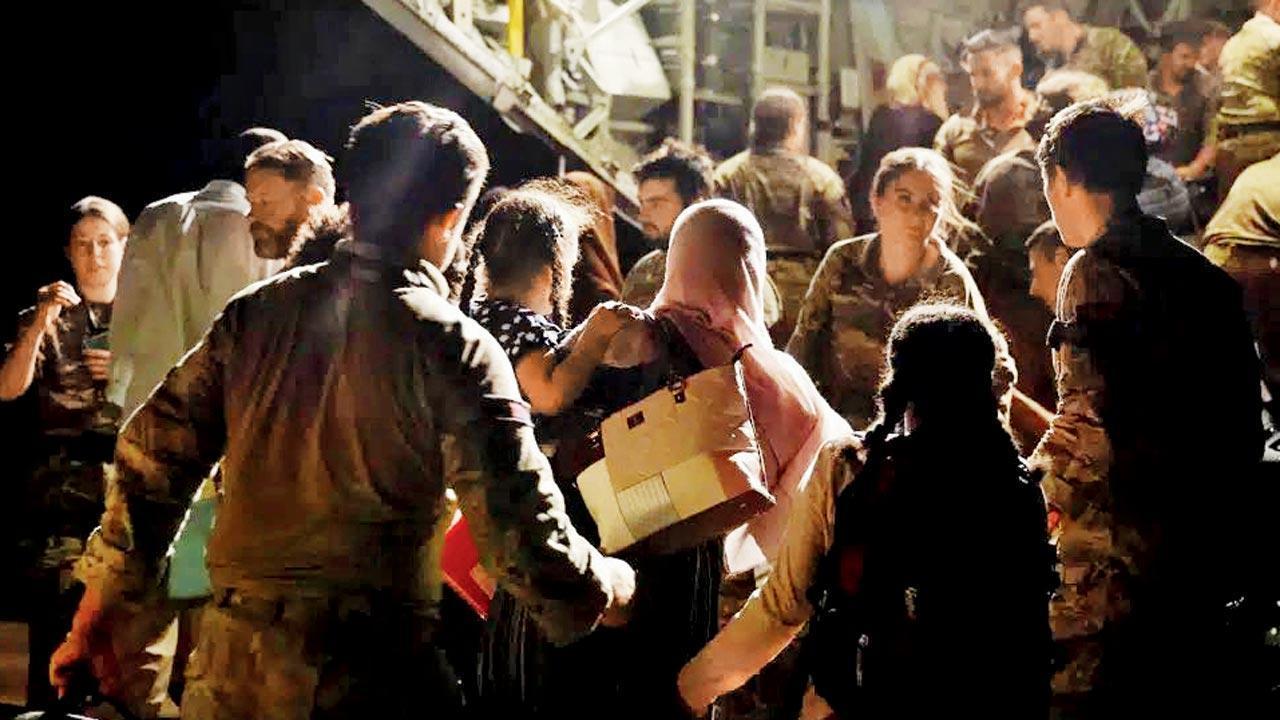 Evacuees and military personnel board an RAF aircraft bound for Cyprus from Wadi Seidna Air Base in Sudan on April 29. Pic/AP
The United States has called on the warring sides in Sudan to return to cease-fire talks and uphold a lasting truce after previous peace efforts collapsed. The US State Department made the appeal following the suspension of Sudan's military from the talks with a rival paramilitary force, which were being hosted in Saudi Arabia, AP reported.
The conflict between the Sudanese military, led by Gen. Abdel-Fattah Burhan, and the Rapid Support Forces (RSF), commanded by Gen. Mohammed Hamdan Dagalo, began in mid-April. The violence has resulted in the deaths of at least 866 civilians, as reported by a Sudanese doctors group, although the actual toll is likely much higher.
ADVERTISEMENT
According to AP report, on Wednesday, heavy shelling near a market in a southern neighborhood of Khartoum, the Sudanese capital, claimed the lives of at least 17 civilians, according to the Sudan Doctor's Syndicate.
The withdrawal of the Sudanese military from the talks represents a setback for the United States and Saudi Arabia, who have been mediating between the two sides. The US State Department stated that once the forces demonstrate their commitment to complying with the cease-fire through their actions, the United States and Saudi Arabia are prepared to resume facilitating the suspended discussions.
Since the conflict erupted, there have been seven declared cease-fires, all of which have been violated. US Secretary of State Antony Blinken, speaking at a NATO foreign ministers meeting in Norway, noted that both sides have continued to violate the renewed cease-fire agreement.
Blinken emphasized that the US will remain engaged in the situation and is considering actions to express its stance. In late May, Blinken had warned Sudan's warring generals of potential sanctions in case of cease-fire violations.
Recently, both Riyadh and Washington accused the military of carrying out airstrikes and criticized the RSF for occupying homes and seizing property. Theft has been reported in areas controlled by both forces.
The ongoing fighting has turned Khartoum into an urban battlefield, with many districts lacking essential services such as electricity and running water. Furthermore, the conflict has exacerbated ethnic violence in the western Darfur region, resulting in hundreds of additional casualties.
(With inputs from AP) Do you practice ecotourism?