The Delhi Police has filed two FIRs, including one under the POCSO Act, against the BJP MP, who has completed 12 years as WFI president and is ineligible to become an office bearer again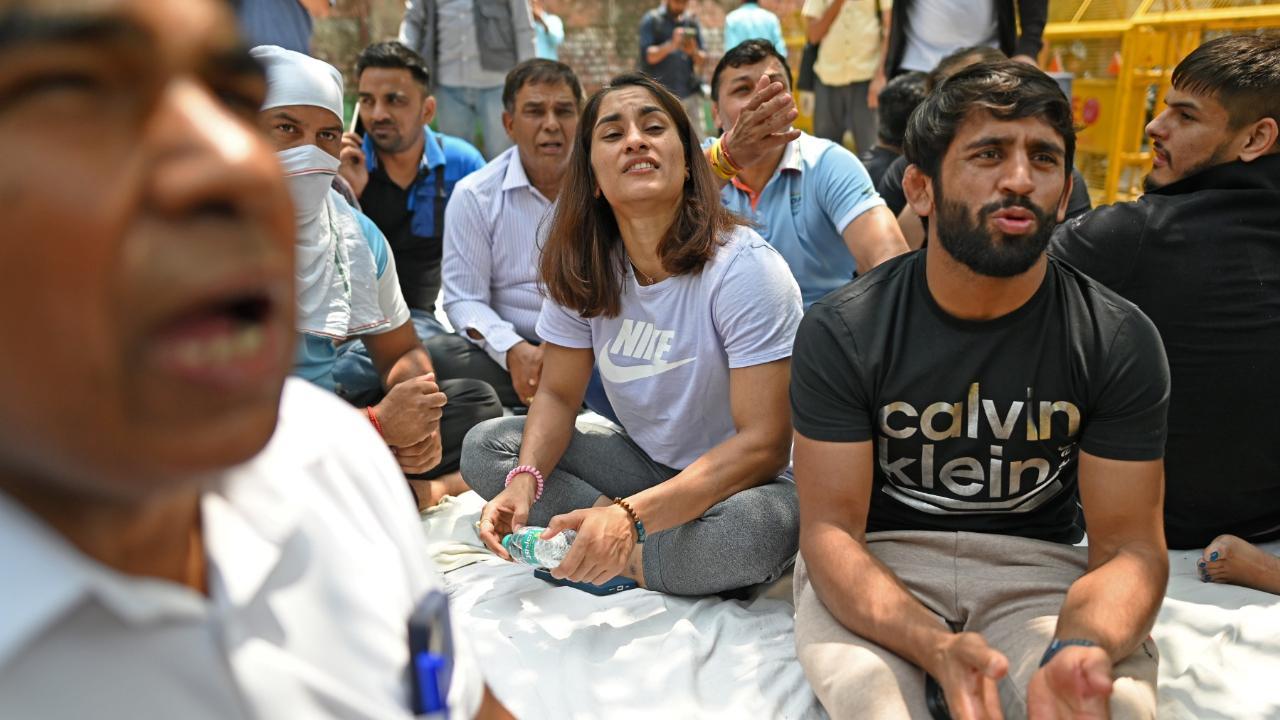 Bajrang Punia and Vinesh Phogat sit in protest (Pic: AFP)
The protesting grapplers on Sunday accused the media of helping Wrestling Federation of India (WFI) chief Brij Bhushan Sharan Singh more than the players, saying the newspersons should not give him the platform to speak. Meanwhile, the WFI chief has vowed to contest the charges and claimed that the athletes' protest was politically motivated.
The Delhi Police has filed two FIRs, including one under the POCSO Act, against the BJP MP, who has completed 12 years as WFI president and is ineligible to become an office bearer again.
ADVERTISEMENT
"The media is supporting Brij Bhushan more than the players. You see his criminal records. Does any player, sitting here, or players from other sports, have criminal record?" Bajrang asked during a media interaction.
"The players win medals for the country, and he is questioning the medal winners. How many people become MPs in this country, and how many people win Olympic medals. To date, there are hardly 40 Olympic medallists, and thousands have become MPs," he said.
Also Read: Brij Bhushan blasts wrestlers, claims Jantar Mantar protest is 'politically motivated'
Double World Championships medallist Vinesh Phogat said Brij Bhushan's charge that the wrestlers are involved in politics is baseless.
"We are not involved in any politics. We speak straight from the heart and it connects, and that is why so many people are sitting here in our support. I ask how can you give such a criminal a platform? Ask yourself. If you will not do that, half of the problems will be solved. That man is still saying things with a smile on his face. His ego is bigger than the Ravana (villain in epic Ramayana)," she said, much to the amazement of the gathered mediapersons who have been giving the protesting wrestlers coverage ever since the players began their protest.
"If he comes out clean in (the) Supreme Court's order, you guys can garland him. He is still being garlanded. What has he done? When we win medals, we are garlanded. He has exploited women athletes, and he is being felicitated. I request that you do not give him that platform."
Brij Bhushan claimed that the wrestlers want to take over the WFI and thus the protest was happening, and that only one family (Phogats) is behind the protest. Bajrang countered the charge.
"If you have to be in WFI, then you have to be a member of a state association. We don't want control of WFI. His son is president of UP Association, and the secretary is his son's brother-in-law. His son-in-law is also a member of (a) state association. He is accusing us of 'parivaarwaad' while actually it is happening in his case," said Bajrang.
The wrestlers have complained of non-cooperation from the authorities, who they have accused of cutting power and water supply at night.
Asked if the situation has got any better, Vinesh shot back, saying, "Do you stay here during the night? I request all of you stay here and then I will ask you how much the authorities are helping us."
Asked how they would prepare for the upcoming Asian Games if they continued to sit in protest, Bajrang said, "We are trying to train a bit here. But getting justice for the daughters of the country will be bigger than winning a medal at the Asian Games."
(With PTI inputs)
"Exciting news! Mid-day is now on WhatsApp Channels

Subscribe today by clicking the link and stay updated with the latest news!"
Click here!