Ace Indian boxer Nikhat Zareen added a second world Championships title to her name, defeating Vietnam's Nguyen Thi Tam in the 50kg summit clash here on Sunday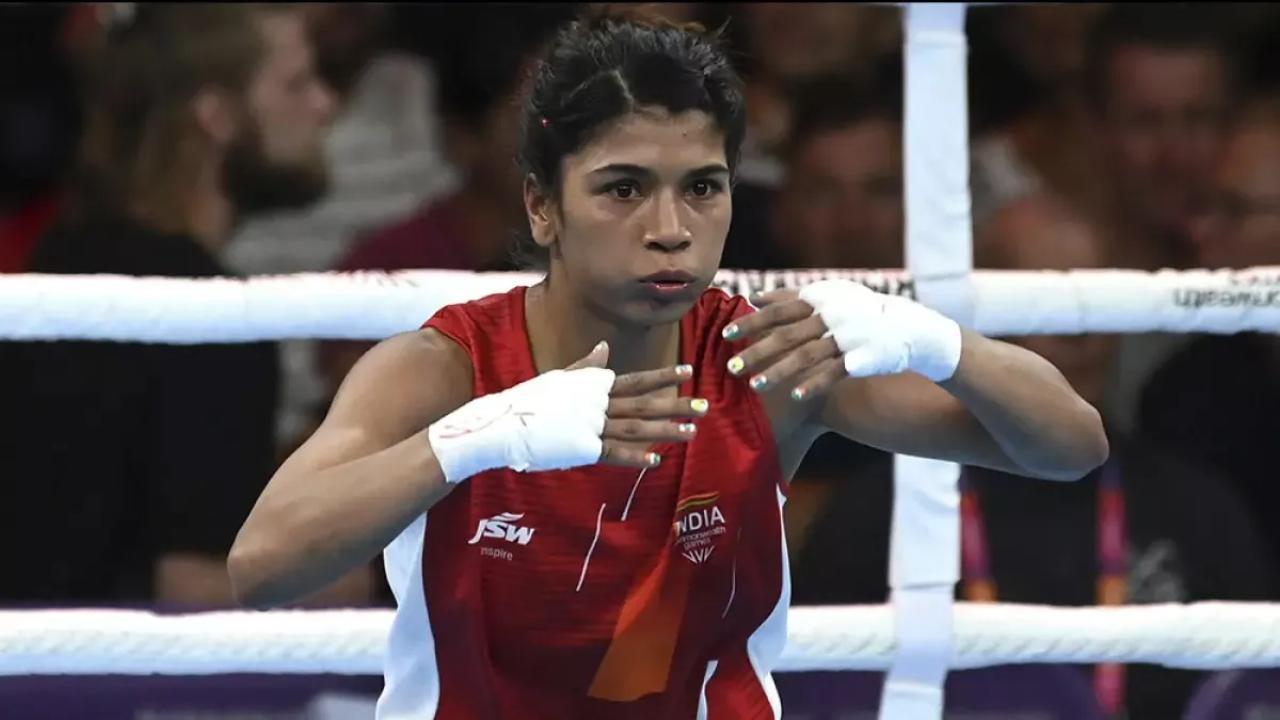 Nikhat Zareen (Pic Courtesy: AP)
Ace Indian boxer Nikhat Zareen added a second world Championships title to her name, defeating Vietnam's Nguyen Thi Tam in the 50kg summit clash here on Sunday. Nikhat upstaged Tam by a 5-0 verdict.
Consecutive World Championships 🥇 medal for Nikhat Zareen 🇮🇳 😍🔥

Nikhat wins the bout 5️⃣-0️⃣ 🔥💪@AjaySingh_SG l @debojo_m#itshertime #WorldChampionships #WWCHDelhi @Media_SAI @anandmahindra @IBA_Boxing @Mahindra_Auto @saweetyboora @MahindraRise @NehaAnandBrahma pic.twitter.com/IIi22RFjTZ

— Boxing Federation (@BFI_official) March 26, 2023
ADVERTISEMENT
Nikhat becomes only the second Indian after the legendary MC Mary Kom to win the prestigious title twice.
Reacting for the first time after winning a historic gold at the Worlds for the second time, Nikhat said, "I am very happy to win for the second time. This is more special as I won gold in a different category this time. I had the most difficult bout today so far in this tournament. She (Tam) has been an Asian champion. I'm sure this victory will pay dividends as my next target happens to be the Asian Games. I'll strive to be better at my game."
"This was my only second competition in the category (50kg) after the Commonwealth Games. There is barely any big competitors there, apart from England and some other countries. So, it was a good experience overall competing against world's best in the tournament. My body felt weak, as I had too many matches one after the other. There are a lot many takeaways that will only help me move forward," she added further.
Also Read: Hot favourites Nikhat, Lovlina, Nitu, and Saweety eye gold at World Championships
On Saturday, Nitu Ghanghas (48kg) and Saweety Boora (81kg) were crowned world champions.
Hosts India are on course to match their best-ever performance in terms of gold medals won with Olympic medallist Lovlina Borgohain set to take the ring later in the day.
India had won the four golds in the 2006 edition at home which was also the country's best ever display with a haul of eight medals, including a silver. 
(With PTI inputs)