An emotional Sania Mirza considers finishing her career in a Grand Slam at Rod Laver Arena in front of son Izhaan, family exceptional; she and Bopanna go down fighting in mixed doubles final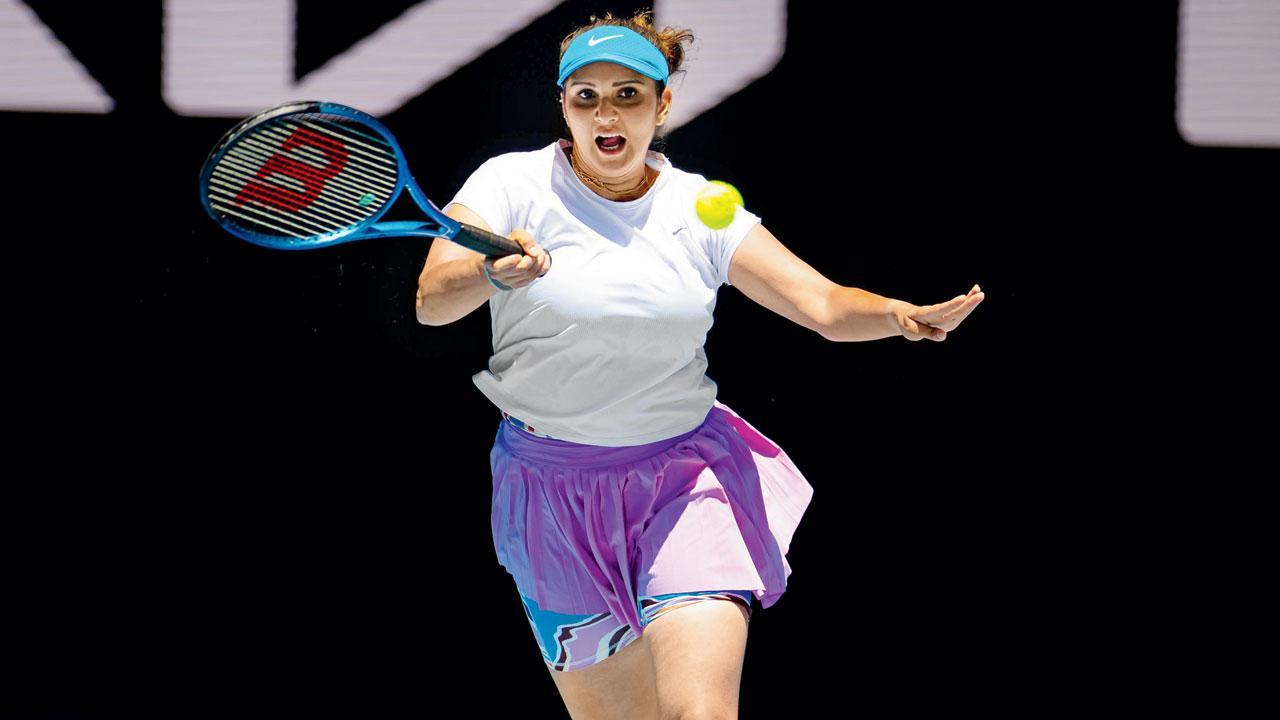 Sania Mirza during the mixed doubles final at Melbourne Park yesterday. Pics/Getty Images
Trailblazing Indian tennis star Sania Mirza capped off her glorious Grand Slam career with a runners-up finish alongside 'best friend' Rohan Bopanna in the Australian Open mixed doubles final here on Friday. Pairing up with her first-ever mixed doubles partner Bopanna, the unseeded Indian duo went down 6-7(2), 2-6 to the Brazilian pair of Luisa Stefani and Rafael Mataos in the final at the Rod Laver Arena.
Tears of joy disclaimer
"If I cry, these are happy tears. That's just a disclaimer. I'm still going to play a couple of more tournaments but my journey of my professional career started in Melbourne," an emotional Sania said as she struggled to hold back tears.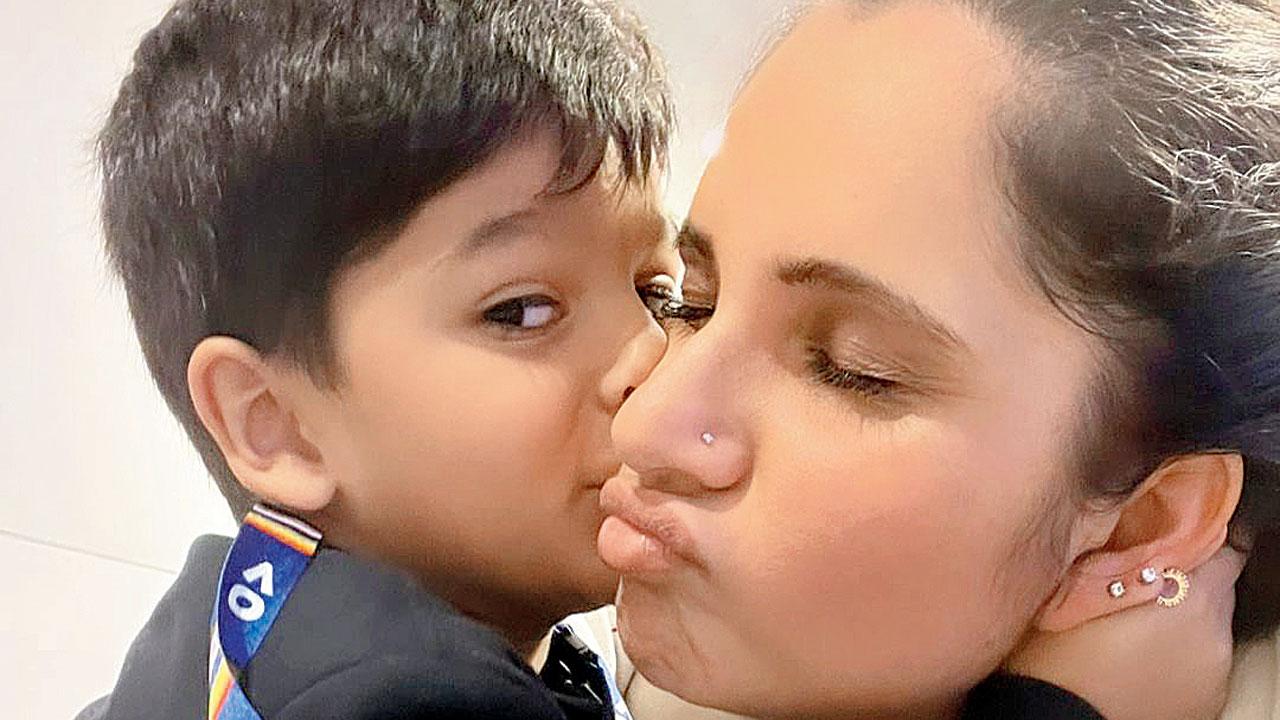 Sania Mirza Instagrammed this picture with son Izhaan
"Rohan was my first-ever mixed doubles partner when I was 14 and we won the nationals, it was 22 years ago and I couldn't think of a better person, he's my best friend and one of my best partners to finish my career," Sania said, thanking Bopanna, who has one French Open mixed doubles title to his credit. 
"It started in 2005 when I played Serena Williams in the third round as an 18-year-old and that was scarily enough 18 years ago. I have had the privilege to come back here again and again, win some tournaments here and play some great finals amongst you all. Rod Laver Arena has really been special in my life and I couldn't think of a better arena to finish my career at in a Grand Slam," Sania said. The presence of her son Izhaan , alongside family and friends made the occasion sweeter. 
"I never thought I'd be able to play in front of my child in a Grand Slam final, so it's truly special for me, to have my four-year-old here and my parents here, and Rohan's wife, my trainers, my family in Australia who made me feel like home away from home. Cara Black who is my best friend and one of my first partners, it's been truly special I wouldn't be able to achieve anything without you all," Sania said.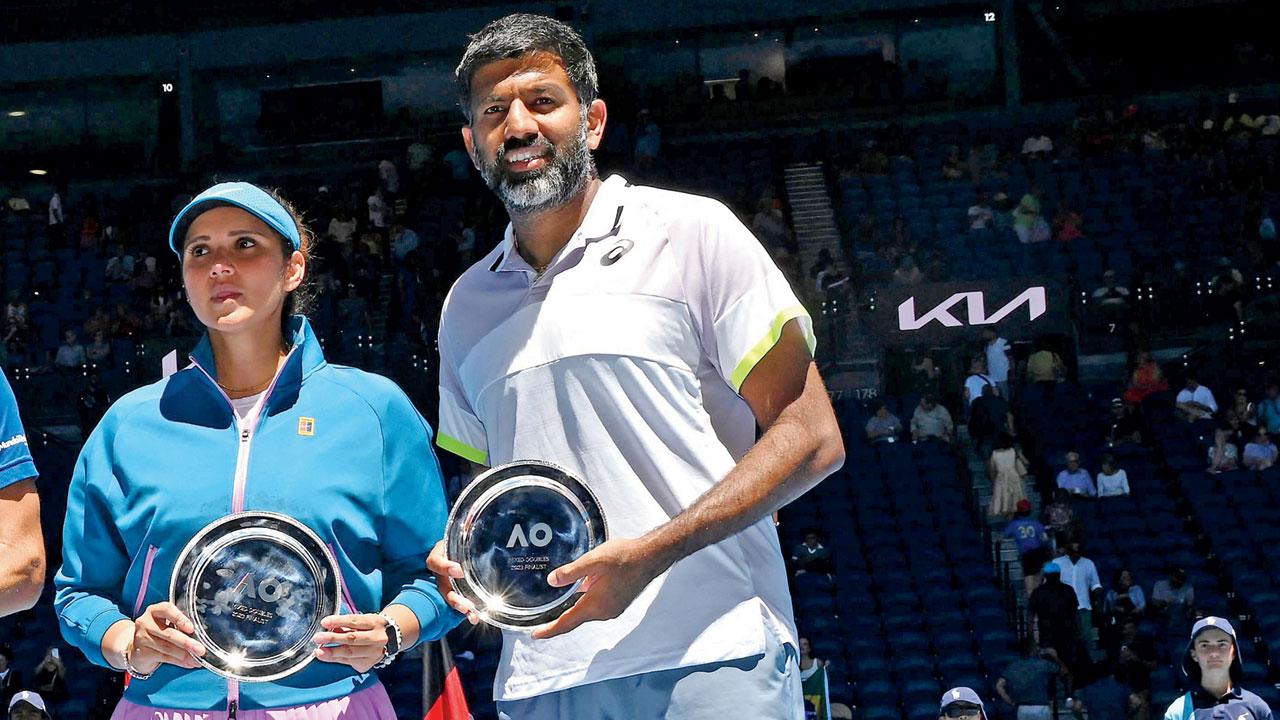 Rohan Bopanna
The 36-year-old, who earlier announced that the WTA event in Dubai next month will be her swansong, is India's most accomplished woman tennis player, having won six Grand Slam titles, including three mixed doubles trophies. She had won the mixed doubles titles at the 2009 Australian Open and the 2012 French Open with Mahesh Bhupathi and the 2014 US Open with Brazilian Bruno Soares.
Also Read: There's a lot of nerves playing my last Slam, says Sania Mirza after emotional mixed doubles final run
Happy hunting ground
The Rod Laver Arena has been a happy hunting ground for the Hyderabadi. She has a women's doubles and mixed doubles title each and has finished runner up four times at the Australian Open. The Indians were on the back foot from the beginning as they were broken in the very first game and were down 0-2. The Indians let the Brazilians dominate them in the second set as Sania failed to hold serve in the fourth and eighth game to concede the fixture.
Tweet talk
Sachin Tendulkar@sachin_rt
"Many congratulations on a glorious career at the Grand Slam @MirzaSania. You have inspired a whole generation of tennis talent in India & beyond. Wishing you the best of everything in life. You have made [India flag] proud. Well played!"
Abhinav Bindra@Abhinav_Bindra
"Congratulations @MirzaSania on a wonderful career. Thank you for your service to Indian sport and for inspiring millions of girls to take up sport!"
Waqar Younis@waqyounis99
"What words come to mind when one think of Sania? For me it's Passion,Perseverance and sheer Hard Work. Congratulations @MirzaSania on an outstanding career and all the Best in your second innings."
Smriti Mandhana@mandhana_smriti
"An inspiration for many to pick up a sport and champion it. Sania Mirza, what a career! Go well."
Mithali Raj@M_Raj03
"Congratulations on an amazing career, @MirzaSania! You've given your everything to tennis and to women's sports. It's an iconic legacy indeed. It was always a pleasure to watch you play & watch you become the champion that you are. Best wishes for your future endeavours."
Shreyas Iyer@ShreyasIyer15
"Congratulations @MirzaSania. What a wonderful career at the very top of the sport. A sporting icon."
Anil Kapoor@AnilKapoor
"Congratulations @MirzaSania on an amazing journey that has left a mark in history and inspired millions of athletes, and thank you for always making India so proud! Wishing you good luck for your next adventure."
Kiren Rijiju@KirenRijiju
"Congratulations to @MirzaSania @rohanbopanna on winning the Australian Open Mixed Doubles Runners up Trophy! Sania, your last match in the Australian Open is memorable and thank you for raising the Indian flag for such a long time."