Natural talent and vaulting ambition are a given, but Nayana Kokare also possesses that rarest of qualities in an athlete, an aura of invincibility when it counts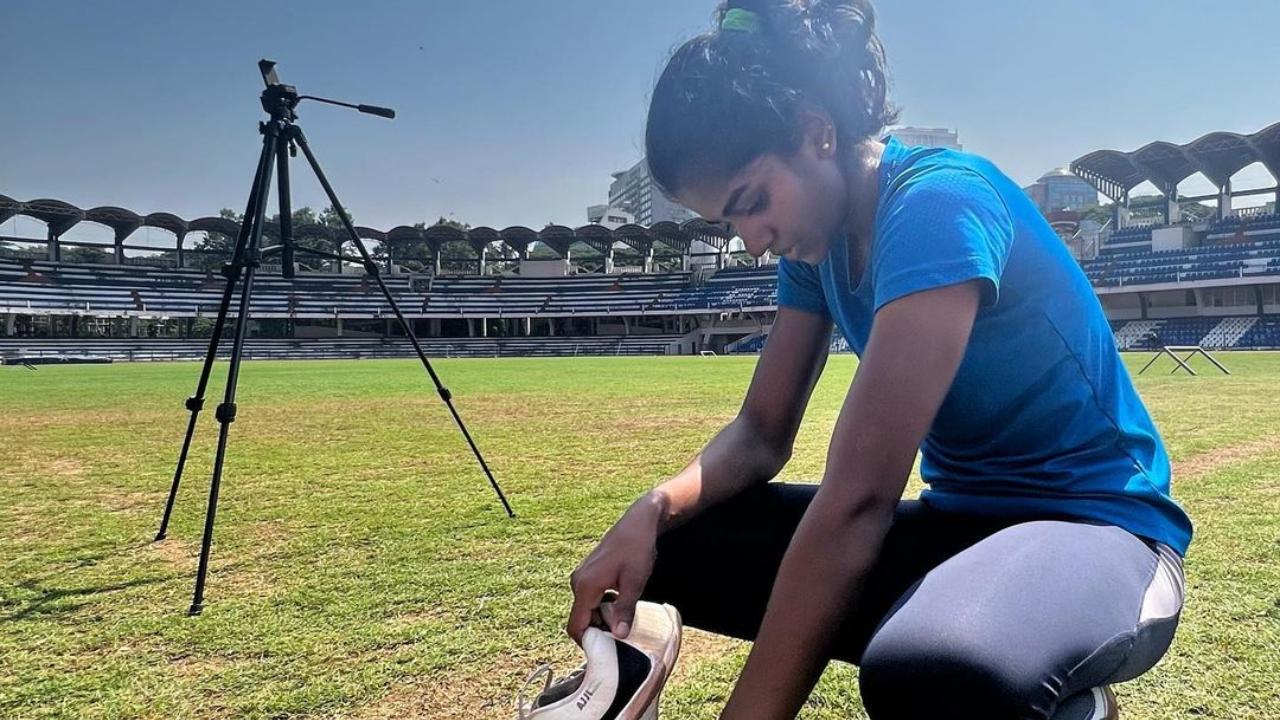 Nayana Kokare (Image courtesy: Instagram)
Combining flamboyance with a knack for electrifying audiences – with her broad grin and relaxed, languid running style – Nayana Kokare often looks like she is going for a jog in the park rather than competing as India's fastest runner. 
Natural talent, vaulting ambition, charisma, and supreme confidence are a given, but she also possesses that rarest of qualities in an athlete, an aura of invincibility when it counts. Ask any of her fellow athletes and they all name her as their greatest threat.
ADVERTISEMENT
Two weeks ago at the Asian U-20 Championships, she was greeted with a buzzing noise of adulation, here to compact her own entire hidden backstory of grind and guts and sweat and anxiety into seconds of legacy-minting sporting history. A gangly sprinter from humble beginnings burst onto the scene in South Korea, walking away with a 4x100m relay bronze and securing a fourth position in Asia in 200m. 
Nayana thrilled the crowd that nearly packed the 25,000-seat Yecheon Stadium, though she did not perform up to her lofty standards. Dashing into a slight headwind, she approached the 200 meters in a modest 24.68 seconds. But this is only the beginning. 
Armed with the perfect concoction of attributes – speed, swagger, and vicious resilience – Nayana is destined to rule the sport. 
Cast your minds back to the 4x400m relay, 4x100m relay, and 400m finals at the Rio Janeiro 2016 Olympics. It was that year when Allyson Felix bumped her overall Olympic haul to nine overall medals, six golds, and three silvers, tying Jamaican legend Merlene Ottey's record for the most Olympic medals won by a female track and field athlete. While all of that adrenaline-filled action was going on, living deep within the confines of the forest area in Karnataka's Tavergatta, Nayana was still getting used to being at primary school, let alone thinking about a career in sports. However, she now shares those same dreams and ambitions as Felix.
At this juncture, one question that comes to my mind is what Nayana thinks about, when her heart is pounding and the tension is unbearable before the start of a race. Where does her mind go in moments of such extreme stress, with adrenaline coursing through her veins? What is unique about the mindset which appears destined to spur her onto unimaginable heights?
"Not everyone can be so mentally tough. For instance, when we come across other athletes in international events, there may come a time when we start drawing comparisons. Yes, they are better in style, in fitness, in everything that you see through your eyes. This can directly affect one's approach toward the game. Mental fortitude is everything, irrespective of how better prepared you are than the rest," she says in a measured tone.
Also Read: Asian Athletics Championships: Toor, Sreeshankar, Tejaswin, Shaili headline 54-member Indian team
And just like that, she snaps into her state of focus, and jolts into a different persona altogether; it is only at that point that the smile fades, the posing for her coach's camera halts and a ruthless, clinical winning machine is switched on.
Belief is an athlete's best friend. Sprinters, in particular, carry belief like a badge. The mentality of certain defeat: an unacceptable mindset for a sprinter, but almost inevitable when coming up against opponents who can go to any extent for a photo finish. 
Yet, as she winds down her preparations for the upcoming Asian Games, Nayana remains engagingly uncomplicated. She does not shy away from a single question or seek refuge in evasive self-effacement. Instead, she is honest in underlining a belief that her 'ups and downs' will make her job on the track all the sweeter.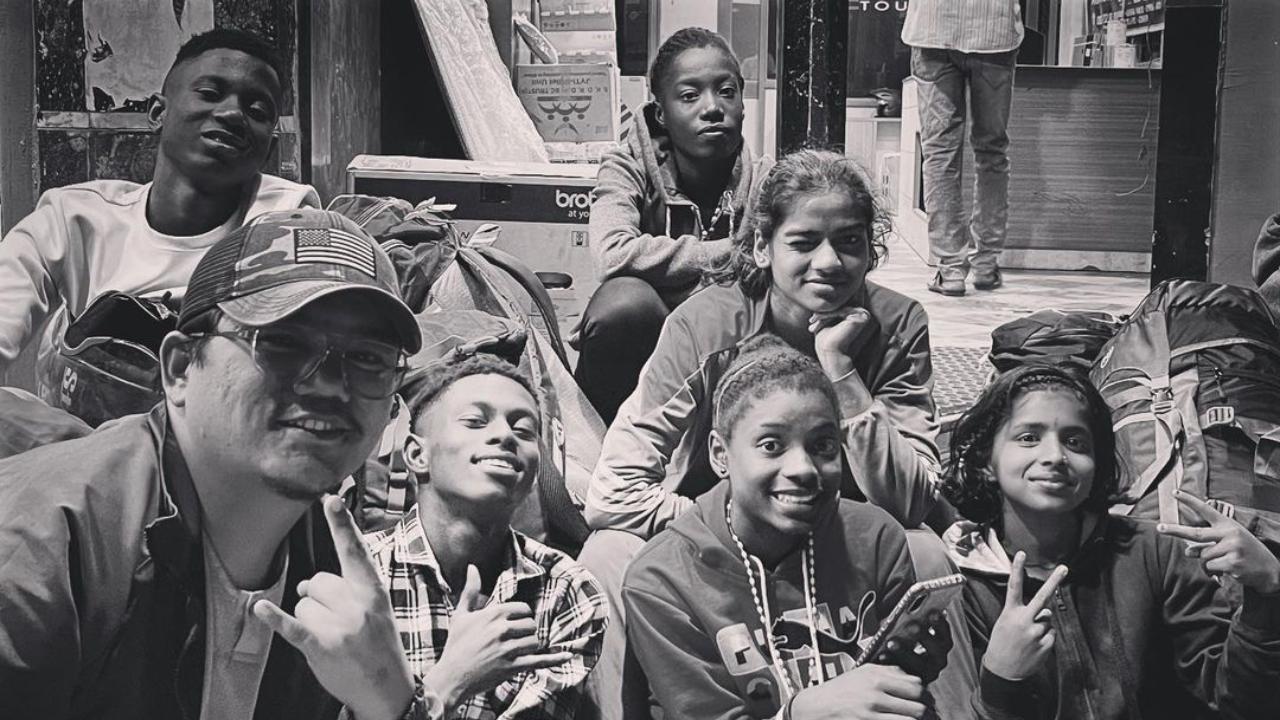 Nayana with her coach and teammates
"I could have never imagined that I will be an athlete. I used to participate in competitions only for the sake of it. Without proper practice, without any kit, even without shoes. When Bridges of Sports (a non-profit organization that works on the mission to empower athletes from underprivileged backgrounds) chose me to train under them, I struggled to adjust to the new environment, without my parents. Everything gradually fell into place. Opportunities came knocking on my door, and I realised I would be foolish if I cast them aside. I'm very happy with how things have worked out. Of course, representing India is the greatest feeling. I'm working towards my goals one by one," she tells me, with a delighted grin plastered all over her face. 
However, behind her effervescent smile, there is a story of hardships that has toughened her up on and off track.
"During my selection (for Bridges of Sports), I ran barefoot and qualified in all four events," she reveals. "I have always been running on gravel and rocks. So, I never had the idea how wearing suitable shoes could help me immensely. We could never afford shoes and jerseys. I may have been short of money for personal kit, but I had the talent. That could not have been compromised. There are so many others who can afford everything in life and yet struggle to make a mark.  I feel belief is underutilized by many. The problem is that most of us lack belief. Everything that's floating in the head is there because you believe it. I'm able to pull this off because my mind conceived it. And if your mind can conceive it, you can achieve it," Nayana speaks plainly when suggesting that, after enduring unfamiliar adversities, she has become mentally stronger.
It's easy to believe in her – primarily because of her outrageous speed and ebullient conviction, but today I am utterly persuaded by her willingness to confront some darker moments. It can be heard in her insistence that 'it's always good to lose, it helps you be better at your game'. This does not sound like a distressed lament. Some critics may argue she is too young to understand, but for Nayana, who is mature beyond her years, defeat rekindles her hunger for success. Now and always.
On a breezy evening at SAI Bengaluru, as the sun fades and Nayana slips away to face down the hours, her words echo again.
"I will make it happen. I'll give my best shot."
Those words conjure up an image of Nayana bending time as she flies across the track with fresh resolve. She carries the conviction of a young athlete ready to run into the stunned embrace of history.
"Exciting news! Mid-day is now on WhatsApp Channels

Subscribe today by clicking the link and stay updated with the latest news!"
Click here!