One of Mumbai's finest gourmet bakers helps you start the day with oven-fresh goodies. While foodies between SoBo and Bandra are in for luck, those beyond might have to wait and suffer delivery professionals who flatten criossants into chapatis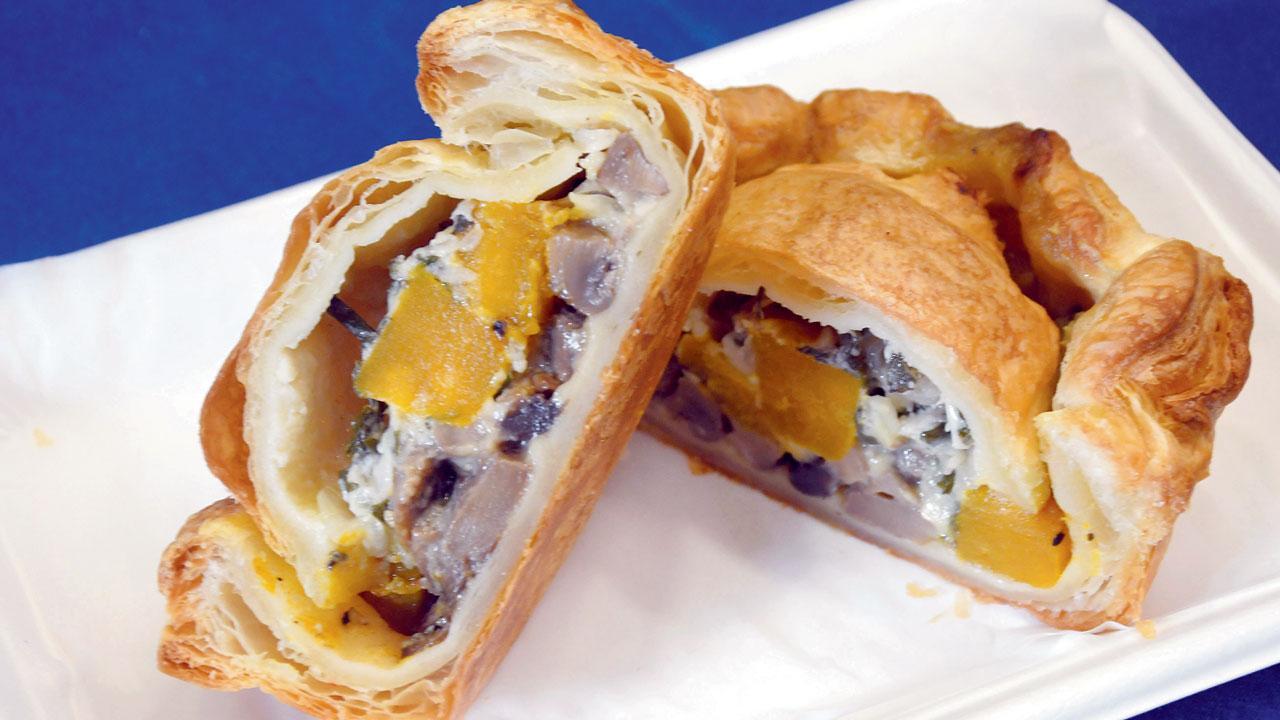 Spinach, mushroom and pumpkin pie
We'll let you in on a secret. Rachel Andrade is a magician without a wand or spellbook. The Mumbai baker swishes her spatula and turns butter (a lot of it), flour and eggs into dreamy bakes.
Her journey began at Kainaz Messman's Theobroma, from where she moved on to Gauri Devidayal's Magazine Street Kitchen and Rahul Akerkar's Qualia, adding something special to each menu. Andrade's expertise is in creating layers... lots of them. If you cut open one of her croissants, you'll see the accuracy of patterns. 
Her latest venture is with Aditi Dugar, and it's called Twenty Seven Bakehouse, Mahalaxmi's latest gourmet bakery.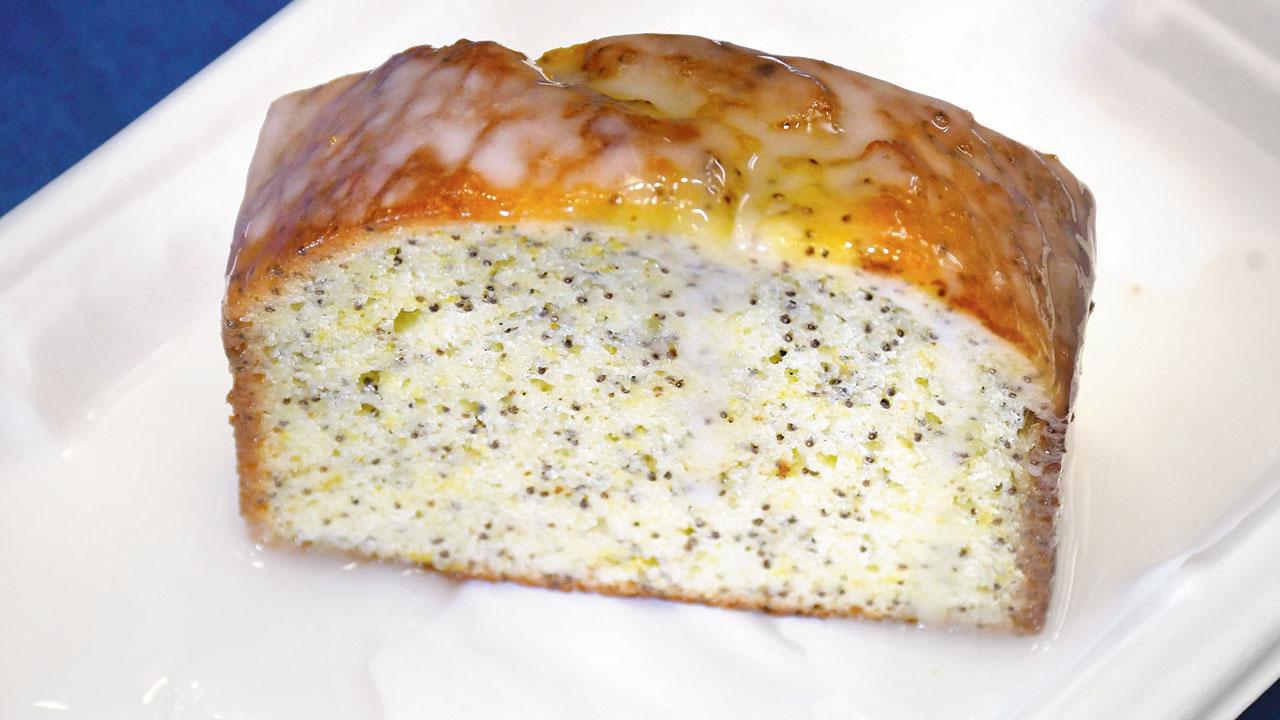 Ghonduraj and lemon poppy seed slice
After we placed our order via Thrive, we got a call from the kitchen to inform us that two items from our wish list were not available. This, after the order was accepted. That was a let down. Swallowing disappointment, we swapped the lemon tart and mortozza for carrot cake and hazelnut pac. It's usually painful to track delivery personnel, and this time was no different. We placed an order at 1 pm on a weekday with a delivery time between 1.30 pm and 2 pm. We got an intimation from Borzo delivery only at 2.32 pm. On calling the delivery professional, he informed us that he "was eating lunch at home. 
My friend will pick up the parcel instead and deliver it." His phone was switched off after. Two hours after the order was accepted, we called the bakery and were told that the order had been picked up. It reached our doorstep another two hours later. That's four hours for a Mahalaxmi-to-Andheri delivery. 
Both the croissant versions we had ordered were flat, and had lost their cross-section oomph. It happens to anyone chucked about in Mumbai's traffic. But in taste, they hit the right notes. The butter croissant eggless (Rs 140) had gone dense at the base but managed to keep the flaky layers.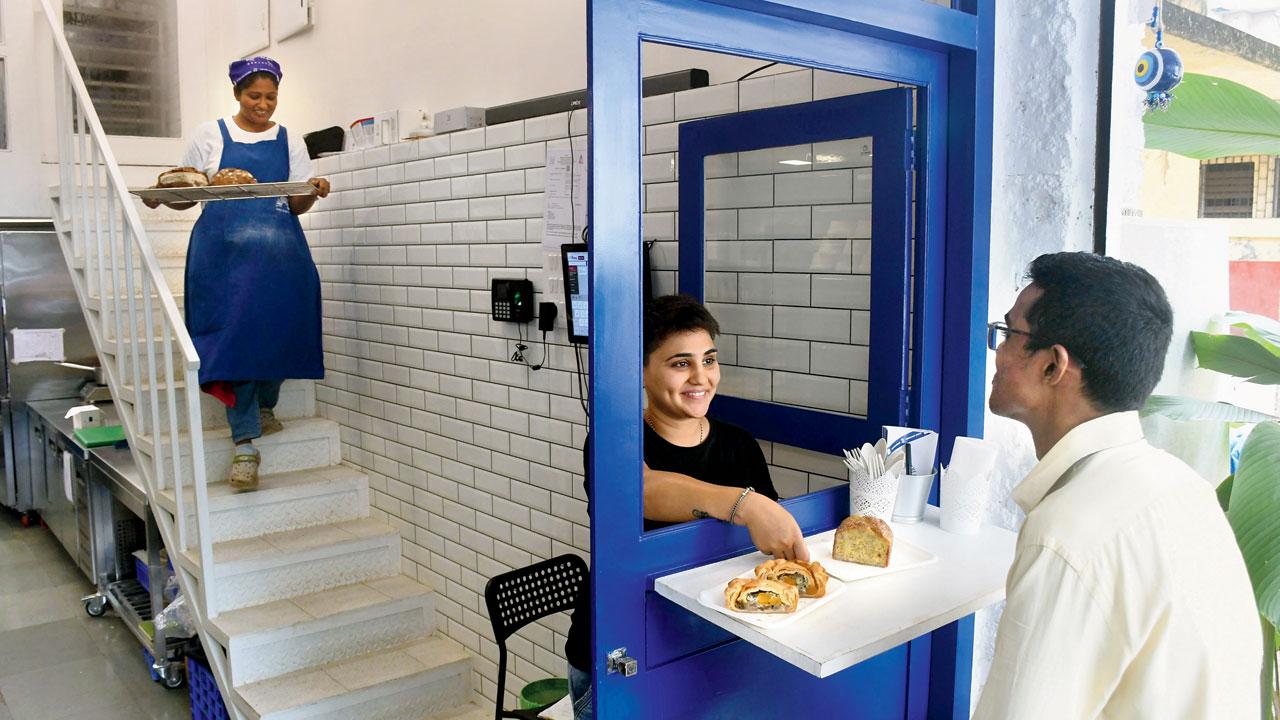 Rachel Andrade brings down a tray of freshly-baked eats when the mid-day photographer drops in at the Mahalaxmi bakery after our anonymous review of its products. Pics/Ashish Raje
The herby zaa'taar and cream cheese croissant with egg (Rs 219) became our favourite. The ease of a simple combination and the creamy base gave it perfect bite. The spinach-mushroom-and-pumpkin pie (Rs 228) was a wholesome treat, with chunks of pumpkin and creamy spinach mushroom stuffing. 
We loved the thick and flaky ripples in the crust. Trust Andrade to dress up her baked babies. The Goan choriz and potato tart (Rs 352) mulled our mood—and the smoky, salty and meaty flavours hit the sweet spot.  
Turning our attention to the sweet bakes, we bit into the ghonduraj-and-lemon-poppy seeds  slice (Rs 139). It was vibrant and refreshing. The tangy glaze is memorable. We licked the malta cream cheese frosting off the carrot cake, but found that the sponge drier than the previous tea cake.
 
We saved the hazelnut pac, an old favourite, for the last. It was dark, decadent, with gianduja and hazelnuts. An Italian chocolatier invented gianduja, a blend of hazelnut paste and chocolate, during Napoleon's regency when cocoa was in short supply. The pain au chocolate was classic, and a fitting end to our bake party.
What: Twenty Seven Bakehouse
At: Shree Laxmi Woollen Mills, Shakti Mills Lane, off Dr E Moses Road, Mahalakshmi
Order: Direct, Thrive and Swiggy
Call: 9372515271
Rating : good
Twenty Seven Bakehouse didn't know Sunday mid-day ordered from its menu. This newspaper conducts anonymous reviews and pays for meals