Mid-day took a trip to Antroli, Niyol and Mohni villages in Surat district where villagers who've received some of the highest land compensations for the Mumbai-Ahmedabad bullet train project are wrestling with a range of emotions from ecstasy to confusion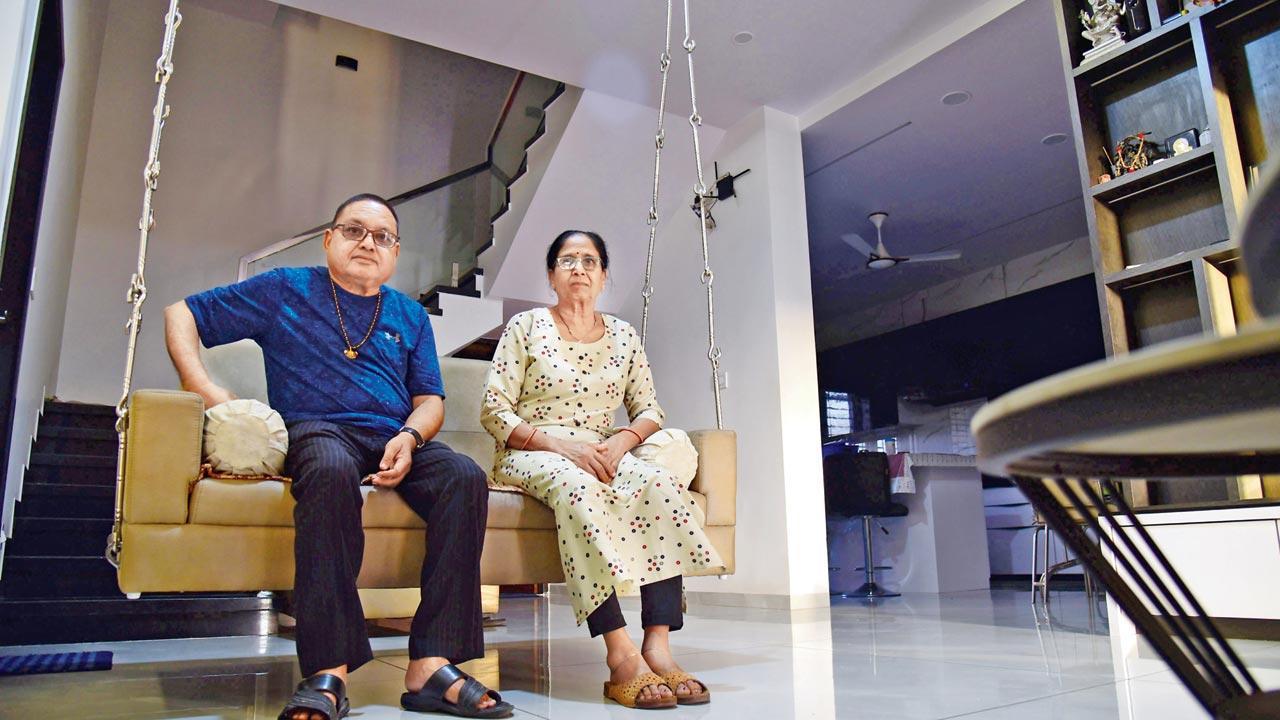 Mohni residents Kantilal and Hasuben Patel gave up the land their house once stood on for the Bullet Train corridor and received Rs 55 lakh. They hope to see the train zip past from the balcony of their swanky new bungalow. Pic/Nimesh Dave
The house in question sits on the side of the busiest street in the Antroli village in Palsana taluka of Surat district. It's the one that leads to the gram panchayat headquarters. A swanky three-storey structure, it is coloured tastefully in ivory and chocolate brown; the front door secured by a biometric scanner. A solar panel sits tight on the roof. The ground level leads to a plush living area on the first floor, with an airy terrace that houses a swing, a staple in most homes in Gujarat. 
On the sofa sits Indravadan Vyas, the village priest, and his son Parimal, who has followed in his father's footsteps, serving the village with sacred know-how. "You can either view it as karma or dharma. In karma, God rewards you for your good deeds. In dharma, you tell God what you wish for," says Parimal stoically.
ADVERTISEMENT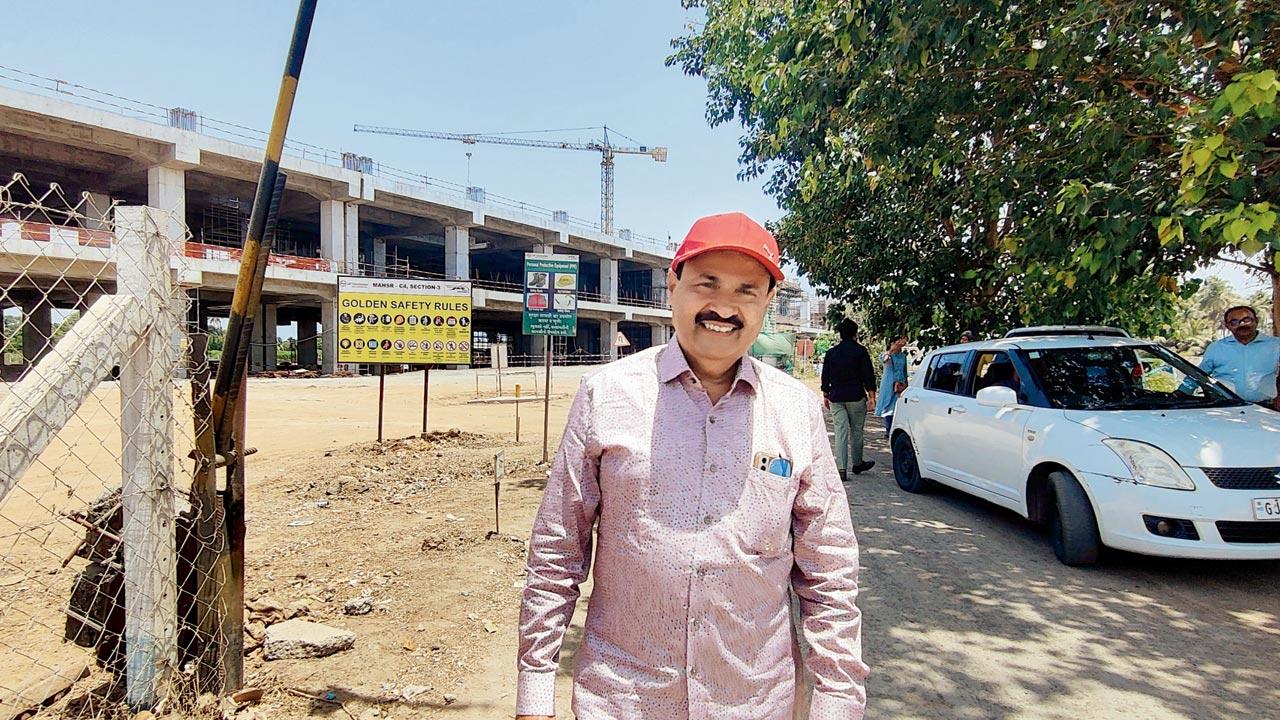 Antroli resident Satishchandra Desai takes pride in the fact that the Surat station of the Bullet Train project is being built on his land. Desai is among the scores of residents of Antroli, Niyol and Mohni villages who have received tens of crores of rupees as compensation for the land acquired for the project, changing their lives forever. Pics/Nimesh Dave
The wiry, bearded man is in a philosophical mood for good reason. Till three years ago, the family had a five-figure monthly income which they earned by conducting rituals in Antroli and neighbouring villages. Their home was a modest two-storey structure sitting deeper inside the village. 
Then, in 2019, Indravadan witnessed Rs 34 crore drop into his bank account, all of it tax free; all of it legal. All beyond his wildest dreams. "You can either call it logic or magic," Parimal continues.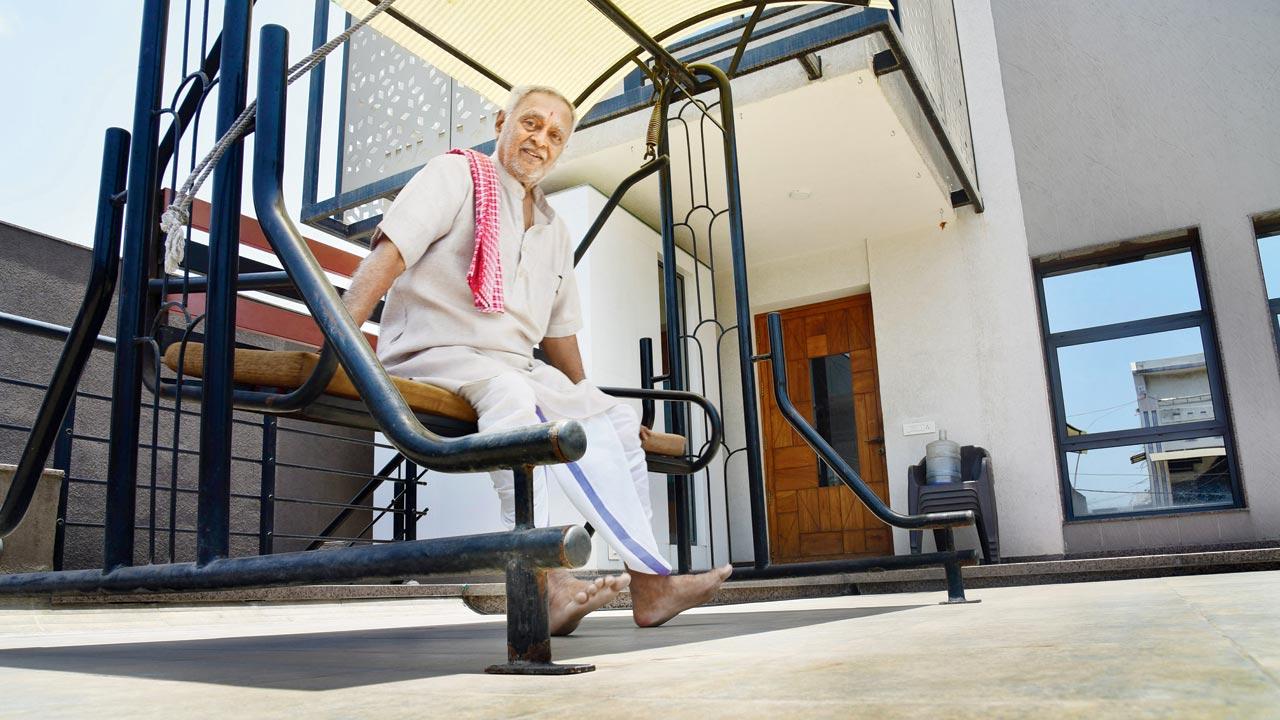 Indravadan Vyas, the village priest at Antroli, went from earning a five figure monthly income to being the owner of Rs 34 crore in exchange for six bighas of his land. Pics/Nimesh Dave
The sudden windfall was the result of the Central government paying compensation in exchange for the land parcel that it took over from the Vyas family to build the Indian railways ambitious Mumbai—Ahmedabad bullet train project, officially known as the Mumbai-Ahmedabad High-Speed Rail (MAHSR). The corridor, which starts at the Bandra Kurla Complex in Western Mumbai, is estimated to take commuters to Ahmedabad in 2.58 hours flat thanks to a High Speed service, and 2.07 hours by the Rapid High Speed service. Currently, this journey takes anything between six to eight hours, depending on which train you take. It's 10 hours if you choose to drive to Ahmedabad on the nightmarish National Highway 48. BJP leader Sushil Kumar Modi recently announced that the project, whose construction began in 2018 in a collaboration between the Indian government and Japan's Shinkansen Technology, will be completed by 2026 and is worth Rs 19,600 crore. The corridor is expected to link India's business nerve centres of Mumbai, Thane, Vapi, Surat, Vadodara and Ahmedabad, creating a cohesive economic zone.  
Surat has received the highest compensation among all the districts in Gujarat, amounting to roughly R1,998 crore. Ahmedabad comes a close second at Rs 1,200 crore.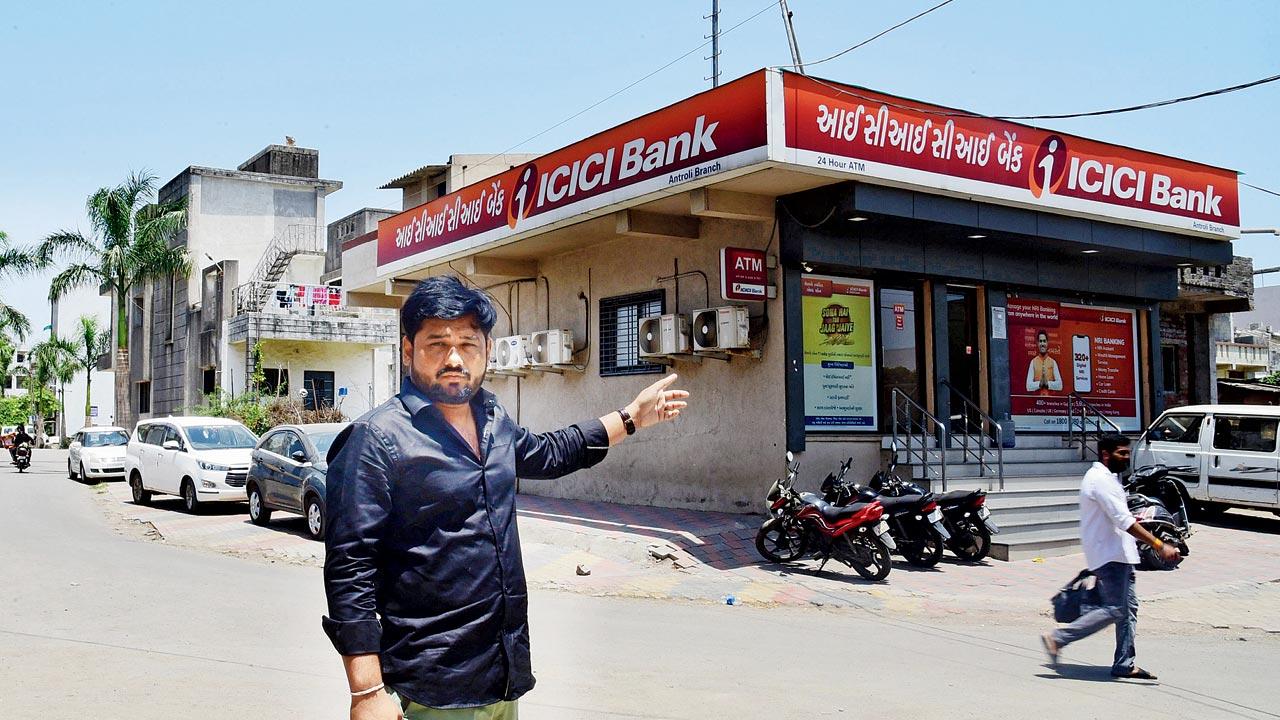 The Antroli gram panchayat, including deputy sarpanch Vismay Solanki, notes how the sudden influx of money has led three private banks to set up branches in Antroli. The banks extend all VIP services to the newly minted millionaires. Pics/Nimesh Dave
Vyas, who gave up six bighas (17,427 sq ft) of land for the project, tells mid-day, "It is the good deeds of our ancestors that prompted them to buy this land; we are reaping the blessings now." Just then, a young man dressed in shirt and chinos, a pair of sunglasses tucked into his shirt, enters. Yagnik Vyas is Parimal's son and embodies the change that the last three years have brought about in the lives of these villagers.
Antroli village is a pre-Independence settlement that saw a clan of cow caretakers, the Gaikwads, stay on. Over the years, the population became a mix of locals, natives of Kathiawad, who arrived and settled here and the tribals of the area. A gram panchayat was set up and exists to this day, now headed by a sarpanch, deputy sarpanch and talathi.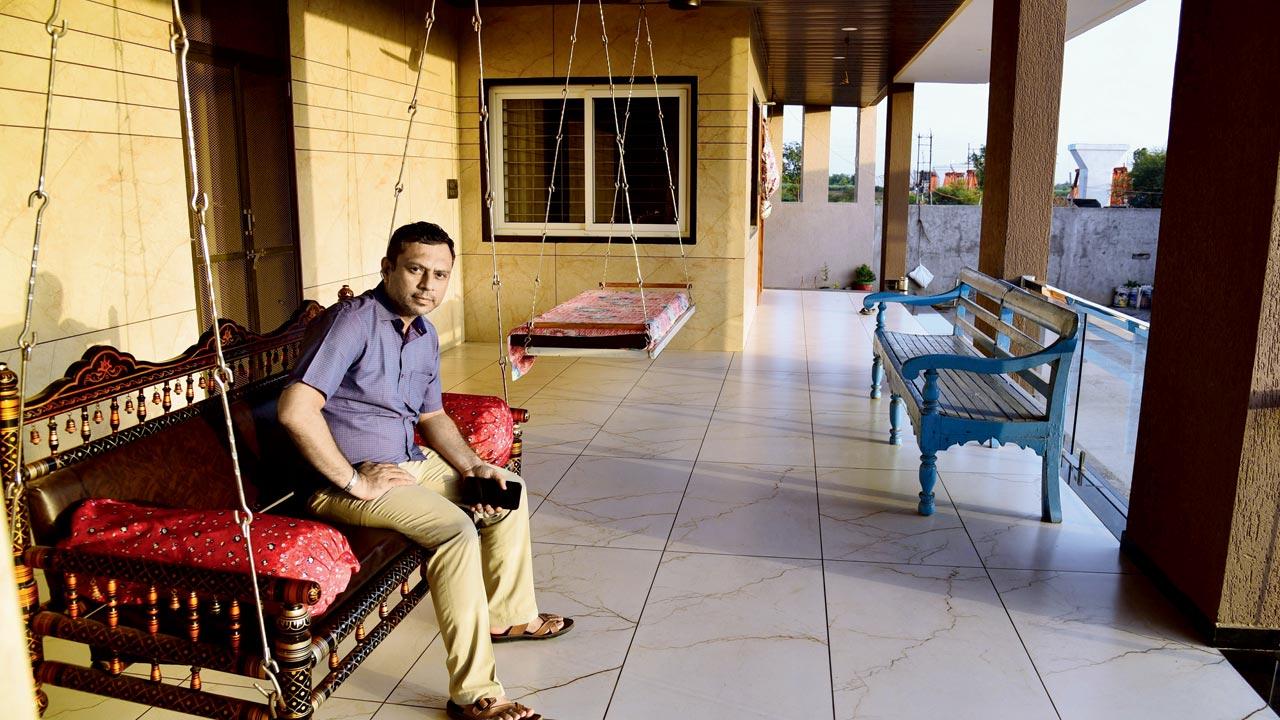 Around 50 per cent of the land where Mohni resident Vijay Parekh's house stood was needed for the tracks but he had to give up the entire plot. He has been paid Rs 60 lakh but is still waiting for more and has no clarity on the total compensation. Pics/Nimesh Dave 
The track for the project cuts through Antroli, Niyol and Mohni villages of Surat district, and the National High Speed Rail Corporation Ltd (NHSRCL), which has taken a 50-year loan of Rs 88.087 crore from Japan at an interest rate of 0.1 per cent, has acquired several tracts of land from the villagers at prices higher than current market value. The compensation was decided based on the jantri, a land-value certificate whose basis lies in the unit rates of land in Gujarat, fixed by the state government. The land that now belongs to villagers like Vyas was allotted by the Gaushala Trust, a remnant of the Gaikwad era, in 2002, on the condition that they would not sell it. Each plot was 16x17 sqm and the jantri at the time was Rs 3,200. As per the current market rate, each jantri is worth Rs 1.10 crore.
During the numerous rounds of discussions betwen the villagers and NHSRCL officials, it was decided that the villagers would receive four times the value of the jantri. An additional 12 per cent interest was added to make up for the delay caused due to the prolonged negotiations, and it was further agreed that the Tax Deducted at Source (TDS) would be refunded.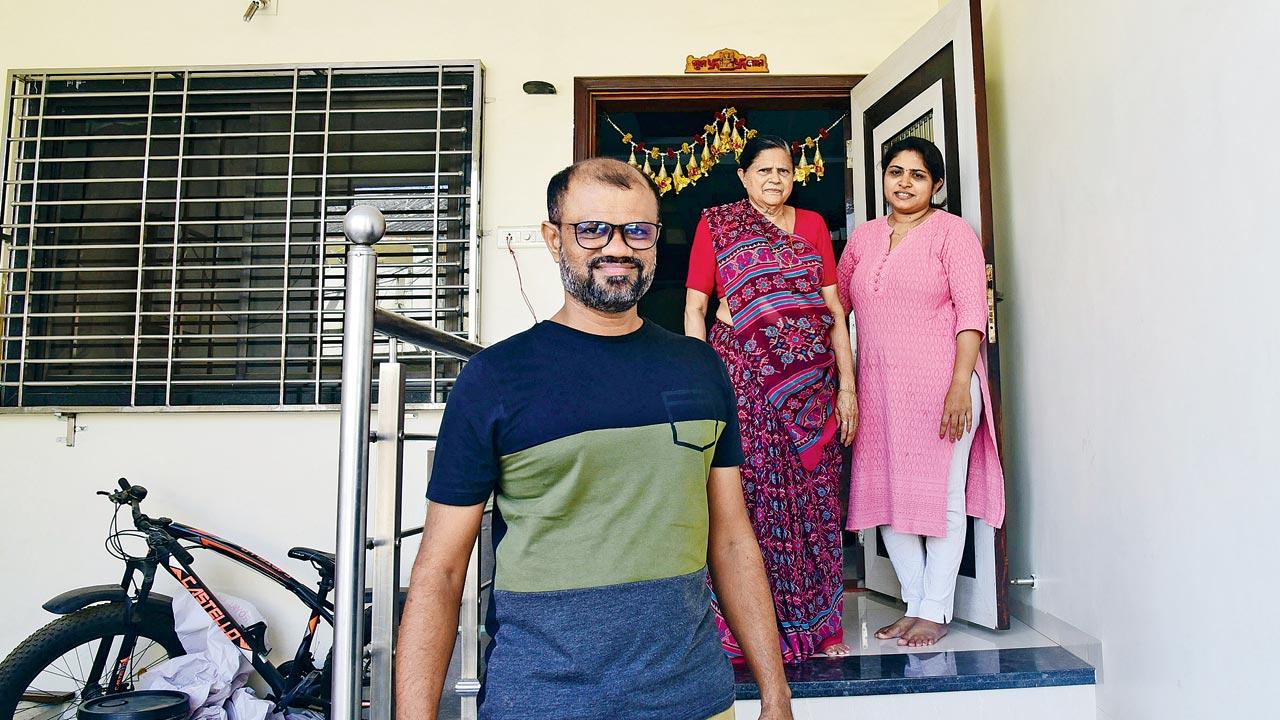 The Lad family from Antroli revels in their newfound riches but also prefers to adopt a cautious and conservative approach when it comes to spending them. Hiren Lad, the head of the family, has retained his job despite being paid Rs 8 crore. Pics/Nimesh Dave
"We filled and submitted the paperwork on January 19, a Saturday. By the following Tuesday, we started getting text messages about the credit into our accounts," says Satishchandra Desai, who received Rs 70 crore in exchange for 14 bighas.
Desai acquired Non-Resident Indian status 30 years ago. He owns a chain of motels and coffee shops in Florida, and shuttles between India and the US. Most of his family has moved there, but he preferred to hang onto his ancestral land for its economic value. Since receiving the money, Desai, like any wise businessman, has locked most of it in Fixed Deposits which he hopes will fund the education of his grandchildren. He says it is a matter of pride that the Surat bullet train station is coming up on his land.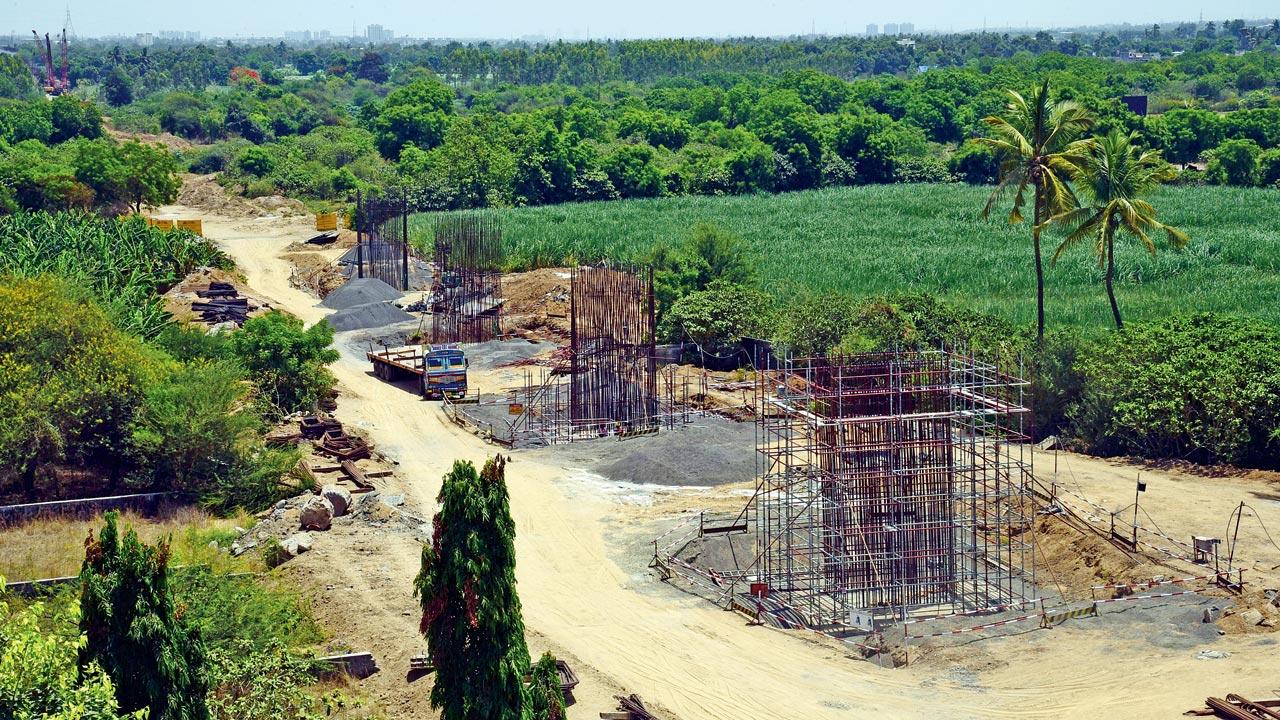 The ambitious Bullet Train project, slated to be operational by 2016, cuts through the villages of Antroli, Niyol and Mohni in Surat. The construction is underway at a rapid pace after land acquisition was completed and the owners compensated in 2019. Pics/Nimesh Dave
"I can hardly wait for the train to start operations. I plan to take my friends on a trip. We will enjoy vada pav in Mumbai and ride back to Ahmedabad within two hours to eat faafda," he chuckles.
The other portion of land on which the station is being built belongs to Bhavesh Barad, who also had to surrender a parcel of land in the neighbouring village of Niyol. The combined compensation he received is Rs 96 crore, making him the biggest beneficiary of the project in Antroli. Mid-day made repeated attempts to meet him, but were told he was unavailable due to a recent surgical procedure.
Antroli Sarpanch Umesh Rathod, deputy Sarpanch Vismay Solanki and the rest of the gram panchayat pores over a map of the village to map out the Bullet Train project. Pics/Nimesh Dave
As expected, the sudden influx of money has attracted outside interest. Over the last three years, three prominent private banks have set up branches in Antroli, which extend VIP services to the crorepati customers, including speeding up formalities and sending personnel to their residences with documents for signing.
"Two years ago, there was a queue of high-end cars including the Audi, Jaguar and BMW in the village square. Automobile company representatives were trying to lure every passing villager to take a test drive. They came looking for me and ended up almost kidnapping my neighbour, who hadn't received a single rupee as compensation," Desai recalls.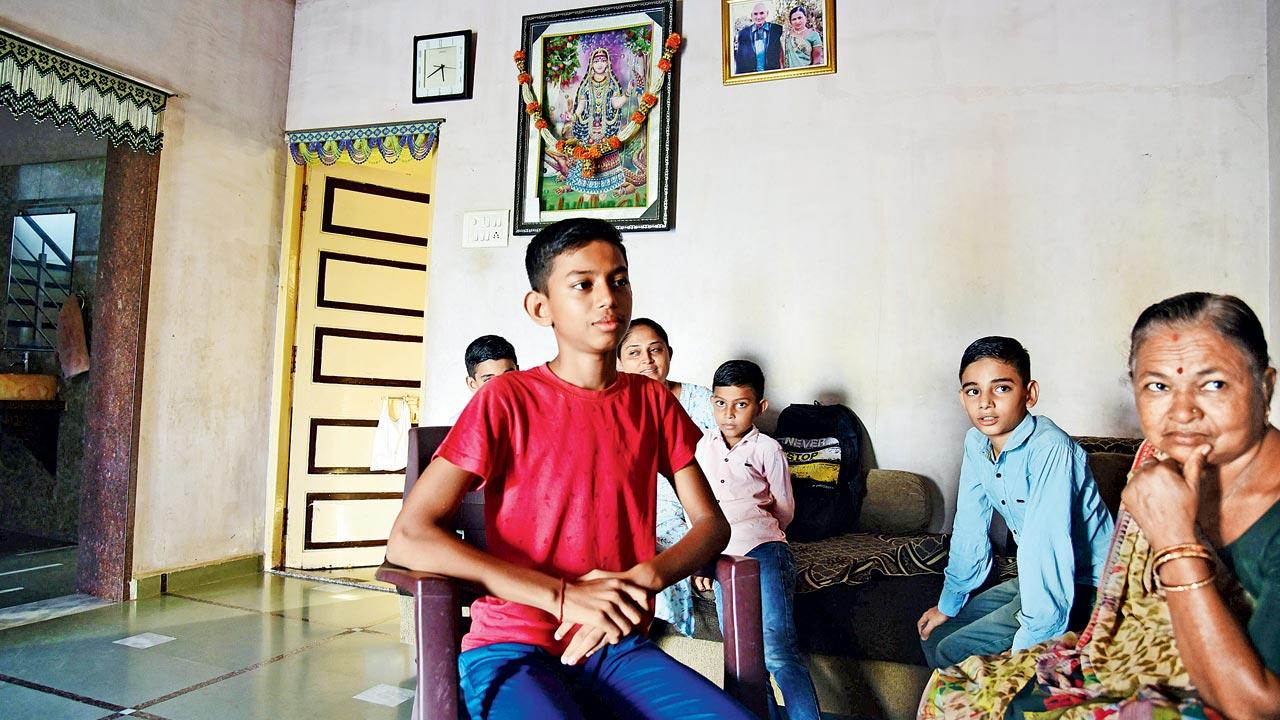 Antroli Sarpanch Umesh Rathod, deputy Sarpanch Vismay Solanki and the rest of the gram panchayat pores over a map of the village to map out the Bullet Train project. Pics/Nimesh Dave
The sudden interest from external elements has left some of the residents wary. They suspect that certain elements may try to entice the newly minted millionaires into "investing" in "attractive schemes". As soon as Parimal learns that this writer is from Mumbai, he asks, "What if the Mumbai gangs start dialling me [after the publishing of this article]?"
But most of them have accepted the whirlwind change in their lives with the fatalism that defines our culture. "We have always been kheduts or farmers. And we always will be. I don't think any of us will fall for investment schemes. Most of us have used the money to buy new plots of land, and have saved the funds for future generations. We are also very close knit as a community and believe in taking care of each other. An attempt [to trap] on one of us is an attempt on all of us," says Vismay Solanki, Antroli's deputy sarpanch.
But what shines through in most conversations is the feeling of vindication. When the negotiations began, the villagers had struggled to come to terms with the developments, several of them telling the press that they had got a raw deal. In November 2019, Sunday mid-day had fronted a series of articles highlighting how the residents of Valsad in Gujarat and Palghar in Maharashtra were up in arms against the NHSRCL because the compensation promised was far lower than market rate.
The situation was no different in Antroli in 2019. "There was no encouraging sign from NHSRCL in the beginning. They came to us claiming our youth would get jobs in the project, but the jobs turned out to be menial labour like sanding of pillars. It was insulting," says Devendra Barot, who was the sarpanch of Antroli for 15 years before handing over the reins to Umesh Rathod. Barot received Rs 3.5 crore for 70 gunthas of land, with each guntha measuring 1,089 sq ft. He says that he has used a part of the funds to send enrol his daughter in a Canadian university, while keeping the rest aside for his son, who is completing a Bachelor of Commerce degree.
Ajay Devadra, who received Rs 5.41 crore, adds, "Once the NHSRCL made its stand clear, it was not practical to hold on to the land for emotional reasons. The land was going to go anyway. Today, we are in a much better position than we ever were." "It has brought us a certain sense of security," says Hiren Lad, who received ₹8 crore for two bighas. "I took a trip to Thailand and then Singapore with my family, renovated the house and am now sending my son to a better school. But I chose to retain my job since I have always been a working man and would like to keep being one. However, I no longer have to worry about a toxic environment or tolerating an unreasonable boss. The feeling is of liberation." 
The mood, however, is not as jubilant in the adjoining villages of Niyol and Mohni, which we visit. Mahadev Desai from Niyol, a 64-year-old farm owner, received Rs 35 crore for seven bighas. mid-day found him sitting in the village square of the small hamlet with conspicuously clean walkways and quaint haveli-like architecture. "We take pride in the fact that we keep our village so clean," he says, while exchanging jokes in Gujarati with his childhood friends. When it comes to the compensation, he appears grateful but not too excited. "A farmer's whole life is a gamble and even a profit of a rupee is a windfall for him. I have built my house, bought vehicles and taken care of my farms on my own since I was 19. Both my sons have well-paying jobs. If I let it get to my head, I will stray off the path," he says. We ask him if he plans to take an overseas trip like the others. "Where do I go? Every place is too crowded these days!" 
It takes visits to several more households before the reason behind this nonchalant attitude becomes clear. The Gajjar family from Niyol carries on with its life with the same indifference as the rest of the village. "A big amount of money is great but it is hardly going to last. We have started using organic raw material in our farms, installed new and better fencing and have employed labourers to lighten some of our load. However, sitting back and enjoying the sudden riches will make us lazy and complacent," says Parth Gajjar, who is all of 11 years old. Gajjar, who speaks to us while his father is at the farm, appoints himself as the spokesperson of the family two minutes into the conversation, even as the womenfolk refuse to volunteer any information. They do let one detail slip, though. The value of the jantri in Niyol is much lower than in Antroli. Which means that the compensation is less too. While neighbours whisper among themselves that the Gajjars received around Rs 10 crore, the family refuses to answer any of our questions.
Meanwhile, the residents of Mohni are dealing with their own tug of war between joy and confusion. The land that was acquired in Mohni was not agricultural but residential. Several houses that stood in the paths of the tracks were razed down after the land was acquired. The value of non-agricultural land is significantly lower. But also, the villagers say they are unhappy about having received only part of the compensation promised to them. "Around 50 per cent of the land where my house was located was needed for the tracks. But because I lost my entire plot, I was told I would be duly compensated. However, I have only received Rs 60 lakh, and there is no clarity on what my total compensation will be," says Vijay Parekh.
Kantilal and Hasuben Patel also lost their bungalow but used the Rs 55 lakh they received to build a swanky new one, with shiny tiles, large balconies and two swings on the front porch. "We built the new house at a total cost of Rs 85 lakh; we will see the bullet train zip past from our balcony," Kantilal says even as the evening aarti in a nearby temple starts, cymbals clanking. Much of the temple's spacious compound was acquired  by the NHSRCL to lay the tracks for the Bullet Train, shrinking its area considerably. 
The modest mandir now stands a stone's throw away from one of the pillars of the project, a lone tree separating the past from the future.
Rs 96 cr
The highest compensation a villager has received in Surat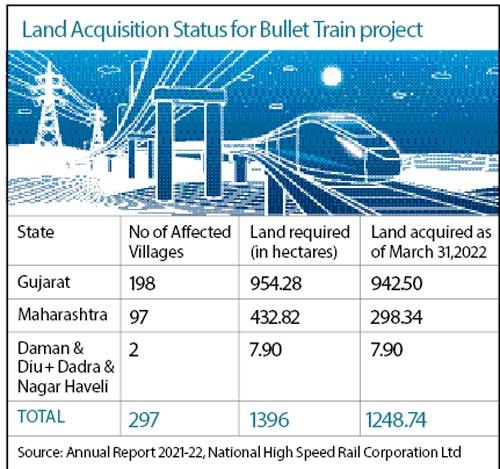 "Exciting news! Mid-day is now on WhatsApp Channels

Subscribe today by clicking the link and stay updated with the latest news!"
Click here!