The first thing that struck me about An Action Hero, though, is how often we've begun to watch movies, that are about movies itself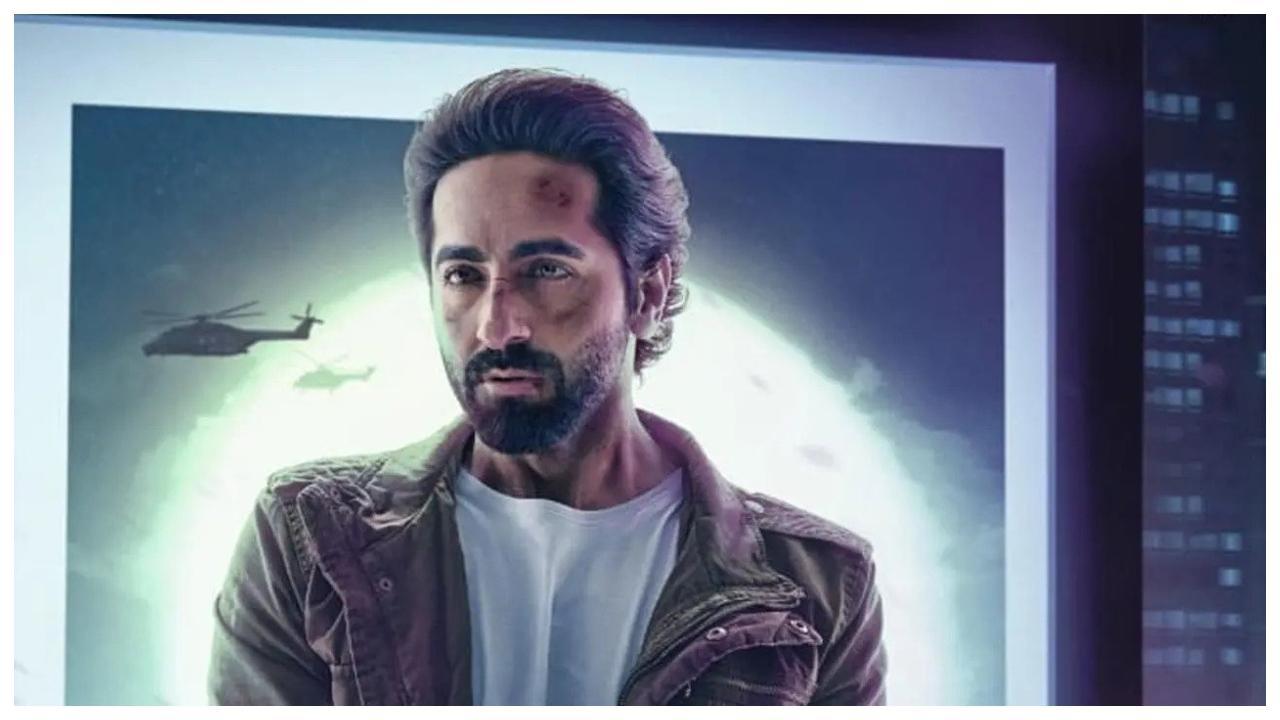 Still from the film
Film: An Action Hero
Director: Anirudh Iyer
Cast: Ayushmann Khurrana, Jaideep Ahlawat
Rating: 2/5
Trust actor Ayushmann Khurrana — a star from another galaxy, within Bollywood — to sign up for a proper 'action film', while wholly subverting the genre itself. Meaning, the film is about an action hero, in real life. This puts everything you watch then within the realms of realism as well. And that can be an issue. But we'll get into that in a bit.
In terms of premise, and for the most part, the plot/writing that follows — An Action Hero is a genuinely clever picture (by writer, first-time director Anirudh Iyer).
Also in terms of how the story flows — it's not told, it unravels, as it should. You're taken places. Up until you're with the filmmakers, you're in for a decent ride.
It opens with Khurrana's character holed up in a police detention room in London, wherein two RAW agents have dropped in to casually interrogate him.
The story he narrates, which is the film in flashback from thereon, is about a Bollywood superstar, that is himself. And the incalculable shenanigans that surround such a celebrity — sometimes distracting from his job, which is simply to perform between action and cut.
The first thing that struck me about An Action Hero, though, is how often we've begun to watch movies, that are about movies itself. This could be because the last Hindi thriller I caught (on OTT) was Monica O My Darling — altogether a fan-boy flick, flying high, because of its referencing of other films.
The last Bollywood murder-fest I watched in a theatre was probably Chup. Also set within the film world — with Guru Dutt's Kaagaz Ke Phool as metaphor binding the movie, about killing critics!
Also Read: Ayushmann Khurrana's ode to the original action hero of Bollywood
Speaking of which, since Kaagaz Ke Phool bombed, films about the film industry had been considered an anathema in Bollywood. Assumption being that audiences don't like the magic of movies demystified.
And what do we mean by the magic of movies anyway? Stuff that only happens on big screen. Take action, for instance. Pretty much all of us have been in a fight, or seen one on the street, etc. That real action — boringly passive, even when potentially fatal — is nothing like action in 'action films'!
And therein lies the issue with a movie that isn't, for instance, a deliberately over-the-top 'Akshay Kumar', Rowdy Rathore type, action romp. It's a movie on, so to say, Akshay Kumar himself (he also does a cameo here).
For all the smarty-pants subversion of a genre, the fact is, as an audience, you don't know how to convincingly place all the 'James Bond' summersaults, car-chases, long, tireless mortal/hand combat sequences — that could feel hollow/tiring, if not fake, eventually.
And it's not that the filmmakers aren't aware of this. In a meta, 'Deadpool' kinda way, all along, you hear dialogues alluding to: Oh, this is what you expect in a movie; is this a film going on, or what, etc.
Here's where movie-action has retrofitted into what's actually not an action movie: It's centred on an actor, whose life turns on its head, because of an accident — confronting a local don, when he's out on a shoot in Haryana.
That guy dies. The 'actor' is physically responsible — I'm glad he's not named some Khan/Kapoor, for obvious parody. The don's big brother — who's literally that sort of local figure—goes after the actor. Everything thereafter can only happen in movies.
Deadly Jaideep Ahlawat plays the avenging, Haryanvi big brother. At its core, this film is supposedly a contest/battle, if not a cat and mouse chase, between two leads: the actor, and the gangster. Think of it like the killing fields of Badlapur? Oh, hell no!
But let me know not be a killjoy here. This is, to be fair, an engaging film from the get go, with enough masala/material in it to also humorously weigh in on the star-struck world. In effect, the desi news-media circus that craps on itself, on TV, all day, anyway. Anything on mainstream Indian TV news will look like a spoof, of a spoof.
Also Read: Fashion Friday: 5 times when 'An Action Hero' star Ayushmann Khurrana amazed with his sartorial choices
Yet, this film does a delightful job of surveying a bunch of Indian TV anchors — best parodies on social media are done by mimic-comic, Garima (follow her on Insta, guys). She's there in this film too.
As are random hot-heads, banging on and on, over conspiracy theories to do with Bollywood, while a movie-star is on the run. He's being chased down by haters he doesn't know. In the same way that he was hounded by fans he didn't know either! Irony is complete.
So, yes, the movie has a message too. It's an Ayushmann Khurrana film, in that sense, still! Only that wholly plot-based pix, especially in Bollywood, inevitably hinge upon, firstly, reversing the usual 'curse of the second half'.
The pre-interval portions, being the set-up; it's total payoff, after. This leap of imagination lands nowhere after halftime — once the hero himself starts getting deeper and deeper into shit. As does the film, with no way to get out of it too. Full respect for the dive/effort though. Has Bigg Boss 16 lived up to your expectations?