Bell Bottom does match the scale and lively spirit of both Baby and Airlift. This is tall praise to start with. The lead character, I'm told, is based on two real life spies. The story itself, inspired by supposedly "declassified documents," Akshay says, is "80 per cent true"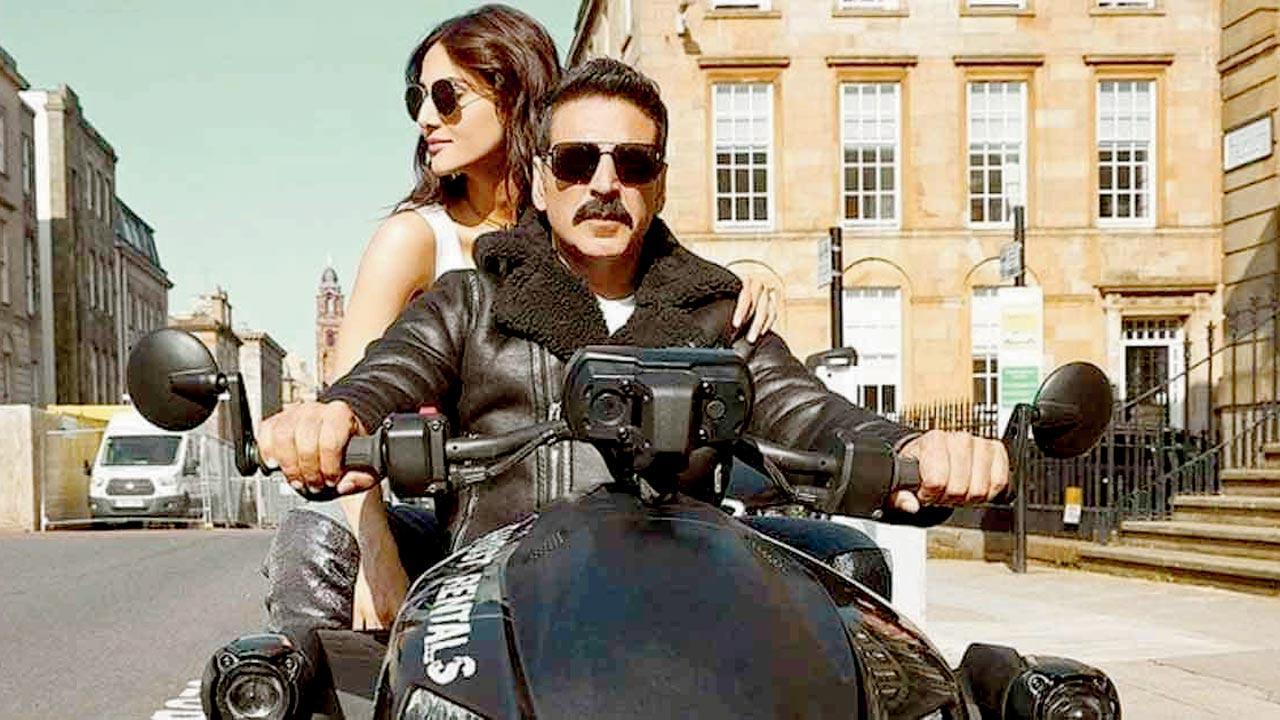 Akshay Kumar and Vaani Kapoor in Bell Bottom
Bell Bottom
Dir: Ranjit Tewari
Cast: Akshay Kumar, Lara Dutta, Vaani Kapoor
Rating: 3/5
Honestly, it feels strange to be writing about a major, desi theatrical release, sitting in my hometown, Mumbai, which in turn is the home of popular Hindi cinema, or Bollywood as it were. 
But this film itself hasn't made it to local theatres yet. They're all shut. I watched it in the neighbouring town of Surat, at a sanitised multiplex that could've been anywhere in the world. Let this moment of pandemic — among greater tragedies — be also recorded in Mumbai's popcorn history.
Watch Video
Sure it took a while for the film, on the big screen, around strangers in a hall, to settle in. And to feel like we're back to the old days again. Akshay Kumar's presence starts the show. This time in the 'mahaavari' ad — sanitary napkin awareness cum anti-smoking PSA (God I missed these too!). 
What follows of course is Akshay Kumar as the hero in and as Bell Bottom — by some measure the youngest 53-year-old, flashing back to his youth. Where he's not just a multi-linguist — proficient in languages like French and German enough to teach —he's also a national-level chess champion, besides an aspirant to the civil services. Much later in the movie, when one of the characters compares the hero to Chacha Chaudhary, whose brain works faster than a computer, he shuts him off. 
The genius is apparent. It doesn't need to be spelled out. Even as the hero can see through all the designs and plans of a deep-state behind a massive airplane hijack. He can sense patterns that all government agencies put together can't. And he's never wrong. The film is roughly set between the late '70s and mid '80s. As is the super peppy background score.
Given the time frame, think of it perhaps as Ben Affleck's Argo (2012) — similarly about a tight, undercover crack-team tasked with securing lives of citizens in a hostage crisis abroad. What would your worries be if that was adapted thickly layered with garam masala in mainstream Bollywood? Guessing item songs, romantic angle, overload of jingoism, etc. Those concerns are wholly unfounded. 
What the competent director (Ranjit Tewari), writers (Aseem Arora, Parvez Shaikh) — the "story idea" is credited to producer Vashu Bhagnani — introduce instead, with appropriate dose, is the emotional element of a happy family; a mother (Dolly Ahluwalia, such a star), in particular. This gives the hero a motive to give his all. And the audiences a reason to back him even more.    
What we are looking at also is a neat hagiography, in a way, of India's external, secret service agency, RAW, that we've seen several of in the recent past. Notably Salman Khan's Tiger franchise. Salman is shooting its third instalment, as we speak. Akshay himself has headlined the superb Baby (2015). You could technically place this film as his own second instalment of an imminent spy trilogy. 
Or you could see it as an extension of his feisty Airlift (2016) — similarly about a cool Punjabi dude, who saved the day for India, leading the hugest rescue operation during Gulf War, which we learnt in-depth fictionalised details of. That one involved the national carrier, Air India. As does this film — likewise dealing with the well-known, 1984 hijack of Indian Airlines Flight 405 from Delhi's Palam airport.
Hard to tell better or worse, Bell Bottom does match the scale and lively spirit of both Baby and Airlift. This is tall praise to start with. The lead character, I'm told, is based on two real life spies. The story itself, inspired by supposedly "declassified documents," Akshay says, is "80 per cent true." 
Which 80 per cent, of course, we don't know. What feels the most adorably real, though, is Lara Dutta as Indira Gandhi — pretty much morphing into the late Indian Prime Minister, lending a touch of authenticity that movies of this genre desperately hope for. 
Also Read: Ajay Devgn lauds buddy Akshay Kumar for 'Bellbottom'
As the film flits between multiple time stamps — 1978, '80, '82, '84 — I found it hard to keep track, by way of a fact-check. This could also be because of so much happening before a dark glass. The movie is in 3D. Which, I'm guessing, is more to curb Internet piracy, than adding immensely to how you receive the film itself. 
What doesn't feel as believable though? I guess the extended, incredulous climax. You could lay the same blame on a series of movies that rarely meet the promise of their robust first half. 
But up until that point, you've been on a ride fun enough for you to tag along with all that's going on. No questions asked.
It's a hoot — now, when was the last time you heard someone say so, after switching off a film/series on an OTT platform (at home/otherwise). You've gotta hear the hoots for it, and the 'seetis'; at least the laughs and the sighs. 
That's what cinema as a definition is supposed to be — enjoyed with a collective of friends and strangers, in a dark hall, and popcorn on your lap. Imagine — I went all the way from Bombay to Surat for this. 
Would've torn my hair off, if the experience hadn't lived up to the anticipation! Sure it does. Phew! Over to you —whenever you can, depending on where you are.
Also Read:  'Bellbottom': Akshay Kumar pays tribute to our unsung heroes with the new song