mid-day attended actor Swara and politician Fahad's wedding reception in UP, firstly, for the food!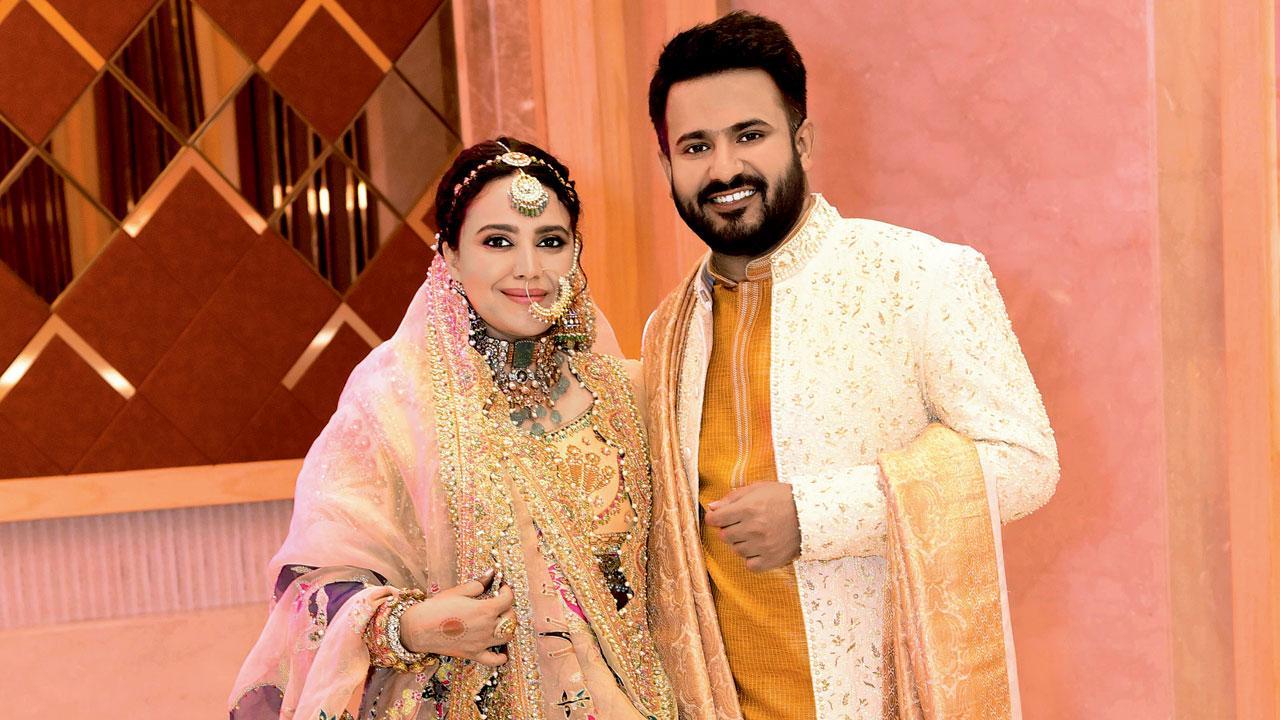 Swara Bhasker with husband Fahad Ahmad
Of all the places, you decided to come [to Bareilly]," Bollywood actor Swara Bhasker rightly exclaims, as we greet her at the wedding reception podium, shamelessly jumping the line of about a thousand attendees clicking pictures with her, and husband, Fahad Ahmad. 
The couple got officially married on January 6, in a civil ceremony, at the court registrar's office. Ever since, Fahad's best buddy Arish tells us, the parties haven't stopped — with the final, 10-day sprint in New Delhi, March 10, onwards — nights of haldi, mehendi, qawwali, Rahul Gandhi, Arvind Kejriwal, et al. 
ADVERTISEMENT
The walima (reception), in Islamic tradition, is the final function that follows the wedding/nikaah. Swara's is in Bareilly, because that's where Fahad's family home is. 
Although for his schooling, since a child, Fahad, the eldest one, has mostly lived away — in Aligarh, Himachal, and Mumbai, where he most recently completed his PhD at Tata Institute of Social Sciences, before formally pursuing a career in politics.
As celebrity weddings go, Swara-Fahad then —showbiz-activism, experienced-startup, Hindu-Muslim, South Delhi-Bareilly — sounds the most interesting. On a scale where cricketers marrying film-stars, cornering the attention-fame industry, are bland/predictable bores.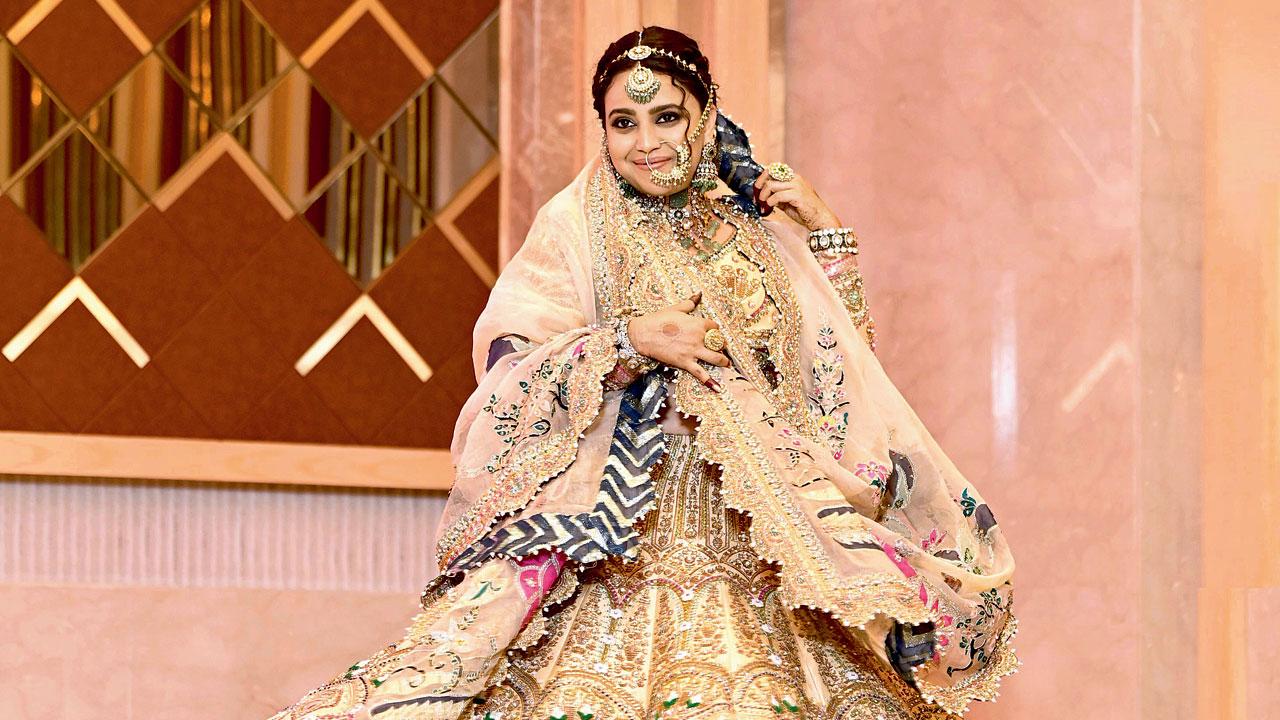 While Bareilly's weather seems most influenced by Nainital, that it's in the foothill of, it is equidistant (about 250 kms) from both Delhi and Lucknow. Fahad is a Young Turk, freshly recruited into Samajwadi Party (SP). Which explains a posse of Mumbai corporators from SP on our packed flight to Bareilly, for the walima — that's primarily for Fahad's local family/friends. Such that we feel like crashers into this gated, intimate commune, already!
To be honest, in a way that wedding guests usually aren't — besides personally wishing the married couple, of course — we're in Bareilly, chiefly for the food! 
And while you can best survey the two culinary kings of Bareilly's street-cuisine — top-class chains, Ajanta, and Deepak (we did both) — sampling the curation at Swara-Fahad's reception reveals just as well how the taste of so much that you've universally taken for granted, bears a uniquely Bareilly style still.
Take the famous samosa —it's stuffed with cashew nuts, raisins, etc, and yet it isn't vaguely sweet. The flavour is inimitably Bareilly. Likewise, with the pani-puri, more commonly known as batasha.
Every stall across the city, including the one at the walima, displays multiple matkas, of mixers. The pani of the puri come mixed in separate flavours: jal-jeera, pudina, heeng, kali-mirch, laung-elaichi.
You're supposed to sample all. Even the global French fry is dressed in the Indian tricolour at the Bareilly do. 
But, of course, at the open-air venue, you first follow your nose, instantly headed towards the thick waft of kebab-smoke, drawing you in to the large counters, of seekh and shammi, that this Rohikhand town is equally known for. Impossible to navigate wedding crowds. 
We saved up appetite instead the following day for Kashish, the road-side gem of a restaurant, serving stellar biryani. And, yes — there is such a thing as the Bareilly biryani. Quite distinct from 'Lucknow', perhaps closer to 'Kolkata' (but without potatoes and egg!). Since you're done with the meal — no, there is no such thing as a Bareilly ki barfi. 
It's just the title of a film by director Ashwiny Iyer Tiwari, who gave Swara the lead role in Nil Battey Sannata (2015). But sweets — in particular, soan papdi; and rasmalai, in several flavours — is the mainstay of both a day and meal in Bareilly. 
If not the reason why you're unlikely to meet a gentler set of UP-ites, with such mithaas in their manners. Bareilly-wallas are 'barfis' themselves. To a point that as a recipient, you almost feel like an imposter undeserving of so much respect and hospitality. As we did with the young groom Fahad's family — his brother Faraz, his local friend Fardeen, the BFF Arish…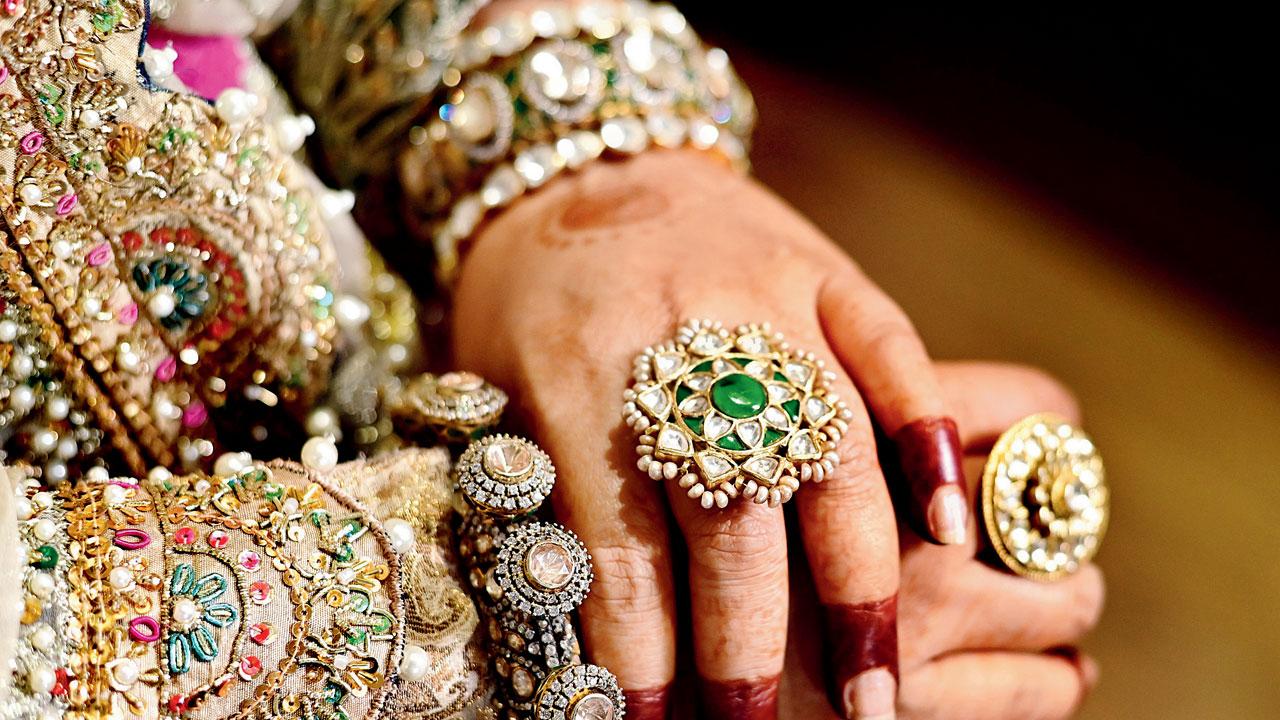 Surely they're also proud of having a Bollywood star in their midst/fam. Bareilly, hometown of model-actor Disha Patani, and where Priyanka Chopra finished high school from, is Bollywood-crazy, alright. 
You can tell from the number of old-world 'talkies' (single-screen cinemas) up and running, still. Unlike most towns in the region. One of the talkies is currently playing Khalnayak (1993).
And it's not like there aren't enough entertainment options — only as much as the rest of India. This is also a visibly wealthy city. Observing a high-end hospital for every third high-rise in the main streets, it appears medicine/medical tourism is the top industry.
Between fine bars (we went to a couple: Goonj, Deja vu) — Kingfisher is brewed in Bareilly, by the way — alongside massive, beautifully-kept bungalows, in several parts, decidedly, Posh Bareilly > Posh Bombay.
Consider the venue of the Swara-Fahad reception itself, The Grand Nirvana hotel/resort: a gigantic, European recreation structure, off the city centre, that came up a few months ago. It could be anywhere in the first world.
Given the profile of the wedding event, of course, there were bouncers and cops, actively guarding this venue. Most barfis of Bareilly we casually spoke to had heard of Swara's reception in their proud, cosmopolitan city.
Including policemen at the stunning Ghanta Ghar (Clock Tower), who also claimed that the jhumka of Bareilly bazaar had fallen right where we were — at the city's congested Bada Bazaar. The reference is to the Asha Bhosale song, picturised on Sadhana (Mera Saaya, 1966): Jhumka gira re, Bareilly ke bazaar mein. The jhumka, otherwise, has nothing to do with the city.
It may be the only lyrics to inspire an actual monument. We drove far outside Bareilly to watch the Jhumka, installed by the local government, on a road junction. It's no more majestic than a shady lamp-post. We nearly missed our flight.