The Hindi copy feels tighter than the Mallu Drishyam 2, in parts as well — just wish hadn't seen it though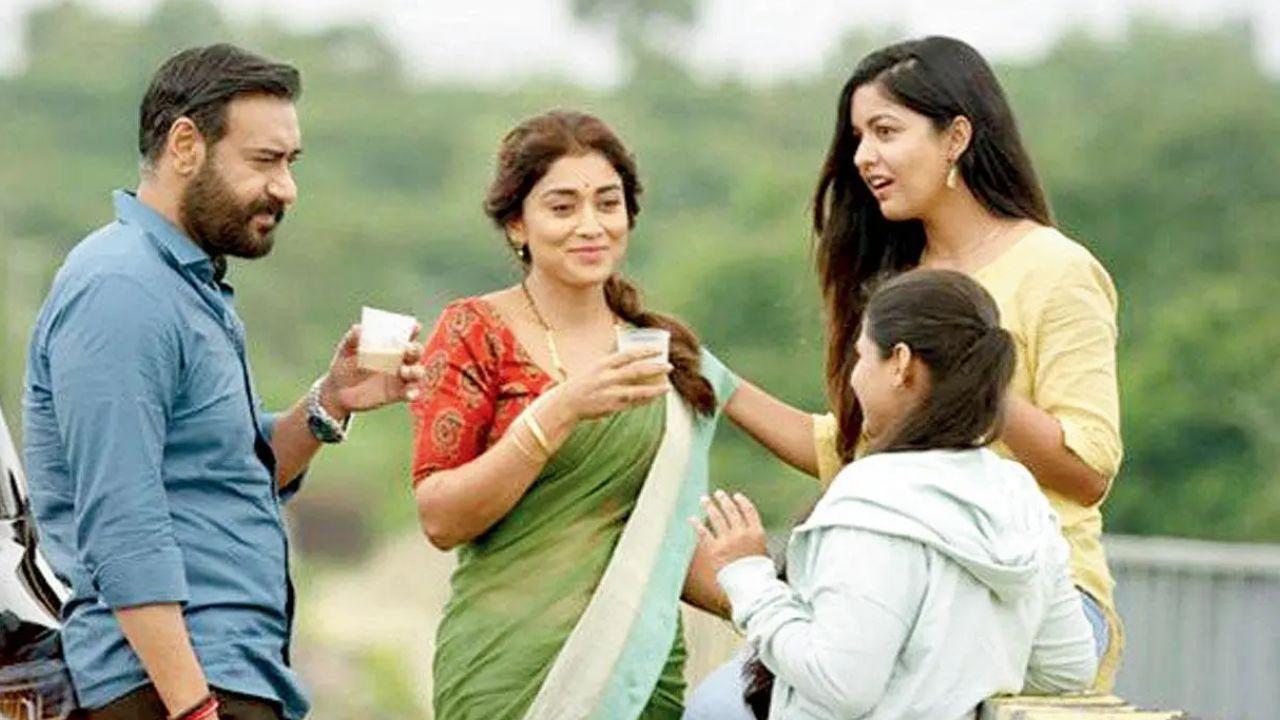 A still from the film
Film: Drishyam 2
Director: Abhishek Pathak
Actors: Ajay Devgn, Tabu, Akshaye Khanna
Rating: 2/5
Most importantly, first off: This is a film that will thoroughly keep you engaged as a solid, smartly structured suspense-drama, with enough surprises, throughout. Now that's enough for you to know. And ideally step into the theatre, right away, anyway.
That is, if you haven't watched writer-director Jeethu Joseph's original in Malayalam, starring Mohanlal. Ideally, don't. But, as an audience, how do I 'unsee' what I have?
Now, with plays, for instance, absolutely the same script is performed by different theatre companies on stage. Nobody minds. But a movie is different. In the sense, that once performed, a picture remains recorded for posterity. This is why we watch remakes, yes. But they ought to be inspirations/adaptations — not the same thing, frickin' all over again!
But, hey, why diss this film alone on that count — when that was equally true for Drishyam (2015), the prequel, directed by Nishikant Kamat, also starring Ajay Devgn, Tabu? Kamat is no more. Drishyam 2 looks at the same plot eight years hence.
Also Read: Going forward from 'Drishyam 2', a busy 2023 beckons Tabu
Here's what you already know, before entering this film: There was a case of revenge-porn, between a young boy, and a girl. The boy was an extortionist. He got killed. The boy's mom (Tabu) was a top-cop herself. The girl's father (Devgn) took care of this dead boy's body.
This was, in a sense, a perfect murder, with sufficient alibi crafted by the actual culprits. Nobody knows behind-the-scenes of this mystery. It's this police case that is getting reopened, in a way, with the sequel.
A lot of us loved the Bollywood remake of the Mallu Drishyam. What's changed since? Check the year the first part came out in: 2015. No Hindi viewer I knew then had seen Joseph's Mohanlal starrer (2013). Then exploded OTT platforms, around 2016.
Even then so, the original Malayalam movie wasn't in any major streaming service, when its 2021 sequel premiered on Amazon Prime Video, during the pandemic — when all eyes were glued to whatever quality-content we could find for home entertainment.
Now OTTs and multiplexes will coexist. But their audiences are the same. And if you've seen the Mallu Drishyam 2 — you don't expect the Hindi adaptation to be exactly the same too. There can't be such hullabaloo over something so hu-ba-hu! What's the difference between adaptation and copy, for a remake, even if one's paid for the rights?
To quote most recent instances, Laal Singh Chaddha (2022) is an adaptation of Forrest Gump (1994). You can catch both, without either screwing up the eventual experience (in theatres, or Netflix). The Hindi Vikram Vedha (2022), on the other hand, is a straight copy of the Tamil Vikram Vedha (2017).
Sure the directors (Pushkar–Gayathri) are also the same — merely supplanting the film to Uttar Pradesh, capturing no change in the social context as a result either. Audiences have full access to both movies. The screen world's changing. That's my limited point.
Likewise, Kochi = Goa, in Hindi Drishyam, among Marys, Angelos of the world; that's it. Goa is also where the protagonist (Devgn) is working towards producing a Bollywood film. He's spent a lot on hiring an accomplished screenwriter. Only that he's been sitting on the prized script for years.
Unlike OTTs and theatres, since books and movies have a separate audience, as per the lead character, he's also published the script in a book form, to avoid copyright issues later.
Also Read: This is what Vatsal Sheth felt about Ajay Devgn-starrer 'Drishyam 2'
The original Drishyam itself was allegedly inspired by Japanese Keigo Higashino's crime novel, The Devotion of Suspect X — a charge writer-director Joseph vehemently denied, including in court. The idea for the sequel — cops' hunt for a young dead-body, missing for several years — could well be the Sheena Bora murder case. Of course no further similarities thereafter exist.
This is in fact a killer, original script, with just the best final 15 minutes of a movie I know. Who delivers you to this first-rate climax — the competent director (Abhishek Pathak), of course. But more so the addition in the cast, I felt.
That being Akshaye Khanna, brought in for full swag — playing inspector general  of police, who steps out of a Fortuner for an official vehicle. Khanna is often criticized for his well-loved stock expressions on screen. One, he moves away from them often enough. Also, he makes sure to remain scarce on screen himself, for his presence to be such a pleasure, almost always.
As the super-plot progresses, you can hear audiences adequately reacting to the pushes and pulls, the twists and turns, in the hall.
Yup, this sequel is actually better than part one. The Hindi copy feels tighter than the Mallu Drishyam 2, in parts as well — just wish hadn't seen it though. No excitement or suspense left for me, sadly. Has Bigg Boss 16 lived up to your expectations?