On Arbaaz Khan's show, Helen spoke about her childhood, and equation with Salim Khan and his ex-wife Salma Khan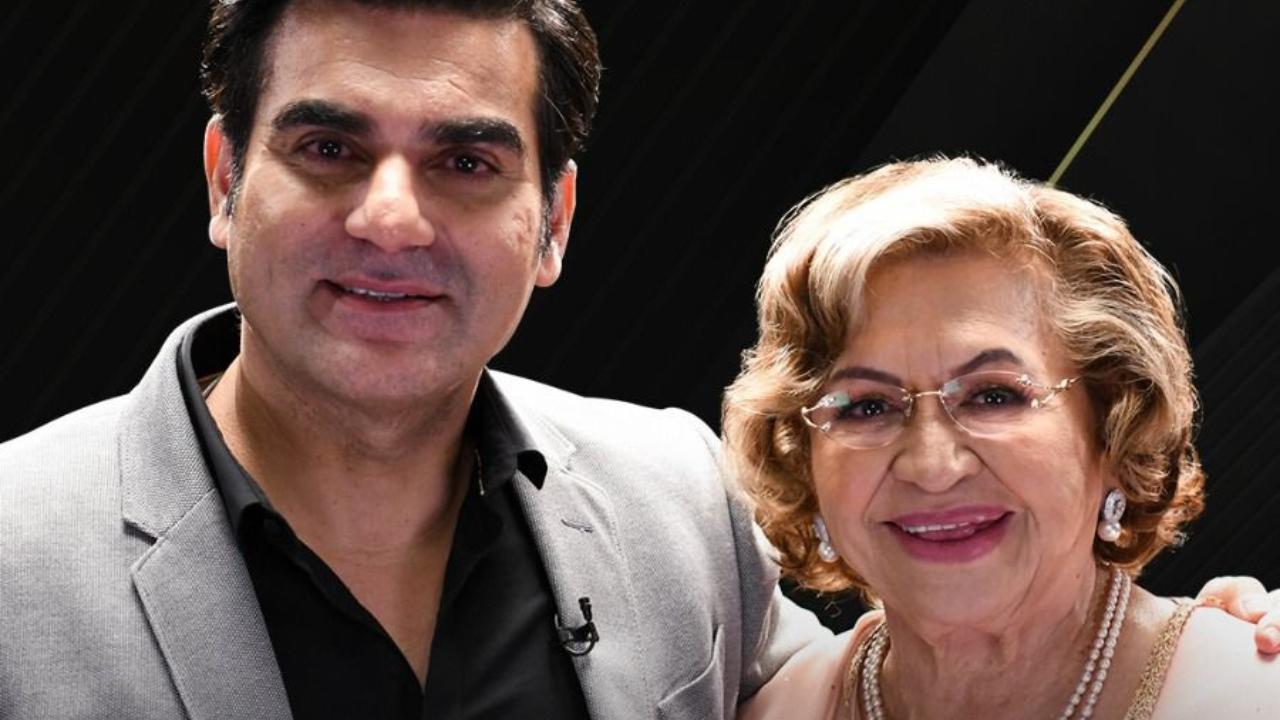 Arbaaz Khan and Salma Khan. Pic/Arbaaz's Twitter handle
On February 17, the third episode of 'The Invincibles with Arbaaz Khan' was aired with the star guest being none other than the dancing queen, Helen. The episode starts off with Helen getting up close and personal about her struggles of moving from Myanmar, then Burma. She credited her mother, Marlene Richardson, for all of it, talking about how she migrated with her family during the Japanese invasion which displaced about 300 people. 
Helen remembers a vague picture of that time, bits and pieces from the incident. She spoke about her family, which was her mother, her younger brother and herself. During the migration, Helen's mother was pregnant with a girl child but lost her.
ADVERTISEMENT
On the show, Helen also discussed how her now husband Salim Khan offered her a role in movies like 'Immaan Dharam', 'Dosatana' and 'Don' after he saw the troubles and legal cases she was going through. Helen would frequently visit Salim's home which made things tough because Salim was already married. She mentioned how difficult it must have been for Salma Khan and that she never wanted to be a cause for separation in the family.
Helen had immense respect for Salma Khan. Talking about an incident that proves the same, Helen shared, "In the beginning, what I used to do, you know when I used to pass Bandstand, and I would know sometimes Mummy [Salma] is standing on the balcony, I would duck right down so she would not see me and think that the car would be empty going past your house. I used to keep her respect so much."
Arbaaz, who is the second child of Salim and Salma Khan, mentioned that even at time where Helen was considered as the 'other woman', she still held on to the family and never left Salim Khan's side.
Also Read: Exclusive! Here's how Salman Khan's 'Kisi Ka Bhai Kisi Ki Jaan' look was created
Right after Helen gets teary-eyed, Arbaaz revealed that the family has reached a stage where if Helen doesn't turn up for any family events or even normal lunches, the first phone that comes through is from Salma asking her why she could not make it. Arbaaz mentions, "God has been kind that our family has taken so much of emotional upheaval yet managed to stay together".
Helen also said that she believes in the Almighty, more towards the spiritual side. She is a firm believer in destiny and that "jo hone hai wohi hota hai (whatever happens will happen)."
"Exciting news! Mid-day is now on WhatsApp Channels

Subscribe today by clicking the link and stay updated with the latest news!"
Click here!