Having composed the garba track, Boom padi, for Madhuri's film, Siddharth, and cousin Souumil, on learning from father Shankar Mahadevan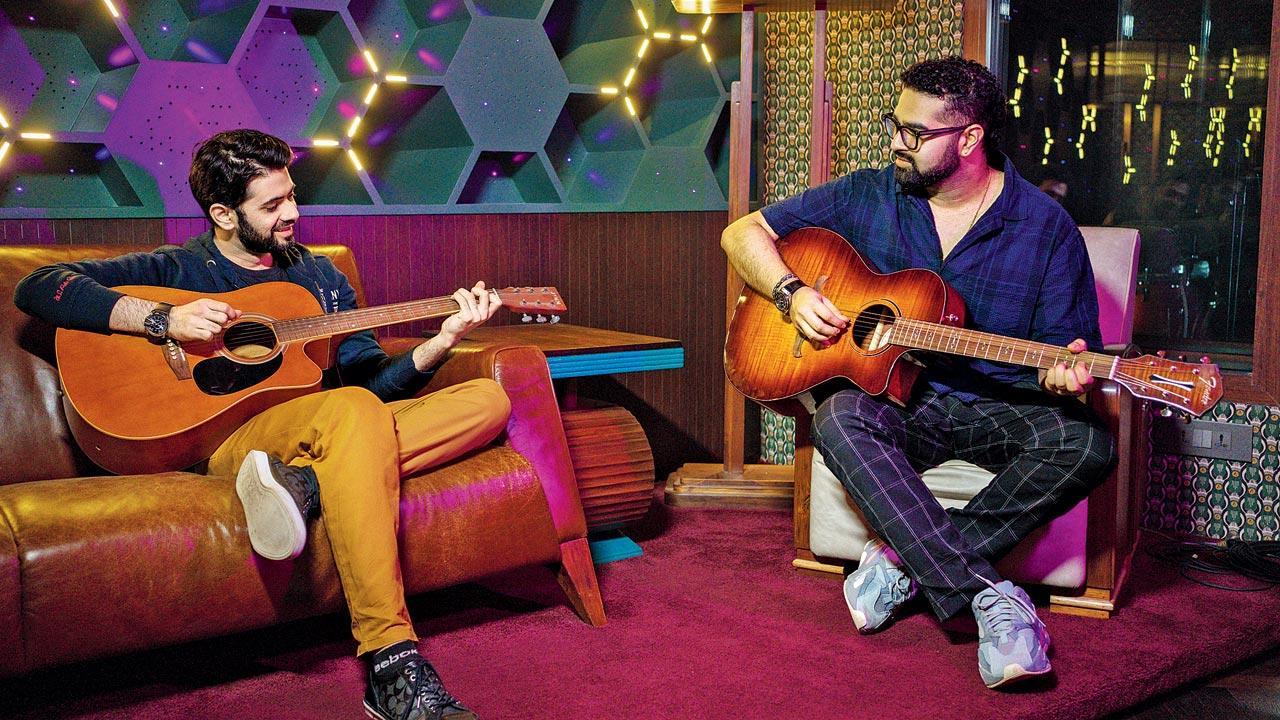 Souumil Shringarpure with Siddharth Mahadevan
Siddharth Mahadevan minces no words when acknowledging that he had front row seats when it came to receiving an education in the world of music-making, from an early age. Shankar Mahadevan's son aptly admits that with the doors to his father's studio always being ajar, his music sensibilities developed while watching the veteran, and his equally established colleagues, at work. "It was a blessing. I went to Boston to study, and could have got a degree [from there], but what better institute could there be than my dad?" asks the singer-composer, who joined hands with his cousin Souumil Shringarpure to create Boom padi for Madhuri Dixit Nene's next, Maja Ma. 
While this isn't the duo's first collaboration, it is an important one. "Everyone we desired to have onboard this project readily agreed to do so," gushes Shringarpure of the track that has been penned by Priya Saraiya, and rendered by Shreya Ghoshal and Osman Mir, with Sivamani joining to help create the rhythm. Mahadevan adds, "We both felt that there couldn't be anyone better than Siva uncle, who is known for his world music approach, to collaborate with. He was recording another song at Yash Raj [Studios], and recorded for [a full day] with us. Singer Osman Mir brings out the Gujarati flavour that we needed. We needed that [power] in his voice because the song opens with his vocals. Finally, Priya has done a fantastic job. Souumil and I are not from a Gujarati background. She particularly helped us with the verses in the language."
Also Read: Ananth Mahadevan: Kajol is still the effortless actor she was
With Navaratri being just around the corner, and considering that few original garba numbers have hit the music market of late, the duo agrees to be at an advantage. "The team wanted an authentic garba track. They wanted an original, but were not against the idea of working on a recreation. But, we wanted to attempt an original, and include a folk section that sounded so authentic that it seemed like [an existing folk song]. This was always going to be a groovy, upbeat, and dance-worthy track, but knowing that it would be picturised on [Dixit], we introduced a few more rhythmic changes because we wanted it to do justice to her," says Shringarpure. 
In a bid to add an element of surprise, he says they usually introduce the music of a different genre into a song. "For example, in an acoustic number, we may add a section of lock and pop. Since we have been exposed to all genres, we like to blend them. The instrumentation that we have used in this song is live, because we wanted it to sound like an ensemble was actually playing at a garba event."
Shringarpure, like Mahadevan, has grown up in an atmosphere where "random musical gatherings and mehfils" were the norm. "The two of us would often jam together. For us, our idols were Shankar-Ehsaan-Loy. When we started working on our own ideas, we'd turn to [Shankar] for feedback," says  Shringarpure, as Mahadevan adds that his composer-father was never generous with his words. "Today, everybody appreciates you on your face. So, to get brutal feedback from someone who knows music is precious. He always told us to be original and create our own niche and style. But, he would not interfere, or tell us how to tweak melodies." 
Also Read: Shankar Mahadevan on working with Ehsaan and Loy: We fight everyday Are you excited to watch Tamannah Bhatia beatboxing in `Babli Bouncer`?