Halsey and BTS's Yoongi aka Suga have collaborated for 'Diablo IV'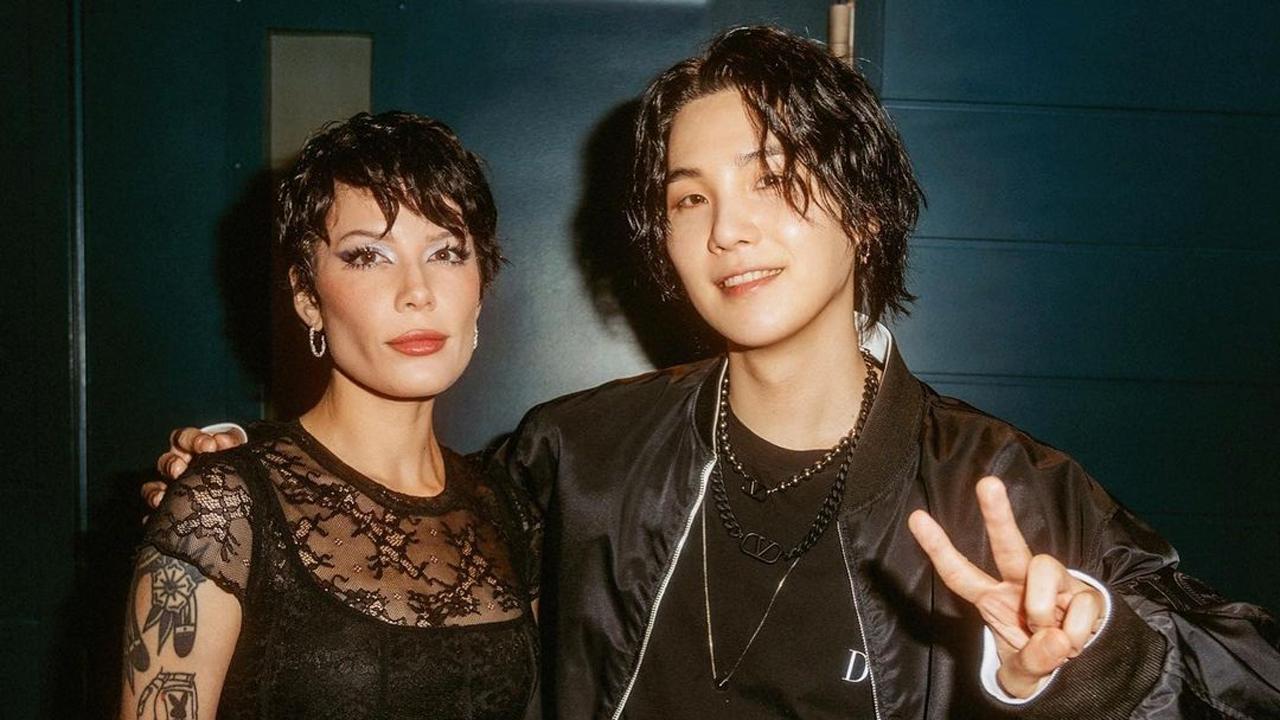 Suga with Halsey
American singer and songwriter Halsey and BTS's Min Yoongi aka Suga have teamed up Lilith (Diablo IV Anthem) the video of which has released. 
The dark video directed by Henry Hobson and released in collaboration with Blizzard Entertainment's Diablo IV was filmed inside Chapelle des Jésuites (Jesuits' Chapel) in Cambrai, France, where the ceiling was covered with game-inspired paintings and a 160-foot mural. The song marks Suga and Halsey's third collaboration, after Boy With Luv and Suga's track Interlude.
ADVERTISEMENT
Later, Suga went on to post a story over Instagram with the caption, 'I have returned to hell for you.' Halsey took to her Instagram and shared a post. She captioned it with, "Collabed with @agustd of @bts.bighitofficial on a reimagined version of "Lilith" for the #DiabloIV anthem and it goes incredibly hardâ€æ @PlayDiablo
we both grew up playing the games and I've always wanted to do a concept with SUGA with this type of dark mythology, so it was a no brainer tbh. VERY SICK AND OUT NOW, CHECK IT OUT!!!!
 

 

View this post on Instagram

 
In the video, Halsey emerges from a black robe in the role of Blessed Mother Lilith from the Diablo IV video game. Suga makes his entry through a crimson haze and starts singing. 
Recently, Suga had surprised fans during the Los Angeles leg of his 'Agust D Tour-D Day' world tour by teaming up with Halsey. The collaboration took place on the final day of Suga's three-day concert at Kia Forum.
Here's how fans reacted-
#Halsey and #SUGA's dark mythological #DiabloIV Anthem #lilith has reached #1 on US iTunes and 34 countries so far and still counting!💪🎶💥🥇🇺🇸🎵➕3️⃣4️⃣🌎❤️‍🔥👑👑💛💜Halsey and BTS' Suga Drop 'Lilith (Diablo IV Anthem)' Music Video pic.twitter.com/5HGwRvaesz

— buxykook97 (@sparky_btsarmy) June 6, 2023
Don't dwell on the past
It's time to make a change look around believe in what you see
I have returned to hell 🎶

Listening #Lilith by @halsey ft. #SUGA of @BTS_twt ! pic.twitter.com/jIJl00k6SR

— ᴾᴿᴼᴼᶠJinMinPark⁷ (@Ilostmytaehyung) June 6, 2023
So amazing 🤩💜
Lilith (ft. SUGA of BTS) (Diablo IV Anthem)' Release#Lilith #SUGA #슈가 #Halsey pic.twitter.com/x0BqEofGhA

— Hsmwx1 💜7️⃣👑💜 (@Hsmwx1) June 6, 2023