Dheeraj Dhoopar on juggling two shows — Jhalak Dikhhla Jaa 10 and Sherdil Shergill, while being a hands-on father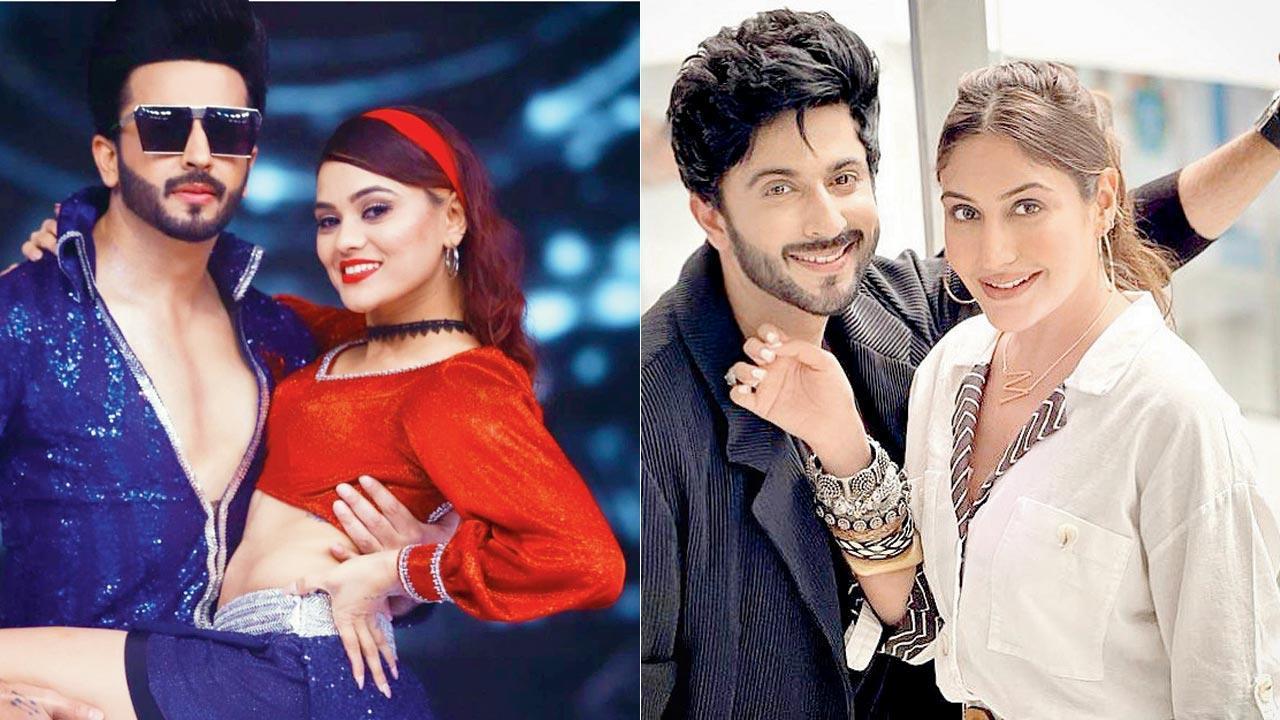 Dheeraj Dhoopar with choreographer Sneha Singh in Jhalak Dikhhla Jaa season 10; (right) Dheeraj Dhoopar with Surbhi Chandna in Sherdil Shergill
Coming off the hugely popular Kundali Bhagya, Dheeraj Dhoopar is back in the game with two shows. His debut reality show, Jhalak Dikhhla Jaa is his attempt to go beyond the romantic hero image and become an all-round performer, while Sherdil Shergill sees him as a stand-up comedian. The role that has him the most excited, however, is the off-screen one — he recently became father to a baby boy. In conversation with mid-day, Dhoopar breaks down juggling two shows, and the hard work that has gone into building his 14-year career.
Edited excerpts from the interview.
Also Read: Jhalak Dikhhla Jaa: Madhuri Dixit compares Dheeraj Dhoopar to Ranveer Singh
With two shows — Jhalak Dikhhla Jaa and Sherdil Shergill — and a new baby in your life, isn't there too much on your plate?
We were pregnant when I was offered Jhalak and Sherdil Shergill. I had never done a reality show before, and I am not a trained dancer, so I thought Jhalak would be a great opportunity to become a better dancer. Sherdil Shergill is a finite show. I was a little hesitant about taking up two shows together, but my wife [Vinny] said that I had to do it and come home with the trophy. It is hectic, but I think I am managing it well.
You've been called the romantic dancer on JDJ. Is it a tag you wish to walk away with?
The judges called me Shah Rukh Khan of television. Madhuri [Dixit-Nene] said that I reminded her of Ranveer Singh [with my act]. I am trying my best as a performer. Because I am an actor, I am looking [to be called] a great performer. Right at the beginning, they have compared me to the bigwigs of Bollywood, which is a great inspiration.
Considering there is a mix of non-dancers and trained dancers on the show, do you find the format unfair?
Whoever has cast for the show has done a great job. Since I am an actor, it's easier for me to depict expressions. The non-actors on the show could [think I have an] unfair [advantage]. I believe to each, his own. Everyone is good at their own craft. Plus, I am juggling two shows and my baby. I wish I had more time and energy for rehearsals, but I am doing everything to the best of my abilities to justify standing on that stage.
Also Read: Jhalak Dikhhla Jaa: Karan Johar compares Dheeraj Dhoopar to Shah Rukh Khan
Dancing now involves a lot of acrobats. Does that feel tough?
I am doing a lot of lifts and stunts from the very first act, but I am enjoying the process. Every day, I go to rehearsals thinking that I am going to learn something new. The choreographers are working to my strengths.
Tell us about Sherdil Shergill.
It's an office romance where I play a stand-up comedian. Standing in front of an audience and making them laugh is a tough job for anyone. Earlier, I played a cricketer on a show, and now a comedian. I am happy that such roles are being explored on television.
All your shows have topped the TRP charts. Do you feel the pressure?
It took me 14 years to reach here. I have been part of shows that have been number one. So, there are expectations from me, and I feel the responsibility I have towards my fans. I get involved with the creatives to see what can be done to make the show better, but I don't feel pressured. Our country has a vast audience, and there is space for all kinds of shows.
Play Quiz: Ranbir Kapoor and Alia Bhatt-starrer Brahmastra Will Alia Bhatt and Ranbir Kapoor starrer `Brahmastra` touch Rs. 500 crore mark?