With a section of viewers noting that The Family Man 2 perpetuates Islamophobia, co-director Suparn Varma says show has offered a balanced approach through its characters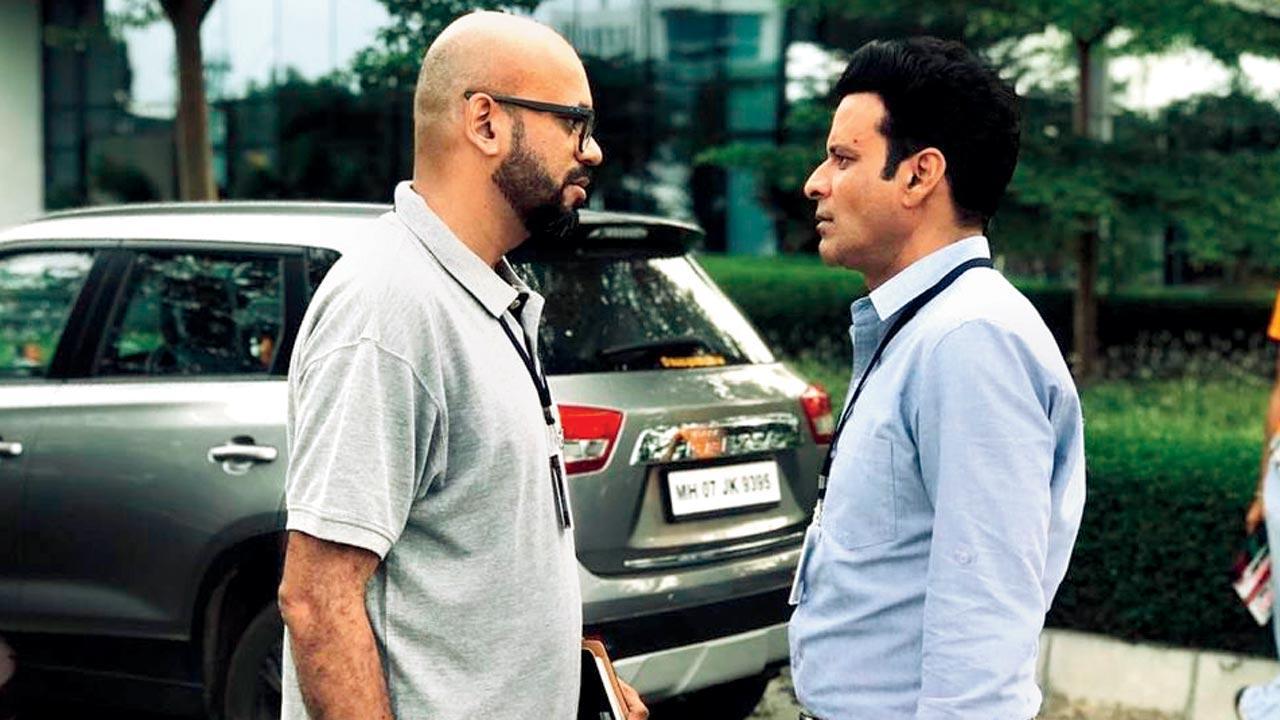 Writer Suparn Varma in a scene with Manoj Bajpayee from The Family Man 2
It's not easy to outdo the first season of The Family Man. But a week since the second instalment has dropped, critics and the audience have agreed that it is sharper than its predecessor. For co-writer and co-director Suparn Verma, the second season's success is a personal victory. "I am just glad we've been able to break the curse of the second season," he starts off. Referring to the common industry notion that the second instalment of any successful franchise rarely lives up to the expectations, Varma says the success of season 2 was important for him. "I gave my 300%. I have known Raj and DK since the time they first came to the city. So when they were trusting me with their baby - a series this successful - I didn't want to disappoint them." 
Commended for drawing a thin line that separates heroes from villains in their story, Verma says they never envisioned Samatha Akkineni's Raji as a villain. "The backstory and research into her character required us to understand Tamil Eelam closely, especially this Australian documentary (we watched) on the subject. The atrocities meted out to women in war camps is numbing. Most of these people are no longer in Lanka. They are in Australia, Europe but the core is they are people without a homeland, always striving to return to a place where they belong. These women soldiers when they spoke, their eyes were vacant and had a deadpan expression. Hearing their stories will give you sleepless nights. Samantha channeled that numbness beautifully. It was important for us to have Muthu - who speaks of their government, their hospitals, an airport, army, roads. It's a community. This situation can't be reduced to black and white. They see us as enemies and vice versa. We had to show both perspectives of what they are. For us, Raji and Sajid having that conversation on their way to Point Pedro was trying to tap into the philosophy of people growing up without a land. Their means are wrong but we see their dreams and hopes."
ADVERTISEMENT
A section of netizens criticised the makers for resorting to brownfacing to pass Akkineni off as a Tamil rebel. He admits to being baffled by the harsh comments. "People should check out pictures of those who've fought wars. They come out looking like different people who've aged far beyond their years. This wasn't a beautification issue; the look is based on solid research. We wanted a Tamil speaking brilliant actor and who  better than Samantha? She needed to look weather beaten and lived in jungles."
Recently, journalist Rana Ayyub tweeted about the series' Islamophobic vein, pointing out that most Muslim characters have been painted in broad strokes of villainy. Verma fights the claim head-on as he says, "I will debunk that by citing our season 1 where we used that trope and turned it around by creating Kareem's character. He was trying to make a political statement about lynchings based on what they eat. His death is a guilt Srikant carries in this season when he goes to meet Jonali and tells her he wasn't a terrorist. We consciously addressed it head on."
Varma says he and co-creators Raj Nidimoru, Krishna DK, Suman Kumar are mindful of bringing their politics into the writing. "We are primarily striving for authenticity more than balance. We are fine showing our protagonist as a flawed guy - he loses track of his own lies, his marriage is crumbling as a result. He has justified to himself he is right but think from Suchi's perspective, is he? But flaws make you relatable and likeable. We don't want to create a Ram-like ideal.
And that brings up the show's 'Katappa-ko-kyun-maara' question. What happened in Lonavla? "We all took a call and each of us had different reasons for not revealing. My reason was - season 1 ended with Delhi almost being wiped out and all people cared about was what happened between Suchi and Arvind. Talk about priorities! I don't want to ever tell what happened there. That said, Suchi's assumed cheating did invite polarising responses. The judgement towards Suchi comes from a place of sexism because people are justifying Srikant by saying - "Oh he was fighting terrorists and saving the country." The sexism becomes even more apparent when scenes like these come on screen. I can bet that if Srikant had cheated, no one would have stopped to enrage as much. We needed to show her mental state - she lost Arvind, the only friend she could talk to. She can't talk to her own husband and is living in her own hell. She is raising a teenage daughter who blames her. So we see her as a lone woman, trying to keep it together."
While the team of writers are yet to put pen to paper; the germ of idea of season 3 is already chalked out. "I would tell you but then I'll have to kill you," says Verma before adding that they've spent the week reading feedback, reviews and partying on zoom calls over beers and coffee. Well deserved, we'd say!
Also Read: From 'Satya' to 'The Family Man', five perfect crime-thrillers by Manoj Bajpayee