Ahead of his visit to Jaipur Literature Festival 2023, Indian author Amish Tripathi spoke to Mid-day.com about his latest work, 'War of Lanka', how he leaves clues in his books and why he is pursuing a story to impress his son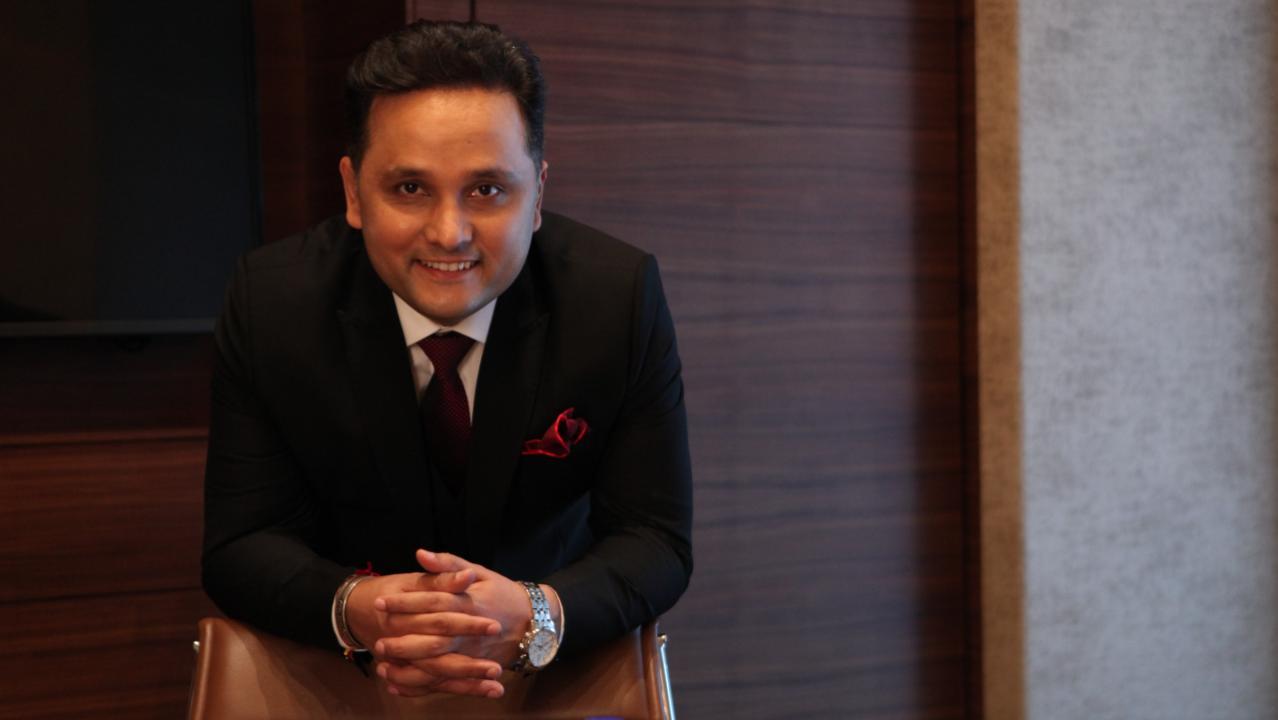 Amish Tripathi will be at the Jaipur Literature Festival 2023. Photo Courtesy: Jaipur Literature Festival 2023
Indian author Amish Tripathi has a very busy schedule, one that not only involves his duties as an author, but also one that involves being a diplomat in London. Even though he is busy with all of this, the London-based author is working on a story idea for a book, one that involves him going beyond his love for Indian mythology and that is for one reason only.
"There is a story idea that has caught my fancy – part in London, part in India, more modern, it has an influence of time travel and of gaming. The main reason to start this book is that I need to impress my son who reads a lot. I am not my son's number one author; I am his number two author. He keeps telling me you're a close number two," laughs Tripathi, continuing, "So, I am going to start this series with elements of fantasy. I am okay if anyone else does not like my books but for my son, I have to be number one in his eyes." The author is in India for the Jaipur Literature Festival 2023 being held from January 19 to January 23 a little over two months after the release of his latest book 'War of Lanka'. The author, who is returning to the festival after three years, calls it the 'Kumbh Mela of Literature'.  
ADVERTISEMENT
New idea, new fantasy
Interestingly, even as the author reveals the time for the fantasy idea to be put on page is ripe, it comes at a time when he has worked on some non-fiction books with the writer centre that are in the pipeline for a release soon. He adds, "The 'Rise of Meluha' will come out in a few years. It is in my mind; I just need to write it." It is one that many readers and fans will be eagerly waiting for, especially after the Shiva trilogy, which brought fame to the author. The first of which, called 'The Immortals of Meluha' was published in 2010, followed by 'The Secret of the Nagas' in 2011 and 'The Oath of the Vayuputras' in 2013.
Even as Tripathi comes from the release of his latest book, the response to it has been nothing like he expected. He explains, "I must admit that I was a little nervous before the launch of this book because the publishing trade has gone through a difficult time. With the pandemic, many bookstores and publishers shut down. So, it was a very difficult time." However, the sales till now are keeping him happy and he attributes it to the fans. It is the fourth book in The Rama Chandra series, the first of which was 'The Scion of Ikshvaku' that released in 2015, followed by 'Sita: Warrior of Mithila' in 2017, and 'Raavan: The Enemy of Aryavarta' in 2019.  
Maze of clues
So, what is it that keeps the fans coming back and how is 'War of Lanka' different from all his other books over the last 12 years? Tripathi quickly reveals, "Hardcore fans know that The Shiva trilogy and The Ram Chandra series are linked. The Rama Chandra series is actually a 1,500-year prequel to the events of The Shiva Trilogy. It is a bit like The Lord of the Rings and the Hobbit." So, this one is on the similar lines with a complicated narrative structure, that he thinks are what his readers like. "I leave a lot of hidden clues across my books on the covers. I have left clues in 'Immortals of Meluha' that have been tied up now with this book," he reveals.
This, he says, can be seen in the fact that the name of the founder of the city of the Nagas in the Shiva trilogy is not random and it is linked up now. All of these books are a build-up to the one book he has planned that links the Shiva and Ram Chandra series. He shares, "It will be the fifth book of The Ram Chandra series and you can see it as minus one of The Shiva Trilogy and that will be called 'Rise of Meluha'." For fans who still haven't figured it out, Tripathi says they can put the spines of all The Ram Chandra series book covers together and will find a clue that will end with the last book.  
Covid-19 pandemic and Indian mythology
Tripathi returns to India in a post-pandemic world and one can't be ignored because of the kind of effect it has had on mankind. It has not only affected us physically in many ways but also mentally and they will be seen for a long time. For 'War Of Lanka' author, it was no different and one that he likes to call "the black swan of the black swans" with reference to Nassim Nicholas Taleb's usage of the term. For him, it was people's reaction to the Covid-19 pandemic that was actually the 'black swan'. He explains, "Never in human history has the entire world locked down and reacted together to something." It is this very reaction, which he says will most likely feature in his upcoming book set in the modern era. While it will not be the central theme, it will definitely inform the story in different ways.
However, Tripathi has kept exploring Indian mythology through it all. So, it is hard to not ask Tripathi about what makes him keep coming back to Indian mythology and his fascination with it and he has a very simple response. "Innate and intuitive liberalism is an attribute of every religious group in India. We think it is normal in other countries, but it is not. The fact that you are in Mumbai, you go outside Mount Mary Church other than a Sunday and most often than not, you will see Hindus or Muslims. You go to Venkateshwara Temple in the south, and there are photos of women in burqas praying there to Lord Vishnu and that is such a beautiful Indian thing. Because intuitively, Indians are comfortable with multiple truths. It is visible in our myths and stories," he shares, adding "Indians can teach the world true liberalism and that is what drives me." So, would he explore stories beyond Hindu mythology? Tripathi shares a unique anecdote. "There was an American Christian who told me that there is a belief among Indian Christians that Jesus actually came to Kashmir during his lost years. I haven't got a story idea for it but I was extremely intrigued and fascinated," shares Tripathi, with a child-like enthusiasm for mythology in the Indian context. 
Also Read: Shashi Tharoor: Dr. Ambedkar was India's first male feminist ahead of his time