In a fascinating conversation at the Jaipur Literature Festival 2023, the legendary flautist shared how he became a flautist, his journey and some of his favourite memories with The Beatles member George Harrison and in Bollywood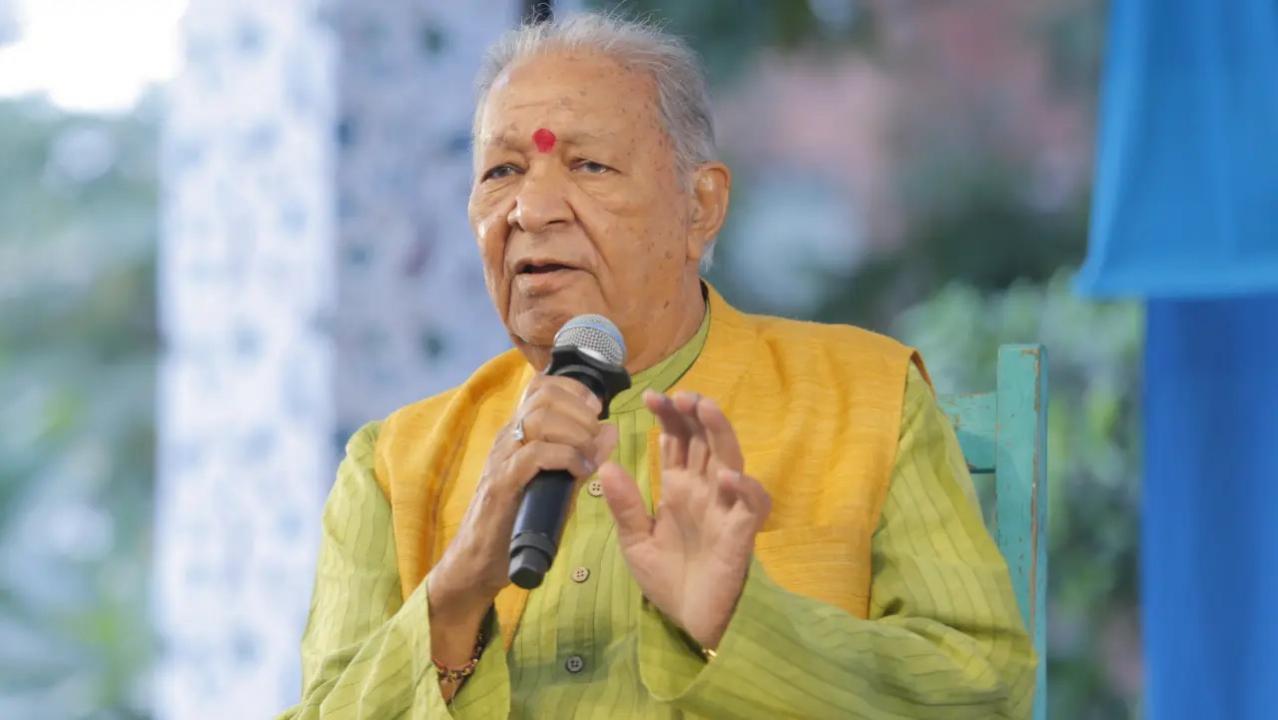 Pandit Hariprasad Chaurasia talked about his life at the session, 'Breath of Gold: Hariprasad Chaurasia' at the Jaipur Literature Festival 2023. Photo Courtesy: Jaipur Literature Festival 2023
If the first three days were delightful for attendees at the Jaipur Literature Festival 2023, then the fourth day was no different because it was graced by Pandit Hariprasad Chaurasia. In a very heartwarming and hypnotic session titled 'Breath of Gold', the flautist spoke to Sathya Saran, the writer of his biography with the same name, and Sanjoy Roy, founder of the literature festival. The 84-year-old took the audience back in time as he spoke about his life through performances to become one of the most celebrated flute players in the country. 
"I watched Hariji, who is a very close friend of Birju Maharaj, and he was listening to him as if he was a child and I thought to myself 'look at the humility of this man and the child-like wonder and I said, I wonder what his story is," shares Saran about the inspiration behind the book on the flautist called 'Breath of Gold: Hariprasad Chaurasia'.
ADVERTISEMENT
Navigating the akhada tradition
The book is one that will give readers many insights into the humble yet extremely talented musician's life. Many may not know but Chaurasia's father ran an akhada and the instrumentalist used to also train there. "It was my father's wish that since he was a pehelwan (wrestler), even I should become a pehelwan." Since the legendary flute player was born in Uttar Pradesh, the culture of wrestling was a huge fascination for many and being surrounded with it, he decided to attend training but his heart was in music.
With such a rich culture, he never mustered up the courage to tell his father that he played the flute till one day when it all came out. "People in my neighbourhood told my father that I play really well, and he asked them, 'Who played and what did he play?" and once he got to know that I play the bansuri (flute), he said, "Acha, let him come home, I will show him." Once he reached home, Chaurasia says he escaped by lying that he had actually gone to study at the library. He was saved on the occasion because the activity of reading books itself was considered valuable.
Memories with George Harrison and Royal Albert Hall
It is one of the many stories that are a part of the book that was released in 2019 before the Covid-19 pandemic. Although, a personal favourite is certainly one with a member of The Beatles. Chaurasia shares, "When I was playing once, I did not know that George Harrison was standing at the door, I never believed that a Beatle was listening to me. Then he brought his guitar and took some bhaang and we started playing together." Harrison, he said, had come with a beard and a disguise so that nobody would recognise him. Since then, it became a ritual every year for the lead guitarist of the English band, to visit the Indian flautist. "I will never forget his love for Indian music, Indian instruments. He also took me to his castle a little away from London, where he had his studio," he adds. Chaurasia went on to play with Harrison on many occasions including The Beatles' 1968 B-side "The Inner Light", which was written by the lead guitarist; his first solo album 'Wonderwall Music' and the duo also played with Pandit Ravi Shankar for Shankar Family & Friends.
Chaurasia has more than one favourite memory with London because it was also where he had his first international performance at the Royal Albert Hall, as Saran narrates. Chaurasia had already started performing in many places but never internationally till then. Chaurasia had a 12-minute performance but was so engrossed that he closed his eyes and didn't look at the clock and went on to play for 20 minutes. "After playing, he just sees the crowd and says it's such a big hall with so many people, and only after that he gets to know it's the Royal Albert Hall. So, he buys a perfume for his wife to celebrate his first international performance," shares Sharan.
Starting out and playing for Bollywood
When Chaurasia started out, he admits things just worked out for him but gives a lot of credit to one important person in his life. Narrating many experiences with P.V. Krishnamurthy, the director general of All India Radio (AIR), Chaurasia reminisces how he gave him a home in the AIR office in Odisha. "I used to hide and stay on the terrace," shares the maestro. It is also where he got exposed to the Odissi dance form and dancers, for whom he used to play the flute and that helped him earn money. "PV Krishnamurthy inspired me," he adds. Today, Chaurasia says all of this has helped him to grow and open gurukuls in India to teach the younger generations.
Bollywood and beyond
It did not take long for Chaurasia to come to Mumbai and become a part of the Bollywood film industry working with many greats like Madan Mohan, Amitabh Bachchan and Lata Mangeshkar over the years. "On one particular day, I got a call from Madan Mohan to come to the studio. After the call, I thought to myself, 'This is my dream – to work in a studio in Mumbai, and the film industry," says an honest Chaurasia, after which he worked on his first song 'Phir Wohi Shaam' but it was only the start.
With such demand for his music and his diary full of dates, he decided to quit radio and made the film industry his home and on one particular occasion, he met one of his favourite people. "One afternoon when I was playing, Lata Mangeshkar came. I was crazy about wanting to see her. It felt like a goddess had come. We became such good friends that without me she wouldn't sing, and without her I wouldn't play." It is one of his many favourite memories in the film industry including how he worked on 'Rang Barse Bheege Chunar Wali' with Javed Akhtar in one day in the Sippy household, for the 1981 movie 'Silsila'. "I thought to myself, if anybody writes this song, it has to be Amitabh Bachchan's father, and I told him only if your father writes it will you sing it." Today, the song has become an eternal choice for every Holi celebration, and one that Chaurasia says is timeless since 1981, just like the legacy the octogenarian who likes to call himself 'young' leaves today.

Also Read: Chitra Banerjee Divakaruni: Feisty women seem to arouse controversy, and Draupadi is certainly that