The easiest way to be an ally to the LGBTQIA+ community is by learning more about them and supporting them in every way possible. Since June is celebrated as Pride Month, there are many events happening in Mumbai. They not only involve arts and culture but also food and music, and a chance to engage with members from the community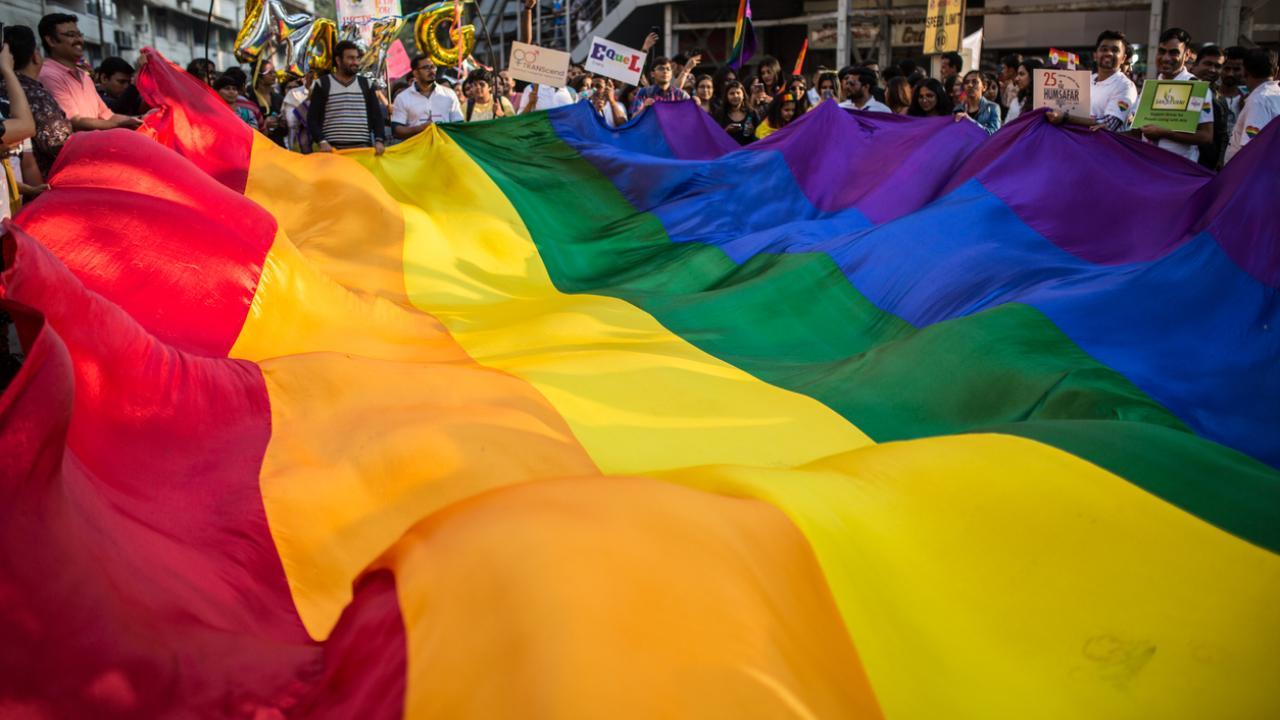 There are many different events happening throughout the month that not only include drag performances but also good food and music. Image for representational purpose only. Photo Courtesy: istock
Every year, June is celebrated as Pride Month to celebrate and commemorate the different members of the LGBTQIA+ community. With every year that passes by, more people are becoming aware and understanding how important it is to be an ally to lesbian, gay, bisexual, transgender and other members of the community, who are discriminated every day of their life for being different. 
While some of them have the support of their loved ones, there are others who are yet to come out to their family and friends, and it may take a while, but till then, they can celebrate their sexuality with the community, and the easiest way we can help them is by being an ally in more ways than one. 
ADVERTISEMENT
While the Covid-19 pandemic may have spoiled physical events and gatherings, everybody is back to interacting in person in open spaces now, and just like that, there are many interesting events happening in the city. If you have been looking to celebrate and engage more with the LGBTQIA+ community, head to the following events because they not only include engaging sessions, arts, and culture but also food and music. 
Celebrate with food
Drag and food
If you want to celebrate the community and love gorging on food, then head to Grand Hyatt Mumbai for the 'Drag Me to Brunch'. Along with delicious Pride-themed food, there will be a special performance by Glorious Luna and teammates, who will put on a drag show performance while showcasing their showmanship with some singing and dancing. 
When: June 11 
Where: Fifty Five East, Grand Hyatt Mumbai Hotel & Residences, Santacruz East 
Time: 12:30 pm onwards 

Colourful brunch 
Keeping in mind Pride Month and their aim to be inclusive, BrewDog is hosting a specially curated brunch for everybody from the LGBTQIA+ community and every ally out there. Diners can choose from colourful cocktails such as Equality Elixir, Love is in the Sky, Diverse Blend & Love Shake & Many, and more, as well as rainbow-inspired food, that will keep everybody busy.
When: June 11
Where: BrewDog Bandra 
Time: 12 noon – 4 pm  
Call: 8976981272 for reservations
Price: Rs 1,499 plus taxes per person (non-alcoholic), Rs 1,999 plus taxes per person (beer + wine)

Celebrate with art and culture
Crazy about crochet 
Like art? Then head to Method Art Gallery in Bandra for an exhibition by queer visual artist Liactuallee titled, 'Soft Invasions, stitch-punk visions'. Using the art of crochet, Liactuallee is envisioning utopia within a dystopian world. It showcases colourful organisms in regenerative life forms break free from a smog-filled, colour-drained world to disrupt borders with unique crocheted sculptures and embroidery. The month-long event also engages viewers with small gatherings, including performances and stitching circles to create an immersive experience. 
When: On till June 25 
Where: Method Art Gallery, Bandra West 
Time: 8 am – 10 pm

All things Queer
Tinder India is hosting a unique weekend with Gaysi Family, a queer-owned, queer-run media platform, called 'Queer Made Weekend', which has a lot of food and drink, as well as music by queer performers, caterers and mixologists. The performances include the likes of SuggaHunny, Rani Ko-He-Nur aka Sushant Divgikar and many other people. 
When: June 10 – June 11
Where: Jio World Drive, Bandra Kurla Complex 
Time: 5 pm onwards