The Mumbai drummer is all set to have a busy year – performing with his band Contraband, collaborating with other artists, before ending the year sharing the stage with AR Rahman and John McLaughlin. Mid-day Online recently spoke to Barot about India's rich musical, his favourite instrument and future plans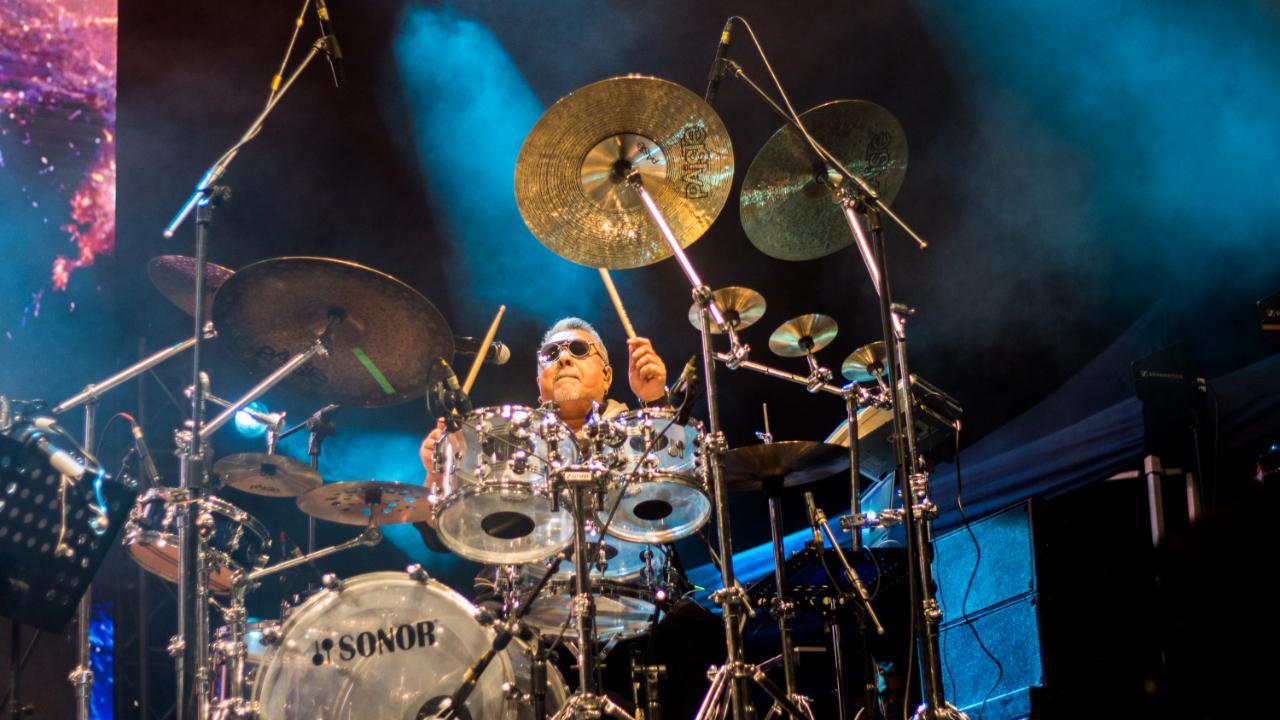 Ranjit Barot (in picture) said although Ustad Zakir Hussain is often seen as an accompanist, his skill as a master of the tabla is undeniable. Photo Courtesy: Mid-day file pic
Renowned Mumbai-based drummer and music composer Ranjit Barot, who has been an exponent of the percussion, has seen a huge change in the way the section of music has evolved over the last four decades since he has been active in the music industry. While India boasts of many percussionists, he believes past efforts to bring them all on one stage to celebrate percussion music has largely been affected by the lack of sponsorship and vision. 
In a time when there are so many different festivals cropping up catering to different kinds of genres, music lovers can admit it is hard to find one that is solely dedicated to percussion which visibly plays an important role in aiding breathtaking music and at the same time capable of delivering standalone mind-blowing solos. It is not like past efforts haven't been made but none have been able to stick around, according to Barot. He explains, "There have been other efforts to organise music festivals in the past, such as the one called 'Dumru' that used to take place in Pune." So, when the percussionist, who has collaborated with some of the best names in Indian music including AR Rahman and Ustad Zakir Hussain, got the chance to play at the Mahindra Percussion Festival, he jumped at the opportunity. 
ADVERTISEMENT
Incidentally, Barot, who recently performed at the inaugural festival in Bengaluru, was also the curator of the festival. Bringing in his expertise of more than 40 years, the drummer had quite a task at hand to put together a lineup by scouring through India's rich musical treasure trove that would mesmerise the audience as soon as they stepped on stage. However, it was a challenge that he thoroughly enjoyed to say the least. It understandably included legendary percussionist Shivamani along with V Selvaganesh, Grammy winner Arto Tunçboyaciyan, Paquito Ensemble (Spain) ft. Paquito González, José Quevedo "Bolita", and Antonio Molina "El Choro", Pulse Conversation ft. Gino Banks, Vinayak Pol, Jai Row Kavi, Ta Dhom Project - Viveick Rajagopalan and Chemmeen Band ft. Aattam Kalasamithi.
Mid-day Online spoke to Barot about the experience of curating the festival and what such an effort means for percussion in India. He also dwells on its evolution and role in music in the country, and how the country has a lot to boast of; he also reveals his favourite instrument and future plans. 

Here are edited excerpts: 
You curated the inaugural Mahindra Percussion Festival. Did the fact that India has so many different elements to boast of combined with Western influences present challenges? What was the experience like to curate artists from India and the world?  
India has such a diverse range of cultural elements combined with Western influences. With so many percussion options available, it feels like we would need at least a hundred festivals to cover everything. We're just scratching the surface with what we have, and there's so much more to explore.
In more than four decades that you have been active, how have you seen the perception of percussion change in India?  
I believe that India's music scene has improved, especially with the contributions of artists like Ustad Zakir Hussain, who has elevated the tabla to new heights. Although he is often seen as an accompanist, his skill as a master of the tabla is undeniable.
As a drummer and band leader myself, I recognise the need for percussionists to assert their importance in the music industry. It starts with believing in your own worth and value. If you think you're important, others will treat you that way.
What would you say is the unique aspect about India's percussion sounds and has that changed over the decades?
I believe that traditional Indian percussion instruments have remained unchanged, with only the approach towards playing them evolving over time. For instance, if we consider the tabla, it consists of a tabla and a bayan, played by the left and right hand respectively (unless you're left-handed). The design was developed to cover the sound spectrum of the low frequency range as there is no bass guitar player in Indian classical music. 
In contrast, Western music has a bass guitarist to take care of that frequency. The bayan provides a broader sonic and complete acoustic picture to the listener. The people who designed these instruments must have understood the scientific reasons behind their designs. For example, the South Indian mridangam does not sustain sound as much as the tabla, and this is because it was frequently played in temples, which had a lot of natural reverb. Therefore, instruments such as mridangam were developed as short note instruments with less resonance. In my opinion, there is no reason for these instruments to change as they have been scientifically designed and proven over hundreds of years. Only the approach towards playing them has changed.
Which is your favourite percussion instrument? Are you fascinated by any from around the world? 
It's a trick question. I once saw a South American percussion group perform at the NCPA, and I was amazed by the skills of one of the performers who played a solo using just two shakers, known as Maracas. In an Indian orchestra, Maracas are considered one of the loneliest percussion instruments, used only to support other instruments. However, this performer managed to extract an incredible range of sounds and create a captivating solo. It's moments like these that fascinate me about the human ability to extract music from instruments. In my opinion, it's less about the instrument itself and more about the performer's inner spirit and their ability to sense the possibilities. It's a lifelong journey of exploration and discovery.  
What are you currently working on and what can fans expect from you this year?
I am currently working on multiple projects. I have a band called Contraband, and the members are here with me to perform like keyboard player Arka Chakraborty, Mohini Dey on bass, Mark Hartsuch on saxophone, and another keyboard player Rahul Wadhwani who couldn't join us. We are performing live at various venues and plan to release an album by the end of the year. 
Additionally, I am collaborating with artists like Kailash Kher, Salim Merchant, Javed Ali on some vocal material I developed, which will also be released later this year. I have upcoming concerts with A R Rahman and also have a tour planned with John McLaughlin in October. I always try to stay busy and keep creating.

Also Read: 'World's No. 1' DJ Martin Garrix in Mumbai: I haven't made a track with Indian sounds yet, but I'm definitely open to it