In one of the closing sessions on the fifth day of the Jaipur Literature Festival 2023 that ended earlier this week, the Indian lawyer and LGBTQIA+ rights activist delved into the cases in his latest book, the constitution and need for it to be protected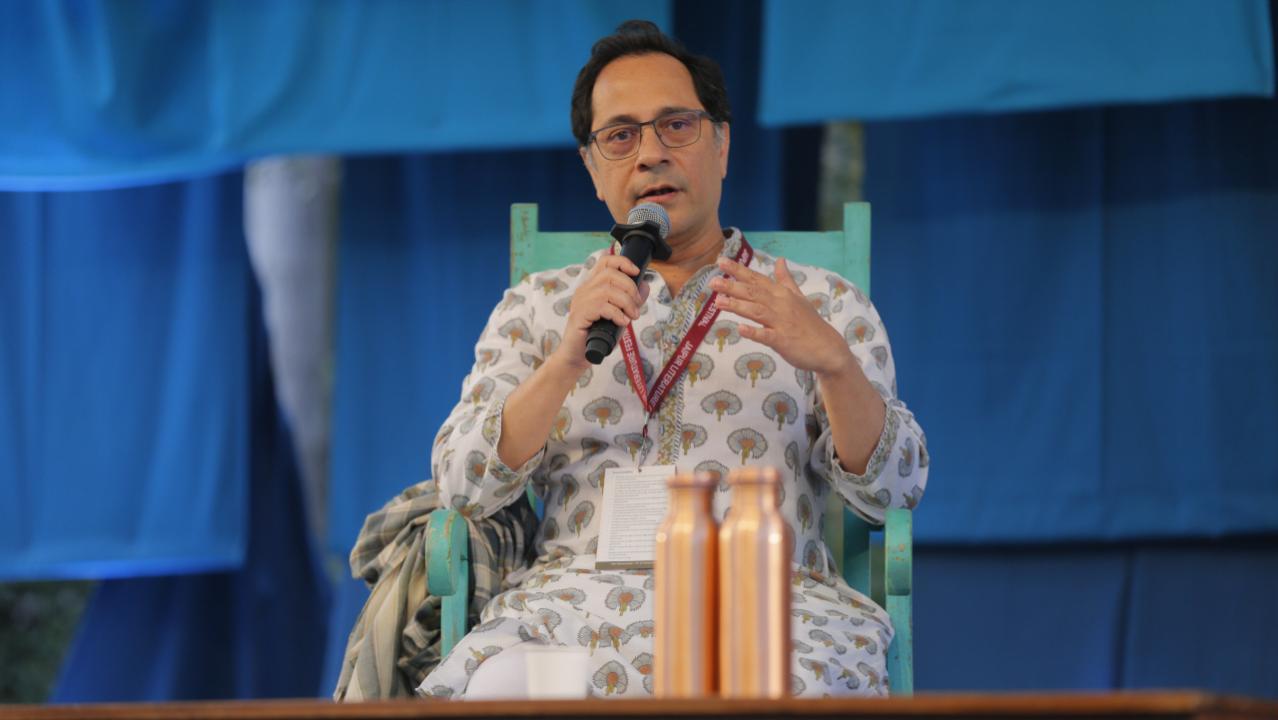 Indian lawyer and author Saurabh Kirpal delved into the law, constitution and judiciary and the 15 cases he chose to be a part of the book that released in 2022. Photo Courtesy; Jaipur Literature Festival 2023
Indian senior lawyer Saurabh Kirpal shed light on all things law, judiciary and constitution in the Pink City earlier this week. It was one of the many sessions on the closing day of Jaipur Literature Festival 2023 that had many people listening to him with rapt attention. The author, who is also an LGBTQIA+ rights activist, was at the festival months after the release of his second book, 'Fifteen Judgments: Cases that Shaped India's Financial Landscape' in 2022. In a session by the same name, he spoke to author Tripurdaman Singh on the cases in the book, his idea of the law, judiciary and the Indian constitution.
In a session that had many interesting aspects, being an individual of the system, Kirpal in conversation, reminded how the Constitution of India is put as a recognition of the individual as it includes minority rights, property rights and a whole host of fundamental rights. However, one has often seen that the decisions aren't always favourable and that is primarily because the interpretation of the law differs. It is also why he says a lot goes into the passing of a judgement in the court. He shares, "When the courts step in and rule in a particular way, it may look like a political exercise but when judges give (out) a decision, it is not theirs alone but shaped by their upbringing and politics. The idea is that they are ruling in favour or consonance with constitutional rights."
Carefully choosing the 15 cases, he also highlights quite a few of them, one that stood out was that of Vishaka v. State of Rajasthan, the 1997 landmark case. It helped lay down detailed guidelines on how to deal with sexual harassment against women at the workplace, popularly called the Vishaka Guidelines. A case, he felt necessary to include in his book for many reasons. He expresses, "People find it surprising that why is a chapter on sexual harassment guidelines one of those 15 judgements that shaped India's financial landscape," before he continues, "I'm always asked by a cis-het man and to that I'll say that unless you have lived the reality of working in India as a woman, you won't understand what the value of sexual harassment guidelines are because you can't actually hope to improve the economy of a country, if half your country feels incapable of working or unable to work. So, that's the necessity and the reason why I worked on this chapter."
In a much broader social context, Kirpal also wasn't shy to point out the absence of judicial consistency in India, which he admits sometimes is detrimental to the rule of law. The senior advocate explains, "The idea of the rule of law is that I must know what the rule of law says so I plan my life accordingly. So, as an ideal of the rule of law you would expect predictability but sadly, I find it lacking in our court. The discretion that is there because of the ambiguity of the law enables judges to take diametrically opposite views of what the constitution says." For him, it comes from the fact that the Constitution is a living document and has always been slightly ambiguous because it was drafted in 1950. "The ambiguity lets the bench have discretion to fill it with their own ideologies and beliefs and that is why I think there are different judgements," which he adds may not be ideal and has been seen in many cases where there have been dramatic 'flip flops' in judgement. He shares, "It is largely a consequence of the court having such a large jurisdiction and simply deciding on so many things with an absence of consistency and judges to listen to the case."
Giving the example of a case that is very close to his heart and one that he has been a part of, Kirpal says, the first judgement of the decriminalisation of section 377 was given in 2013 when two judges refused to read it down. "Yet the same Supreme Court a few years later (in 2018), unanimously overturned that judgement. How could it possibly happen like that? History owes an apology to the country at large. This is happening within the same institution, and there is no sense of how it is happening. I also find that there is an institutional debate on this schism," airs out his concern.
Being a firm believer in the Constitution, Kirpal, while answering a question from the audience about the relevance of the document of law more than 70 years after it was created, said it was definitely timeless. "I don't think that any of us want to live in a country where your rights are as safe as the next election. You will find consensus that we hold allegiance to the Constitution and hold it very dear. There's a belief from all the people I have spoken to, that our Constitution is all right, it is the people that are running it who have let us down and I think there is some truth in that. So, the document that was given to us is fairly timeless and upholds the rights of people I believe in and values that I believe in. It needs to be safeguarded today more than any time else and it is certainly not needed to be tinkered with," he concludes.

Also Read: Pandit Hariprasad Chaurasia: My father wanted me to become a wrestler
This story has been sourced from a third party syndicated feed, agencies. Mid-day accepts no responsibility or liability for its dependability, trustworthiness, reliability and data of the text. Mid-day management/mid-day.com reserves the sole right to alter, delete or remove (without notice) the content in its absolute discretion for any reason whatsoever