With cosy wooden tables, lively music, and a sea of beer cocktails, a burrow that breaks you away from the city noise will leave you saying "Prost!" with every bite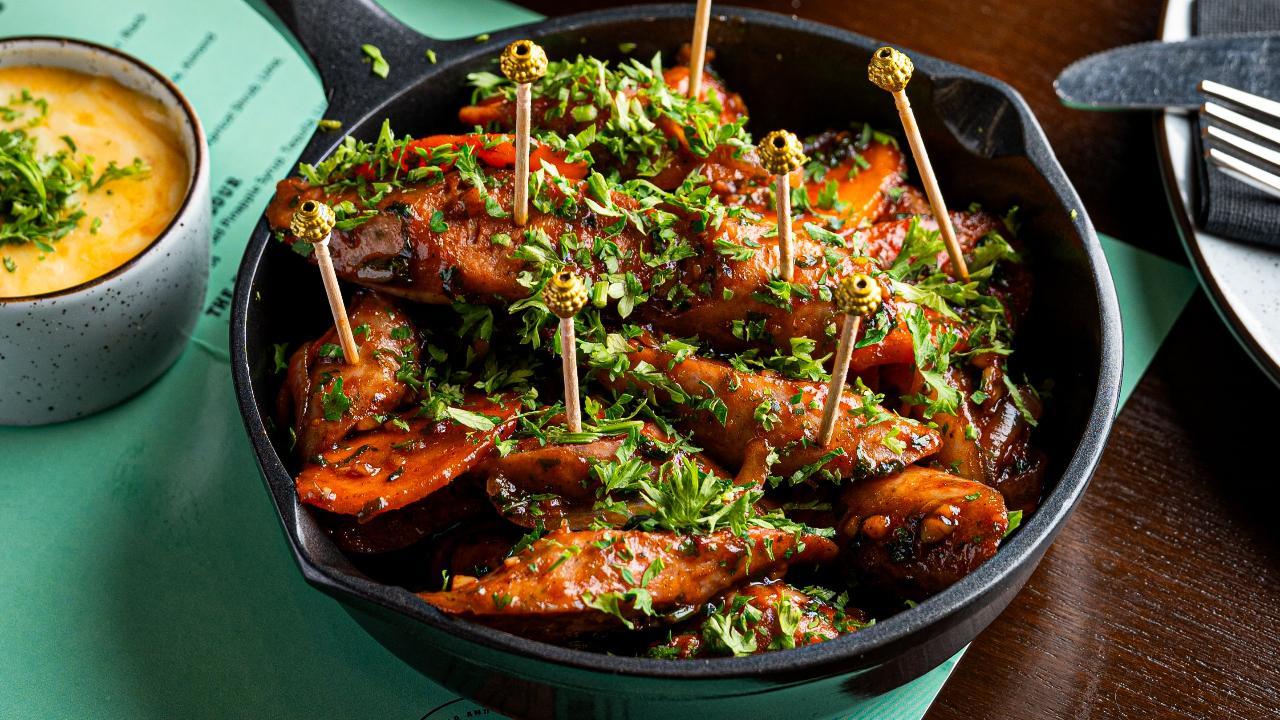 Curated by Chef Yashasvi Modi, the menu offers a variety of dishes, both traditional and with a modern twist, to celebrate the festival. Photo Courtesy: The Burrow
Listen to this article
Oktoberfest 2023: Enjoy delicious food and drink at The Burrow in BKC
x
If you have been looking to enjoy some Oktoberfest menus in Mumbai, then head to The Burrow in Bandra Kurla Complex for their Oktoberfest menu that promises to transport you straight to Germany. With cosy wooden tables, lively music, and a sea of beer cocktails, a burrow that breaks you away from the city noise will leave you saying "Prost!" with every bite. 
Curated by Chef Yashasvi Modi, the menu offers a variety of dishes, both traditional and with a modern twist, to celebrate the festival. Kickstart your adventure with the Red Wine Poached Fig Crostini, where plump figs, bathed in rich red wine, dance atop crispy crostini, setting the stage for your epic meal. Dive into the succulent embrace of our Frankfurters, adorned with zesty mustard relish, snappy gherkins, and caramelized onions that will make your taste buds do a happy jig.
ADVERTISEMENT
For a taste of Germany's rich culinary heritage, behold the Zwiebelkuchen – a savoury masterpiece featuring a blended trio of onion, creamy brie, and crispy bacon, all nestled in a delectable tart. The German Bacon Potato Salad is a twist on a beloved classic, a delightful interplay of smoky bacon and creamy potatoes that will have you craving more. Or opt for the refreshing German Meatball Soup.
For the mains, the choices are as diverse as the Oktoberfest crowd itself. Whether you're indulging in the Veggie Burger with zesty piri piri sauce and melty cheddar cheese or savouring the Roast Chicken alongside seasonal veggies and tantalising onion jus, each dish is a celebration in itself. But the star of the show is the Chicken Schnitzel, draped in a luscious mushroom ragu and flanked by herb-kissed baby potatoes. And don't forget the Slow-Cooked Barbecue Pork Ribs, a mouthwatering masterpiece served with buttered spätzle. Fish lovers can try the Lemon Garlic Fish, cloaked in a velvety mustard cream sauce that will transport your taste buds straight to the heart of Bavaria.

Of course, no Oktoberfest is complete without a sweet finale. Treat yourself to the decadent Black Forest Pastry, adorned with kirch cherry compote, and savour the sweet conclusion to your celebration, from Prost to delicious delights.
Whether you like beer or not, The Burrow's beer cocktails have got you covered. With options like Dear Mary, a refreshing and fruity drink made with Tequila, Cointreau, and kirsch, and topped with larger beer, Lagoonita, a vibrant blue frozen cocktail made with Vodka, Blue Pea Tea, and topped with larger beer for a smooth and refreshing taste, The Burrow Raddler, is a perfect blend of sweet and sour flavours with Moonshine Cider, Bombay Duck Larger, and Sour Punk candy, The Baby Gunniess Shot is a classic drink with Kahlua & Bailey's, The White is a light and refreshing drink made with Peach Shrub, Whitbier, and Bacardi. 
Where: The Burrow, Bandra Kurla Complex
Call: 022-35113057
For more details, follow: https://www.instagram.com/theburrowbkc
"Exciting news! Mid-day is now on WhatsApp Channels

Subscribe today by clicking the link and stay updated with the latest news!"
Click here!