Are you looking to enjoy a traditional sadhya? We have curated a list of restaurants in the city, that is serving the feast or where you can order from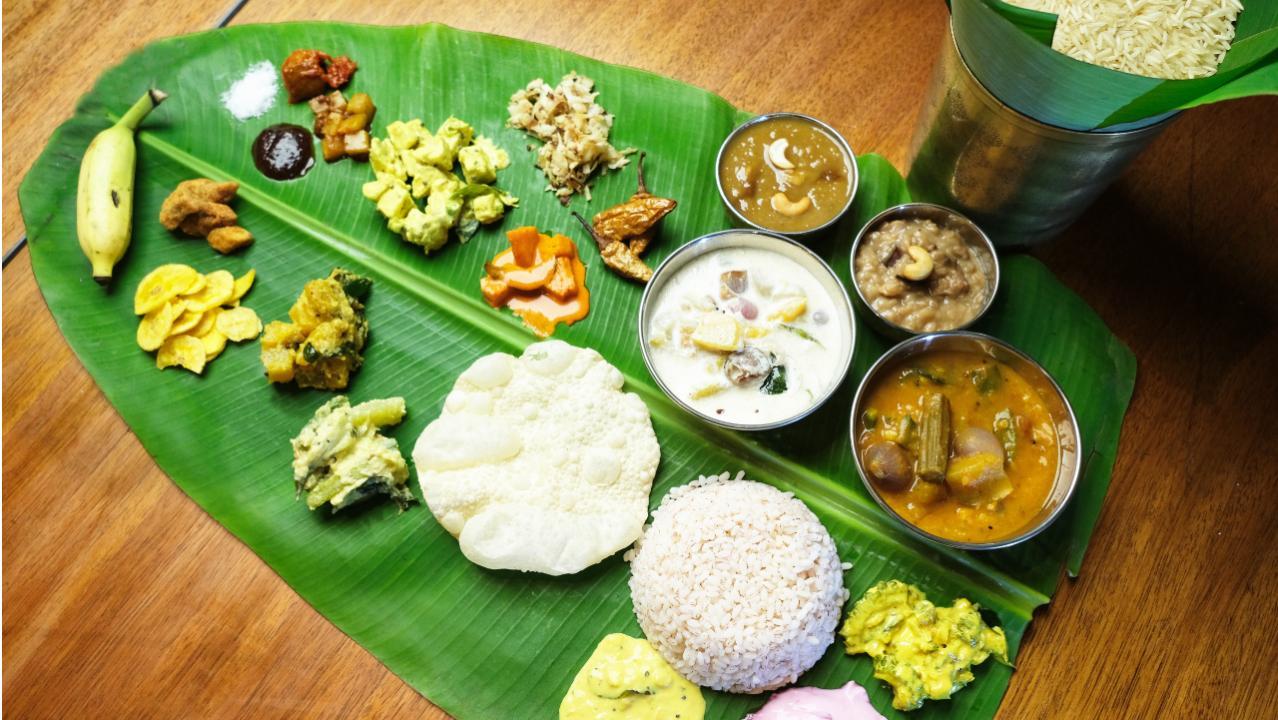 The St Regis Mumbai has put together a mouth-watering menu of 21 dishes, which includes all the traditional specials that are usually served in a sadhya for Onam. Photo Courtesy: The St Regis Mumbai
The city's Keralites are out and about busy celebrating Onam today, after a gap of almost two years. The 10-day festival culminates on September 8 and is usually celebrated with ritual and Onam sadhya. While they did carry out the rituals in their homes in the last two years due to the Covid-19 pandemic and lockdown, this year, they are visiting their friends and family to celebrate with the community.  Ever since Raksha Bandhan and Janmashtami, the festive season has been underway with Ganesh Chaturthi and Mumbaikars have already shown how much they have missed celebrating the festivals.  
 
The harvest festival is popularly celebrated by Keralites in the city who enjoy a delicious traditional Onam sadhya that includes more than five dishes on an average and may got up to 30 or more too. With a variety of specialities include sweet and savoury, and some favourite dishes, it is quite a feast, that is not only enjoyed by the Malayali community but people from all over India.  
 
If you have been wanting to enjoy a traditional sadhya, and weren't able to do it in the last two years. There are quite a few restaurants in the city that are serving the meal as a part of the celebrations not only today but this weekend.   
 
Here is a list of the restaurants in the city serving the feast:  
 
Taste of Kerala 
At the South of Vindhyas, The Orchid Mumbai, chef Bala has put together a meal called the 'Adipoli Onam Sadhya' that will be served as a buffet including dishes such as chips, pachadi, chamandis, olan, kalan, erissery, kichadi, thoran, avial and paratu mezhukkupuratti among others. The festival is incomplete without sweet dishes such as pradhaman, kadala pradhaman, mambazha pradhaman and parippu payasam for diners to choose from.  

At: South of Vindhyas, The Orchid Hotel, Vile Parle (East) 
Date: September 8 – September 11 
Time: 12:30 pm – 4 pm and 7 pm to 11 pm 
Call: 022 26197000 or 75060 10316 
 
South Indian feast 
If you are in and around Juhu and want to indulge in a sadhya, then head over to Saffron or Lotus Cafe at JW Marriott Mumbai Juhu for a delicious feast. The restaurants will serve dishes such as olan, kalan, pachadi, thoran, erriserry, avial, theyal, inji curry, paruppu, sambar and rasam among others. The dishes are part of the traditional feast that is usually made in every Keralite's home during this time of the year for the festival.  
 
At: Saffron and Lotus Café, JW Marriott Mumbai Juhu, Juhu 
Date: September 8 
Time: 12:30 pm – 4 pm (Saffron), 12:30 pm – 3:30 pm (Lotus Café)  
Price: Rs 2,750 plus taxes per person (Saffron), Rs 2,900 plus taxes per person (Lotus Café)  
For reservations: 022 6693 334 or 90046 16506 

Play Quiz: How well do you know the Onam festival?
 
Sadhya on delivery  
Don't want to get out of your house and want to order in? then The St Regis Mumbai has put together a mouth-watering menu of 21 dishes, which includes all the traditional specials that are usually served in a sadhya for Onam. Among the many dishes, the Onam box delivered by Marriott Bonvoy On Wheels includes sambar, olan (coconut milk stew), avial, thoran, rasam along with some mangha achar (mango pickle), narangha curry (lemon pickle), inchi puli (ginger pickle) along with palada pradhaman and parippu pradhaman for dessert. 
 
Date: September 8 
Price: Rs 2,550 plus taxes per box 
 
Southern sojourn   
If you are busy today but still want to feast on a sadhya later tonight, drop by Dakshin Coastal at ITC Maratha in Andheri. The recently reopened restaurant at the five-star property has a sit-down menu that includes 26 specials from the south Indian state. It includes kadamba thoran, olan,  pumpkin erissery, ulli theeyal, parappu payar curry, pineapple pachadi. Diners can end their feast with a helping of parippu pradhaman and two more payasam to celebrate the day.  
Date: September 8 
Time: 12 pm – 12 am 
Price: Rs 3,500 plus taxes per person   
For reservations: 022 2830 3030 

Also Read: Onam 2022: Mumbai's Keralites are excited to bring back festivities with rituals and traditional sadhya Are you celebrating Onam today?